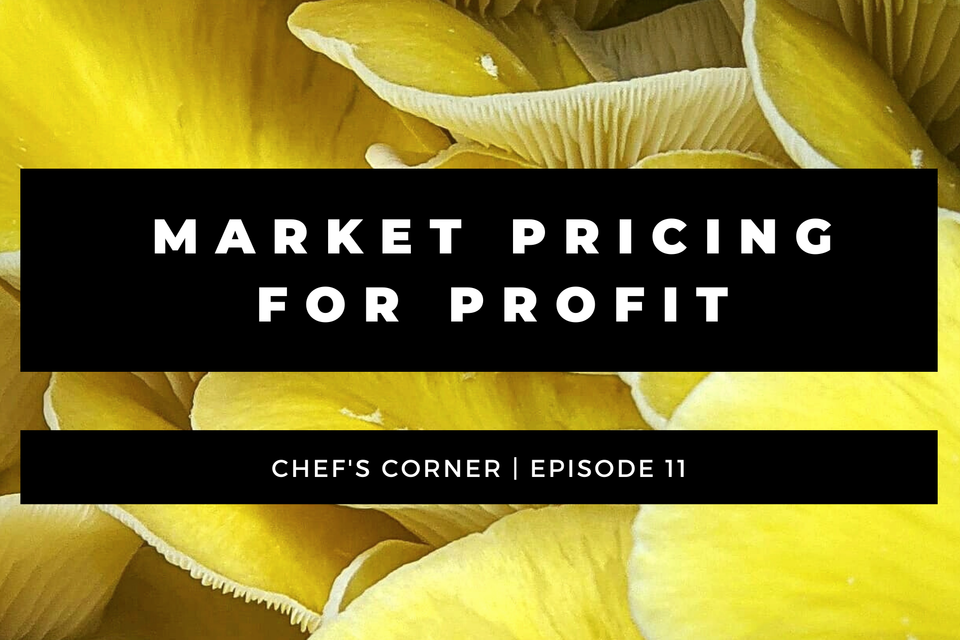 Market Pricing for Profit 
By Hari Pulapaka, PhD, WCMC, CEC
January 13, 2021
          "Tonight, our special is blah, blah, blah, served with blah and blah, and it costs $32." I appreciate that transparency, as opposed to the commonly popular, yet annoyingly shady, version that reads "Market Price (MP)." And for some reason, this need for uncertainty appears to be a frequent characteristic of seafood. The word "market" must refer to a financial market as opposed to a seafood market, because $38 for a 5-ounce, "butterflied" portion of unsustainable and hardly local grouper or "Chilean" sea bass seems like seaway robbery.
          Certainly, a guest has the option to ask, but just tell me and don't hit me with "schticker" shock at the end of the meal. I can't think of too many other contexts where a buyer doesn't know the price of an item while considering a purchase. Routinely, my wife attempts to give carte blanche creative license to a restaurant kitchen for a plant-based creation, only to be disappointed — not only in the creation, but also the value. Thirty-two dollars for a thoughtless mushroom sauté sprinkled atop overcooked, dairy-soaked risotto (mushy rice) doesn't require any culinary training or thoughtfulness. If you aren't going to tell me how much something costs, at least wow me with the result or give me a good value. Too harsh? I can say that I don't think so.
          Restaurant groups with multiple concepts and/or outlets manage their financial systems with sophisticated hardware, software and human resources. A mom and pop cafe must also manage their finances. Cash flow and cash reserves are paramount, no matter the size of the operation. Cash flow hides inside revenue, and cash reserves hide inside profit. At the end of any analysis, every version of profit exists because of revenues less expenses. I will go out on a limb to say that MP items generate a healthy profit. I like MP when it stands for Mom and Pop. The market version — not so much.
Local Ingredient of the Week
EXOTIC MUSHROOMS
          Thanks to incredibly resilient ingenuity of urban and semirural farming under controlled conditions, exotic and dramatic fungi may now be found in most farmers markets. There are many examples in Central Florida. Andrew Johnson, the self-proclaimed "Florida 'Shroom King," grows (cultivates) a wide variety of exotic mushrooms. According to Andrew, "The mushrooms are grown in a cold and humid environment. Sterilized blocks containing supplemented hardwood are placed in the environment where they produce fruiting bodies, the mushrooms. They take anywhere from 1-4 weeks to produce mushrooms once placed in the tent, after the mushrooms have colonized the blocks, which takes also, 1-4 weeks." More on Andrew below.
Recipe of the Week
Exotic Mushroom & Goat Cheese Crème Brûlée
PSA: On Friday, Jan. 21, I am scheduled for an exciting collaboration with a local Mushroom Farmer (Florida 'Shroom King) at the Artisan Alley Farmers Market in DeLand. Come see us at 6 p.m. until whenever. I expect to have samples of this very same dish for tasting, and you will have the opportunity to support the farmer by buying some incredible mushrooms.
Servings: 8-10

INGREDIENTS
4 cups wild and exotic mushrooms, chopped (use any mushrooms you like and can obtain)
2 shallots, minced
1 tablespoon minced garlic
2 tablespoons fresh thyme leaves, chopped
1 quart heavy cream
6 ounces fresh goat cheese
2 bay leaves (fresh, if you can get them)
2 ounces unsalted butter
8 egg yolks
1 cup dry white wine or dry sherry (see sommelier's note below)
1 teaspoon white truffle oil (optional)
kosher salt - to taste
freshly ground black pepper - to taste


METHOD
1)    Preheat an oven to 280 F.

2)    Sauté the mushrooms and shallots in butter. Add the fresh garlic and thyme. Deglaze with a cup of dry white wine. Simmer until "au sec." Season with salt and pepper.

3)    In a heavy-bottomed pan, bring the heavy cream and bay leaves, seasoned with salt and pepper, to a scald (just before boiling). In a stainless bowl, whisk the egg yolks until pale. Temper the yolks with the hot cream. Take out the bay leaves. If using truffle oil, add it now and stir.

4)    In 8-10 ramekins, distribute the sautéed mushrooms equally, after draining off any excess liquid into the hot cream.

5)    Add about half an ounce of goat cheese to each ramekin. Pour the yolks and heavy cream into each ramekin. Torch off any bubbles. Place ramekins in hot water bath and baking dish or large pan. Place on a rack in the middle of the oven. Bake for 90 minutes.

6)    The custards should be set. If not, continue to bake until they are set. After they cool a bit, add a touch of sugar and torch the tops evenly. Serve with a salad of fresh greens and herbs dressed lightly and some warm crusty bread for a great lunch or even dinner.
Culinary Note: "Au Sec" is a cooking stage where a liquid has been reduced until almost dry.

By Jenneffer Pulapaka (byWomen & more) - Sommelier's Note: Try an amontillado. They have good acidity, nuttiness, and hints of golden raisins. Use a splash to deglaze mushrooms.
Why is the Chef in a Corner?

          After spending well over a decade in my little restaurant kitchen fully immersed in getting sh!t done, I'm ready to bust out of my corner.
          Each week, I will pass judgment on a segment of food news that may or may not be interesting, shed light on a seasonal (for us) food ingredient or two, and dream up some minutiae about a spice I love and think you should, too.
          In true elitist fashion, I will share a recipe with you, because academia is in my blood and academics think everything they do or say is supremely relevant and important.
          I am here to champion the worth of food while fighting for flavor and the people who help provide food on our tables. What percentage of Americans eat at the dining table these days? It has been on the decline for the past decade because by many measures, "the kitchen ate the dining room."

Photo Credit: Hari Pulapaka
About Chef Hari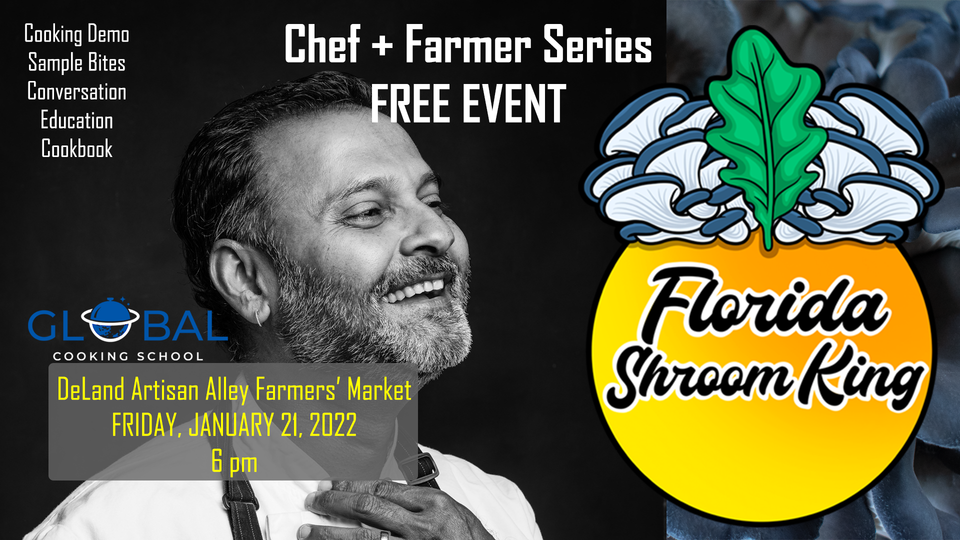 By Hari Pulapaka
Hari Pulapaka is a full-time, tenured Associate Professor of Mathematics in his 22nd year at Stetson University. When he is not teaching undergraduate Mathematics, cooking, speaking, or writing about food, Hari serves as strategic advisor on matters of sustainability for Postelsia and is a Chef/Partner for Enroot.

Learn More about Hari