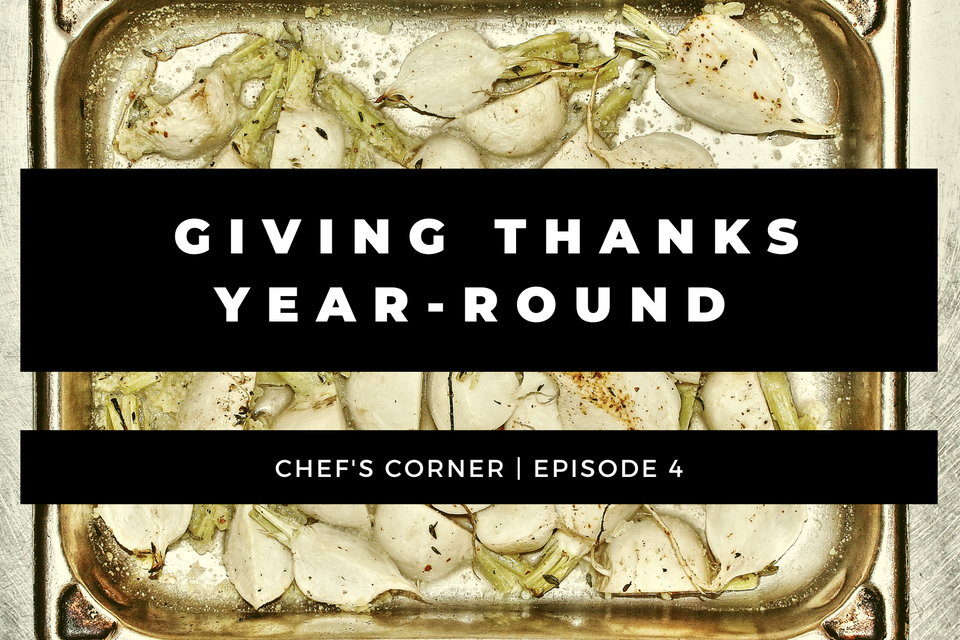 Giving thanks year-round | Chef's Corner | Episode 4
By Hari Pulapaka, PhD, WCMC, CEC
November 22, 2021
The Wampanoag (People of the First Light) were likely expressing their gratitude and thanks for harvests and other bounties long before 1621. Through the centuries, the 67 or so villages that comprised the Wampanoag Nation in the 1600s on "Turtle Island" have seen their population in the region dwindle by as much as 80 percent. Brined, roasted, smoked, deep-fried, spatchcocked, sautéed, glazed, braised, pressure-cooked, sous-vide, reverse-seared, roulade, terrine, pate — all are culinary techniques taught in a first course for professional cooks in most reputable culinary schools. Many Americans swear by their technique(s), offer sage (pun intended) advice to lesser cooks, and analyze their outcomes for days after the fourth Thursday of every November. Some cooks begin prepping and cooking at least one day ahead (mise en place). Some make a mess doing so, while others clean as they go.
          The ability to work efficiently, stay organized, clean along, and have at least a loose plan — even as one may be "salt baeing" (so annoying and disrespectful) one's dishes — demonstrate command and confidence as a cook. To this day, before any cooking event, I organize my shopping list and order of preparation. Unlike some chefs, execution for me is instinctive and in the moment. Just like when dishes and bowls start disappearing into the dish pit (avoid the sink) during a multi-course dinner, the removal of items from the list indicates progress toward completion. Also, when tasting spoons start disappearing, it's a sure sign that the food is being tasted in stages, as it should. Clean as you go and avoid cluttering your space with unwanted items. For example, don't put a stockpot on the stove if you aren't actually making a stock. The extra burner can help you in the moment for something else. Finally, use your oven to finish cooking dishes (it's what we do in the restaurant), because it frees up the stovetop for more cooking.
          I'm thankful for my wife Jenneffer, my 90-year-old mother Padmavathy Rao Pulapaka, mother-in-law Nancy Clark, for other family near and far, and dear friends. Being a chef and educator continually presents me with opportunities to make a difference in myself and the world, and for that, I am thankful. About a year ago, I became a naturalized citizen of the United States of America. I am thankful for that. After being fully vaccinated, I caught the virus not long after returning to full-time, in-person teaching. I am thankful that I didn't need to be hospitalized.
          For six months now, we have been rehabilitating Ranee, the backyard "feral" mother of Chotee, Jeffrey, and so many others who have found loving homes. Without even trying, she proves each day that humans can be such babies. I am thankful for the time we have with her. We had to bid farewell to the inimitable, greater-than-life Mr. John Edward Clark on Nov. 10. I am thankful for knowing him, the memories we made, and the kindness and love with which he accepted me as his own son. After two-and-a-half years, finally, I am scheduled to visit my mother, brothers, sisters-in-law, niece, and nephews. With bated breath, I am thankful.
          Thanksgiving Week is America's food holiday, even as millions of Americans experience food insecurity year-round. Thanksgiving signals the beginning of the holidays, as retailers and small businesses hit their peak-season stride. Amidst all the purchasing, corporate, and individual philanthropy peaks during the holidays. Can you imagine a world where empathy, kindness, and giving thanks happens year-round? We should (imagine).
Local Ingredient of the Week
TURNIPS
          Turnips are a relatively quick-growing, cool-weather crop. In Florida, turnips may be planted as early as August and with a 40-60 day maturation period, they can be harvested for the Thanksgiving Table. The greens may be cooked into a soup or simply sautéed with olive oil, garlic, red pepper flakes, and fresh lemon. The roots can give an elevated alternative to potato in vichyssoise or roasted and baked for a comforting rendition. Equal to radishes, turnips offer flavor, versatility, and nutrition to any meal.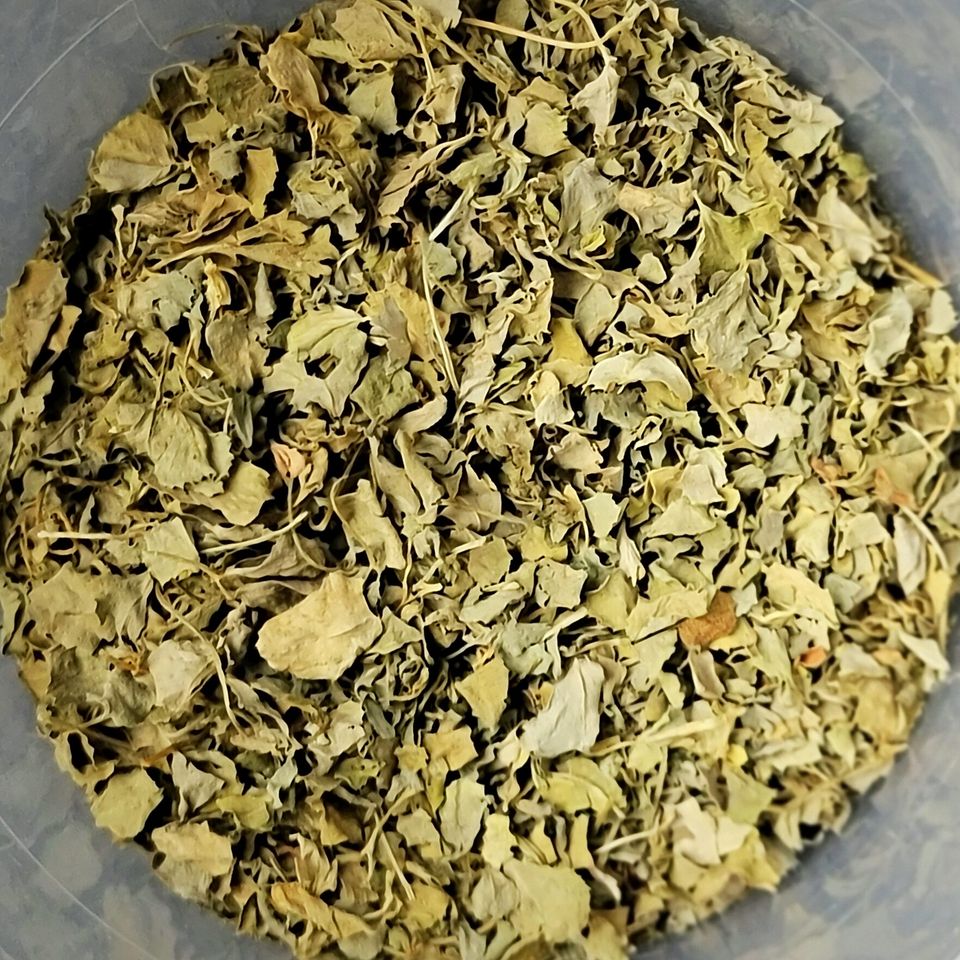 Global Spice of the Week:
FENUGREEK LEAVES
Fenugreek seeds and leaves are used in Indian, Ethiopian, and Eritrean cuisine. The princely state of Rajasthan accounts for more than 80 percent of the fenugreek in India, one of the world's largest producers.
          As a child, I was expected to pick out the best-looking fresh "methi" in the Kalina Market. My mother would sometimes make parantha (layered unleavened whole-wheat flatbread) stuffed with methi leaves. And, because the vegetable was already mixed in, dinner would consist of two or three paranthas per person with a side of (always homemade) yogurt and mango or lemon pickle.
          Fenugreek seeds are assertive, and too much can make a dish bitter. But just the correct amount gives a deeply earthy outcome. The health benefits of fenugreek to treat diabetes and fight anemia are well-documented.



Recipe one of the week:
Turnip Gratin
Servings: 4

INGREDIENTS
6 medium-sized turnips, washed and sliced into 1/8 inch slices
1 medium red onion or shallot, minced
4 cloves garlic, minced
1 teaspoon smoked paprika
3 tablespoons fresh thyme leaves
1 tablespoon fresh rosemary leaves, chopped
2 tablespoons fresh flat leaf parsley leaves, chopped
1 whole bay leaf
1/2 quart heavy cream or half and half
2 teaspoons white truffle oil (optional)
1 cup grated Gruyère cheese
1 cup lightly toasted plain panko breadcrumbs
3 tablespoons extra virgin olive oil
3 eggs
salt, to taste
black pepper, to taste

METHOD
1)     Preheat an oven to 350 F. Toss the turnips in a tablespoon of extra-virgin olive oil, and season lightly with salt and pepper.
        Place on a baking sheet in one layer and roast in the oven for about 30 minutes. Turn them over once during the roasting process.

2)     While the turnips are roasting, in the remaining olive oil, cook the onions and garlic for a couple of minutes on medium heat. Add the rosemary, thyme, and bay leaves, and stir for a few seconds. Season with salt and pepper.
        Next, add the heavy cream (or half-and-half), smoked paprika, and the truffle oil (if desired). Taste the cream for the desired level of salt and pepper. Simmer for one minute and allow to cool for a bit.

3)    Whisk the eggs in a stainless bowl and temper them with the warm liquid. Remove the bay leaf.

4)     Mix the thyme, parsley, breadcrumbs, and cheese together.

5)     Place the roasted turnips in a baking dish and pour the hot dairy and egg mixture over it.

6)     Stir to ensure everything is coated evenly. Spread the turnips as a uniform layer.

7)     Sprinkle the cheesy-thyme-breadcrumb mixture uniformly over the turnips.

8)     Cover with aluminum foil and bake for 15 minutes.

9)     Remove the foil and continue baking until the top is golden brown (another 10 minutes or so). Remove from the oven.

10)     Allow the gratin to cool for at least 30 minutes, before serving.

Note: This can easily be made ahead of time, cooled, refrigerated, and reheated in the oven.


Recipe two of the week:
Turkey Leg Tikka Masala (Curry)
          In a twisted fusion of England, native American, and my own cultural heritage, this spiced turkey "stew" can be enjoyed on Black Friday and Small Business Saturday with rice or any flatbread (perhaps methi parantha). The proof is in the sauce. After that, one may add any cooked ingredients (examples: turkey-leg meat, duck-leg meat, pork shoulder, roasted vegetables, marinated and cooked tofu, etc.) for a <fill in the blank> Tikka Masala. Also, it's 2021, and we've been through so much already. There's no "r" in masala. Admittedly, I get irritated when I hear masala pronounced as "marsala," and I have to remind myself to practice "serenity now." At least it's not as outlandish as being referred to as "Hairy Palatka" that one time. This recipe requires many ingredients and spices, but after you've made it a couple of times, your pantry will be adequately stocked.
          A few days ago, we dined at a local Greek restaurant and it was flattering to be asked by the owner to share my recipe for this sauce. We need more cross-pollination between restaurants in this town. I may have missed it, but I don't recall a collaborative event that has brought together the best restaurants in this town. The Taste of DeLand doesn't adequately demonstrate culinary unity, in my opinion. In my day, I tried to initiate something but was usually met with insincere openness. I don't understand the hesitancy. Now that I've left the restaurant scene, perhaps the "youngsters" will forge ahead.

Servings: 4

INGREDIENTS
1.5 lb. cooked turkey-leg meat, pulled or chopped into chunks
1 large red onion, peeled, diced
1 medium green bell pepper, cored, diced
1 tablespoon, minced fresh ginger
4 cloves garlic, minced
4 fresh curry leaves (if available)
1/2 cinnamon stick
2 whole cloves
2 whole green or white cardamom
1 whole black cardamom
1 teaspoon cumin seed
1 teaspoon coriander seed
1 bay leaf, crushed
1 teaspoon dried fenugreek leaves, crushed
1/2 teaspoon ground cumin
1 teaspoon ground turmeric
1 teaspoon ground coriander
1/2 teaspoon cayenne pepper (more if preferred)
16 oz. high-quality crushed tomatoes (avoid anything with citric acid)
8 oz. water or turkey stock
1/2 cup heavy cream
Chopped fresh cilantro, as preferred
1/4 cup vegetable oil
granulated sugar, to taste
salt and pepper, in stages and per taste

METHOD
1)     In a heavy-bottomed pot, warm the oil on medium heat. Add the cinnamon stick, cloves, both types of cardamom, cumin seeds, and coriander seeds, and stir for a minute.

2)     Add the curry leaves, diced bell pepper, and onions. Cook on low to medium-low heat until the onions are lightly caramelized. This will take about 25 minutes.

3)    Add the fresh ginger and garlic as well as all the ground spices. Stir well. Add salt and sugar for taste and balance. Cook for a minute.

4)    Add the crushed tomatoes and water/stock. Test the seasoning for balance. Simmer on low for one hour, stirring periodically. During the final 10 minutes, add the fenugreek leaves. Allow the sauce to cool a bit.

5)     Discard the black cardamom and blend the entire mixture to a very smooth consistency.

6)     Return the sauce to a pot and add the heavy cream and stir well.

7)     Adjust the seasoning with regard to salt, sugar, and heat (cayenne). Bring the sauce to a low simmer, thinning out with turkey stock (if available).

8)     Gently fold in the cooked turkey leg until the meat is warmed through.

9)     Sprinkle in the chopped fresh cilantro, if using.

10)    Serve with steamed long-grain white rice or any type of grilled or warmed flatbread.

I hope you have a delicious week and I also wish you peace and joy. Consider making a three-sisters succotash for your Thanksgiving meal.


Why is the Chef in a Corner?
          After spending well over a decade in my little restaurant kitchen fully immersed in getting sh!t done, I'm ready to bust out of my corner.
          Each week, I will pass judgment on a segment of food news that may or may not be interesting, shed light on a seasonal (for us) food ingredient or two, and dream up some minutiae about a spice I love and think you should, too.
          In true elitist fashion, I will share a recipe with you, because academia is in my blood and academics think everything they do or say is supremely relevant and important.
          I am here to champion the worth of food while fighting for flavor and the people who help provide food on our tables. What percentage of Americans eat at the dining table these days? It has been on the decline for the past decade because by many measures, "the kitchen ate the dining room."

Photo Credits:
Turnips (David Swoyer)
Fenugreek Leaves (Hari Pulapaka)

About Chef Hari
By Hari Pulapaka
Hari Pulapaka is a full-time, tenured Associate Professor of Mathematics in his 22nd year at Stetson University. When he is not teaching undergraduate Mathematics, cooking, speaking, or writing about food, Hari serves as strategic advisor on matters of sustainability for Postelsia and is a Chef/Partner for Enroot.
Learn More about Hari