I've lived every moment until now — and eat more cabbage. | Chef's Corner | Episode 6
By Hari Pulapaka, PhD, WCMC, CEC
December 9, 2021
Paraphrasing the essence of something the Greek poet Hesiod (circa 700 B.C.) is said to have expressed, "everything in moderation (including moderation)." While this formula for life doesn't work for everyone, it has, by and large, worked for me for the vast majority of my dual-profession life. Seventeen years ago, there was nothing moderate about my yearlong 7 a.m.-1 a.m. schedule as I taught full time, commuted about 120 miles a day (half of which was during evening rush hour), and attended culinary school at night. Culinary school, like any educational endeavor, is what you make of it. I listened, put my head down, and learned every aspect of what I could. The teacher was never wrong, and they always knew more than I. My mother, now 90 years old, was my first teacher, and so it's no surprise that I have the highest possible regard for teachers.
         This week, I had the distinct privilege of addressing the virtual graduation of the culinary program at Second Harvest Food Bank of Central Florida. As I reflected on my own journey, I was struck by the story of a recent graduate holding down multiple jobs, being a dedicated mother, sleeping at bus stops so she wouldn't be late for work at Disney World, all while successfully and diligently completing her program. I have several examples of students in my mathematics classes who express the complement of that kind of worth ethic. It's finals week at Stetson University, and so many of my students are discovering the GPS coordinates of my office for the first time.
         Today, even as my reputation is one of being heavy-handed with flavors, I am always trying to achieve balance in the food I prepare. One would be hard-pressed to find a contemporary restaurant serving a house-made butcher's board without the complementary flavors of intense pickles and condiments (see last week's column featuring mustard seeds). The flavors are designed to be intense, yet, depending on which combination bite you take, you will either experience moderation (balance) or not.
          My teaching style is one of finding a balance between giving away the answer without much resistance and encouraging self-exploration so that students are able to find the answer on their own. In the kitchen, my style is definitely more of the latter. Generally speaking, robots need not apply. This is somewhat contrary to the classical French kitchen brigade, which taught mastery in well-defined tasks at specific stations. My style is more aligned with "total football," as conceived and mastered by the likes of Johann Cruyff and his teammates of the famed Dutch football teams of the 1970s.
          In my ideal restaurant, servers would know food prep and be willing to clean grease traps, and dishwashers would know proper wine service. Curiosity may have killed the cat, but ingenuity stems from curiosity. In mathematics, the last accepted universalist was Henri Poincaré (1854-1912), because he was intensely interested and excelled in all fields of the discipline. Mr. John Edward Clark Sr. (1934-2021) was an occupational universalist.
          No matter the concept, can you imagine a restaurant where every staff member is aiming to excel at every aspect of the restaurant and not just their immediate job description? Of course, compensation must follow, and, yes, it's just a job for some (many), but this is my dream. In my total restaurant, every table is a chef's table, and the waitstaff creates the amuse-bouche for the day. The farmer dines at the restaurant, which showcases the farm's produce, and the wine representative wants to ensure that their empty wine bottles are being properly recycled. In the total restaurant, it should be easy to accept that the guest is never wrong, and the owner never compromises integrity for profit. The guest cares about food waste as much as the chef does. Speaking of food waste, wouldn't it be wonderful if the City of DeLand nurtured and supported a citywide food-waste-reduction and upcycling initiative? Incidentally, guests can be wrong, and owners do compromise integrity for profit.
          We are all striving to be capable, maybe to even be proficient. Nowadays, one is accused of being an overachiever just because they may be intensely interested enough in a variety of what life has to offer. And sometimes, we strive to reach heights only constrained by our own imagination. The total restaurant is one of my metaphors for living.
          Someone once asked me to use six words (allowing contractions) to describe my life. After some thought, because I was having a hard time counting silently, I came up with "I've lived every moment until now."
Local Ingredient of the Week
CABBAGE
          The humble cabbage is related to cauliflower, broccoli and Brussels sprouts, placing it in the "brassica" family. Despite the omnipresence of kimchi on global menus, it shouldn't be surprising that cabbage is especially beloved in many parts of Europe. Historians attribute the domestication of cabbage to regions of modern-day Europe at least 3,000 years ago. The culinary techniques that can be successfully applied to cabbage are diverse and impressive — raw, pickling, fermenting, steaming, braising, stuffing, stewing, sautéing — and whatever new methods may be invented in the future. In my recent book, I have a recipe for a "reverse-seared slab of cabbage" as part of my 15-course plant-based (or is it vegan?) degustation menu found at the end of the book. A chomp of raw and cold cabbage core with some sea salt is incredibly refreshing. Try it sometime!
          There are, of course, a number of varieties of easily available cabbage in the modern grocery store: green, red, napa and savoy, to name a few. They are unique, and each lends itself to a range of culinary preparations.
          In my view, cabbage does really well in a low-and-slow steaming/roasting environment. Simply add some whole cumin seeds, whole mustard seeds, ground asafoetida, ground turmeric, ground cayenne, salt and fresh curry leaves, and you will have created an everyday "bhaji" in our house, growing up in Mumbai. One with a lot of "kamma" (savory umami).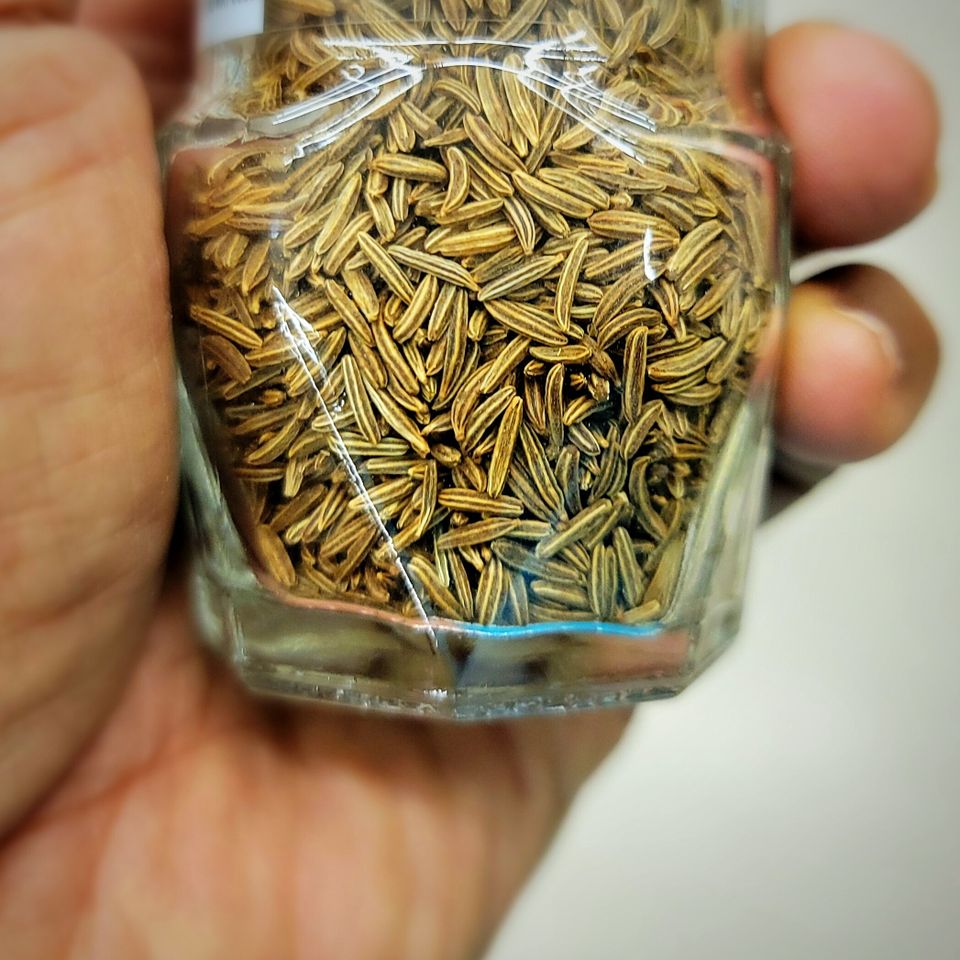 Spice of the Week
CARAWAY SEEDS
          Going by the synonyms "Meridian Fennel," "Persian Cumin," "Shahi Jeera" and "Carum Carvi," among others, caraway seeds have a distinctively assertive flavor and lend themselves to culinary and health applications. Just like ajwain (carom), caraway benefits the digestive system. Of course, what would rye bread be without caraway seeds but a dark (better-for-you) loaf? Reuben, pastrami on rye, ham-and-Swiss, all on rye – you know the classics.
          Caraway seeds (Shahi Jeera) bear a resemblance to cumin seeds (Jeera), but they are not to be interchanged. Unlike cumin seeds, caraway seeds are used commonly in baking, even cakes; for example, a "British" caraway seed and lemon cake, not unlike a poppy seed and lemon cake.
Recipe of the Week
          John Edward Clark Sr. loved sweet-and-sour cabbage, and Jenneffer most certainly takes after him. In 2004, chef Lynae Gurnsey was my culinary instructor in "American Regional Cuisine.'' Representing the American Midwest on the syllabus was a brined pork chop served with spaetzle and sweet-and-sour red cabbage. I had never eaten any of these items before the moment I was expected to follow a recipe and execute the three-course meal in about three hours. Immigrants from Germany settled in the American Midwest in the early 1700s, and their influence on the traditional cuisine and food culture is unmistakable. I had absolutely no idea as to what the dish was supposed to taste like, so I resorted to balance. When chef Gurnsey chose my plate of pork chop, braised cabbage, spaetzle and thyme-infused jus for her dinner, it represented the first time I had made something which, I guess, was good enough that a professional chef would not only try, but actually enjoy. Overnight, my confidence in cooking unfamiliar (to me) dishes soared to new heights.
          In this week's episode, I present my somewhat refined version of "Rotkohl" — traditional German-style braised, sweet-and-sour red cabbage. I'm sure Emmy's Time-Out Tavern would poke holes in any claim of authenticity, so I'm not claiming any such thing.
1 small red cabbage, quartered, cored, and sliced thinly
1 small red onion, minced
2 garlic cloves, minced
3 sprigs fresh thyme
1 small Granny Smith apple (cored) shaved or grated
1 bay leaf (fresh, if available) torn at the edges but still intact
1 tablespoon whole-grain mustard
3/4 cup apple cider or red wine vinegar (or more, if preferred)
1/4 cup light brown sugar (or more, if preferred)
2 teaspoons caraway seeds
2 whole juniper berries (if available)
1/4 cup grapeseed or other neutral oil
water, as needed
salt and pepper, to taste


METHOD
 1.     In a wide skillet with a lid, heat the oil and add the caraway seeds and juniper berries (if using). Stir for 30 seconds
 2.     Add the onions and garlic. Sauté for 2 minutes while stirring.
 3.     Add the cabbage and roast on medium while stirring periodically for about 15 minutes. A bit of browning of the cabbage is ideal and will impact a much deeper flavor to the finished dish.
 4.     Add the apple, fresh thyme and bay leaf. Mix well, and cook uncovered for 10 minutes.
 5.     Add the mustard, vinegar, sugar, salt and pepper. Mix in well, and add a small amount of water. Cover and cook for 30 minutes, stirring periodically until the cabbage is soft and cooked to your liking. Also, along the way, be sure to taste the mixture. Balance the acidity and sweetness as desired. I once had a certified master chef grumble that my Rotkohl wasn't tart enough. He was probably correct, because it's taken me a long time to become accustomed to bold amounts of vinegar in my food. Don't be like Hari; in this dish, be bold with the vinegar.
6.     Discard the thyme stems, juniper berries and bay leaf.
Why is the Chef in a Corner?
          After spending well over a decade in my little restaurant kitchen fully immersed in getting sh!t done, I'm ready to bust out of my corner.
          Each week, I will pass judgment on a segment of food news that may or may not be interesting, shed light on a seasonal (for us) food ingredient or two, and dream up some minutiae about a spice I love and think you should, too.
          In true elitist fashion, I will share a recipe with you, because academia is in my blood and academics think everything they do or say is supremely relevant and important.
          I am here to champion the worth of food while fighting for flavor and the people who help provide food on our tables. What percentage of Americans eat at the dining table these days? It has been on the decline for the past decade because by many measures, "the kitchen ate the dining room."


Photo Credit: Hari Pulapaka
About Chef Hari
By Hari Pulapaka
Hari Pulapaka is a full-time, tenured Associate Professor of Mathematics in his 22nd year at Stetson University. When he is not teaching undergraduate Mathematics, cooking, speaking, or writing about food, Hari serves as strategic advisor on matters of sustainability for Postelsia and is a Chef/Partner for Enroot.

Learn More about Hari