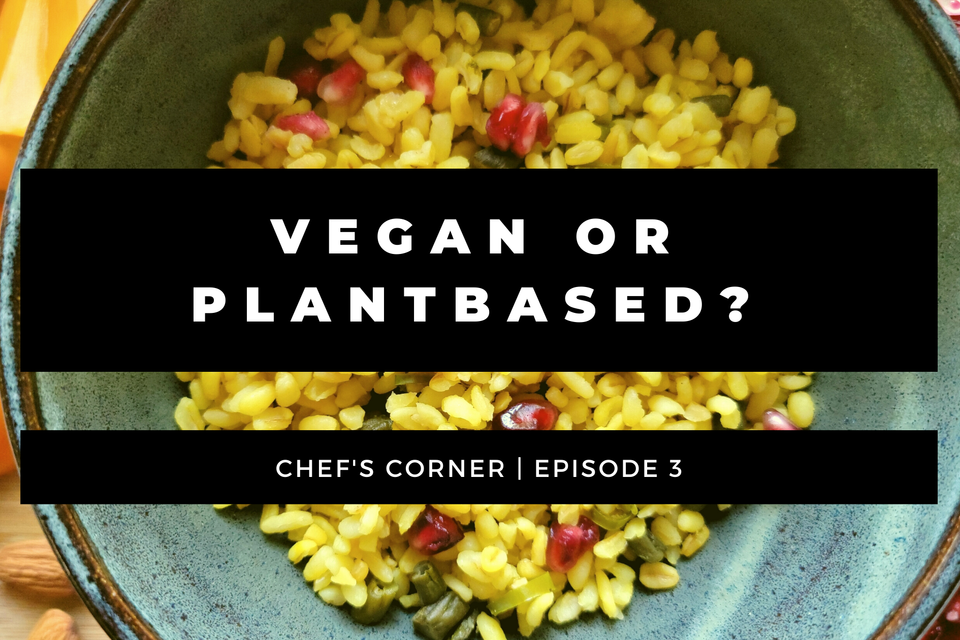 Vegan or plantbased?
By Hari Pulapaka, PhD, WCMC, CEC
November 18, 2021

          Oregon is the most vegan state, and Mississippi is the least. An annual Pickle Fest in Jackson, Mississippi, draws throngs, while Lisa Eversman and Bryce Shivers of Portland, Oregon, can pickle anything.
          The term "vegan" (a concatenation of the first three letters and last two letters of the word "vegetarian") was coined in 1944 by Donald Watson, a prominent animal-rights advocate who later co-founded the Vegan Society. He used it to refer to any individual whose diet was completely devoid of animal products. The reasons for such a dietary choice, for him, were ethical.
          In 1980, seeking an analogous notion that sidestepped political pushback — and one that was centered around promoting good health — Dr. Thomas Colin Campbell, a leading nutrition scientist of the 20th century, invented the term "plant-based."
          After extensive research, he landed on the conclusion that consuming exclusively whole foods and avoiding animal products was better for human health.
          "Are you vegan or plant-based?" This question drives my lifestyle-medicine-certified physician wife (and me) absolutely bonkers. Yet, significant literature confirms why this human-created confusion has become problematic for nutritionists, diners, staff, cooks and even food companies.
          The main cause for the s--- show is linked to the interpretation that "plant-based" does not imply 100-percent vegetarianism, contradicting the term "vegan." It simply means a majority (unquantified, of course) of one's diet is from plants. I guess it's like being based in one city, but not living in it year-round.
          The problem stems from differing interpretations of the word "based." If X (plant-based) is based in Y (plants), then it seems to me that everything about X originates from Y.
In computer science, this would be a rooted tree, suggesting that only plants can enter the rooted tree of plant-based cuisine. Plus, anything on a tree is, by default, plant-based.
          So, no animal products can be used in plant-based cuisine. Hence plant-based would have to be vegan. So, plant-based equals vegan, because no matter the interpretation of "based," vegan clearly implies plant-based.
          Again, it all depends on the meaning of the word "based." Words matter.
          Somewhere in the evolution of dietary jargon, plant-based diets allowed for some animal products — that's just messed up, but it explains the conundrum we're in.
          In one 2017 research paper published in the Journal of Geriatric Cardiology, the very first sentence reads "A plant-based diet consists of all minimally processed fruits, vegetables, whole grains, legumes, nuts and seeds, herbs and spices, and excludes all animal products" Yes! Good night, everybody.
          It seems to me that either one consumes animal products, or one doesn't. Otherwise, everyone is plant-based, to a degree. Unless, of course, there's a universal standard for quantifying the percentage of one's consumption of plant-derived ingredients that are required to be considered plant-based. That'll never happen.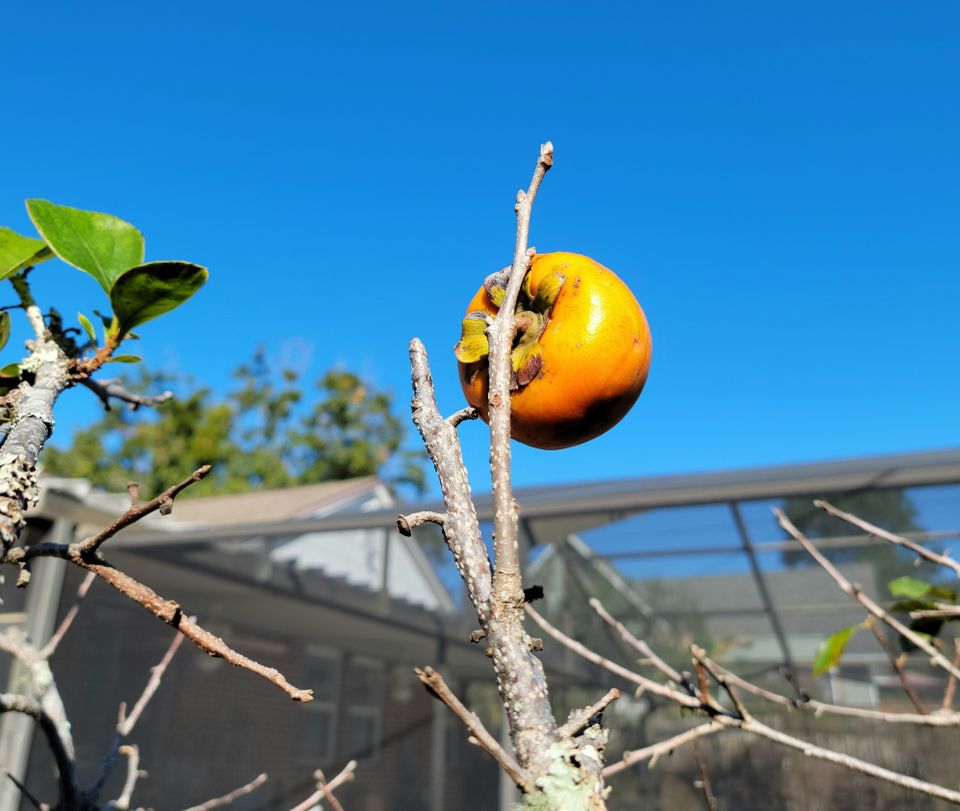 Local Ingredient of the Week
PERSIMMON
          It is fairly common knowledge that before Henry Addison DeLand's settlement became incorporated into what is now the city of DeLand, the area used to be called "Persimmon Hollow."
          Historically, an abundance of wild persimmons made for a sweet landscape. Today, DeLand is home sweet home for so many, and for myriad reasons.
          John MacConnell grows some of the best persimmons I've ever had, and Pam MacConnell recently made a fantastic persimmon pie. We are at the end of persimmon season, but that means the ones left on the trees are ripe. And that's just perfect for this week's recipe.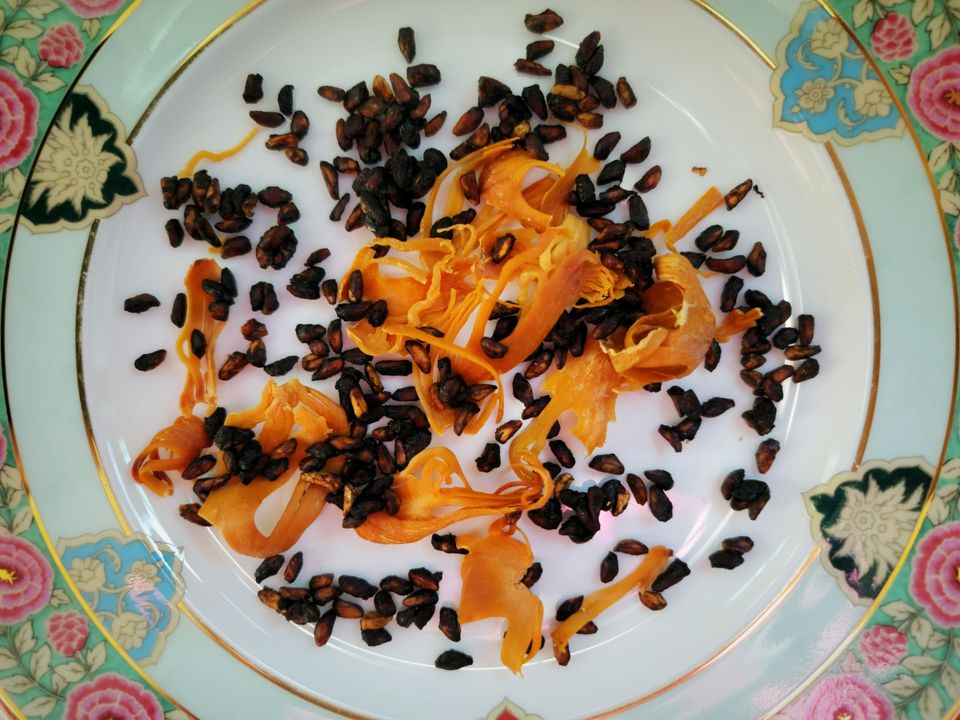 Global Spice of the Week
        This week, I showcase two spices.
SPICE 1: POMEGRANATE SEED
         About a year ago, The Wonderful Co., makers of POM Wonderful, Wonderful Pistachios, Fiji water, Justin wines, Teleflora, and other well-known brands, announced a million-dollar challenge for solutions to upcycling 50,000 tons (that's 100 million pounds) of leftover pomegranate husk and pulp generated each year from their pomegranate-juicing operations.
         That would be an initial R & D investment of 1 cent per pound of discards, in exchange for a viable and scalable solution to upcycle food waste beyond compost, animal feed, or landfill outcomes.
         As an illustration of "it's a small world," yours truly teamed up with a group of food-science researchers and industrial engineers to submit a proposal for consideration.
        We made it to the second round of the competition, but not the final cut.
        It was an amazing learning experience. For example, it became apparent that not many folks seemed to know about the use of pomegranate seeds in cooking. Indian and Persian cooks do.
         In Persian, "anar (anaar)" refers to pomegranate, and "dana" means seed, so, "anardana" would be your query, should you, after reading this column, be on the hunt for red November pomegranate seed in a Persian, Indian, Pakistani or Afghani grocery store.
         That's anardana — not to be juxtaposed as Aradhana, the 1969 Hindi romance film that garnered the Best Film Award at the 17th Filmfare Awards.
         Aradhana starred in my childhood movie idol Rajesh Khanna and his long-standing-favorite on-screen romantic co-lead Sharmila Tagore. To this day, the movie playback hits by Kishore Kumar, Lata Mangeshkar, and Mohammed Rafi get me humming in my head.
        Perhaps you're like me and generally prefer to shop without assistance. "May I help you?" will usually get a "No, thanks. I'm just browsing."
        Nowadays, with a smartphone in hand, one could meander through any ethnic grocery store (or fine wine merchant, for that matter), spending a significant amount of time receiving a crash course in food and beverage information.
       Just like pomegranate juice, the seeds have a distinctive sourness (refer to sumac from last week's column) resulting in an uplifting effect when added to stews, marinades, and spice blends.
      It is an essential ingredient in Persian cooking, and may also be found in many North Indian dishes.
      In addition to the culinary applications, pomegranate seeds have been shown to improve blood circulation, and possess significant efficacy in preventing and treating cardiovascular diseases and certain types of cancer.
      So, let me get this straight: Anardana makes your food taste better and is good for your health?
          Some spices are prolifically versatile. Take nutmeg, for example. After the fruit of the nutmeg tree matures, the spice known as "mace" is derived from the dried coating of the nutmeg seed.
          The British East India Co. is said to have brought the nutmeg tree to Malaysia, Singapore, India, Sri Lanka, and the West Indies. Between them, nutmeg and mace have been at the center and the cause of bloody wars.
          As one would expect, mace and nutmeg have common characteristics of aroma and flavor. In comparison, mace is gentler than nutmeg.
         Nutmeg is a familiar ingredient in North America as part of the much-maligned "pumpkin spice": the unofficial North American five-spice  (cinnamon, ground ginger, nutmeg, allspice, and clove). Some have described its flavor to be a combination of cinnamon and pepper.
         Because it is more delicate than its core cousin, in my opinion, mace is more versatile as a culinary ingredient. It is easier to control without the fear of overpowering a dish (like truffle oil very easily can).
         What did the chicken say to the turkey when crossing the road during Thanksgiving? "Why the long mace?"
         In this week's recipe, if turkey must be on your Thanksgiving menu, consider incorporating ground pomegranate seed and mace into your preparation.
         As a centerpiece, consider ground-pomegranate-seed-and-mace-spiced turkey, glazed with a pomegranate and persimmon gastrique.
        In the spirit of my semantic diatribe above, this week I give you recipes for two plant-based side dishes for the holiday table. Throw in some savory flavors, including fresh herbs, and, just like that, the two side dishes may be composed into a thoughtful main course.
        See, fellow chefs and cooks … it's that easy.
Recipe 1 of the Week:
Persimmon & Pomegranate Jam
Servings: 4

INGREDIENTS
6 ripe persimmons (sub 3 Fuji apples and 3 pears if you can't find persimmons), peeled and sliced into wedges
1 teaspoon minced fresh ginger
1/4 cup granulated sugar
1 sprig fresh thyme
1 bay leaf
1 cup pomegranate juice
1/2 teaspoon ground mace
1/4 teaspoon cayenne powder (optional)
1 cup water
pinch of salt


METHOD

1)     Heat all the ingredients uncovered in a shallow saucepan on medium heat for 30 minutes or until the fruit is cooked through.

2)     Strain the cooked mixture through a fine mesh. Allow everything to cool. Reserve the liquid, and use as a flavoring agent for cocktails!

3)     Discard the bay leaf and thyme before blending the mixture coarsely in a food processor.

4)     Serve alongside roasted vegetables, poultry or a grilled pork chop.
Recipe 2 of the Week:
Servings: 4

INGREDIENTS
1 cup farro
2 cups coarsely chopped onion
1 bay leaf
2 cloves garlic, minced
1 small cinnamon stick
1/2 teaspoon ground mace or 1 whole strand
1 tablespoon pomegranate seeds
1/4 cup fresh pomegranate fruit
1 tablespoon extra-virgin olive oil
1/4 cup chopped fresh parsley or mint
2 cups water
salt, to taste


METHOD

1)     In a saucepan, heat the pomegranate seeds, bay leaf and cinnamon stick in the oil for 1 minute on low heat.

2)     Add the ginger and mace, and cook, while stirring, for 1 minute.

3)     Add the onions and cook for about 10 minutes until they are translucent.

4)     Add the farro, and stir well. Cook on medium heat for 5 minutes until the farro is a bit toasted.

5)    Add the water and enough salt so the water is seasoned the way you would like the farro to be.

6)    Bring to a simmer, and cover. Cook covered on medium-low heat for about 25 minutes.

7)    Turn off the heat, and keep the dish covered for another 10 minutes until the liquid is absorbed.

8)    Fluff the cooked farro before serving, and sprinkle the fresh pomegranate and herbs on top.

NOTE: The pomegranate seeds may be crunchy, but that's not all bad.


Why is the Chef in a Corner?
          After spending well over a decade in my little restaurant kitchen fully immersed in getting sh!t done, I'm ready to bust out of my corner.
          Each week, I will pass judgment on a segment of food news that may or may not be interesting, shed light on a seasonal (for us) food ingredient or two, and dream up some minutiae about a spice I love and think you should, too.
          In true elitist fashion, I will share a recipe with you, because academia is in my blood and academics think everything they do or say is supremely relevant and important.
          I am here to champion the worth of food while fighting for flavor and the people who help provide food on our tables. What percentage of Americans eat at the dining table these days? It has been on the decline for the past decade because by many measures, "the kitchen ate the dining room."


Photo Credit: Hari Pulapaka
About Chef Hari
By Hari Pulapaka
Hari Pulapaka is a full-time, tenured Associate Professor of Mathematics in his 22nd year at Stetson University. When he is not teaching undergraduate Mathematics, cooking, speaking, or writing about food, Hari serves as strategic advisor on matters of sustainability for Postelsia and is a Chef/Partner for Enroot.

Learn More about Hari