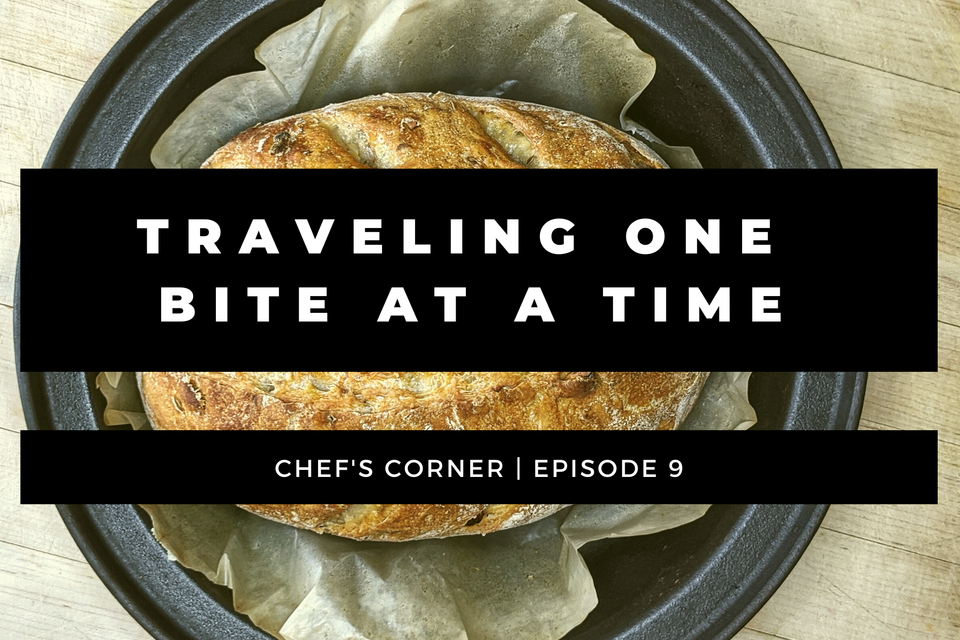 Traveling One Bite At A Time
By Hari Pulapaka, PhD, WCMC, CEC
December 30, 2021
With another calendar year looming to an end, 'tis the season for predictions, trends, resolutions and the like. Emphases on sustainability, health and nutrition, more (some) plant-based options on restaurant menus and holiday tables, ever-changing public-health protocols, and the delicate future of independent restaurants round off the looking-glass horizon for the food industry.
          By comparison, in academia (my other profession), sustaining the relevance of traditional programs, effectively using new technologies, bridging the gap between the classroom and workplace, and giving teachers more wiggle room, incentive and basic resources feel like bullet points from a few years ago, but remain the challenges of years to come. I've often felt like Rodney Dangerfield was talking about teachers. Even though I've become quite adept at juggling around at least four applications while managing the chat tool, typesetting real-time class notes, and maintaining an even-keeled presence on video and audio — and garnering my best course evaluations in years — it's evident that there are no pay raises for that kind of resilient adaptation. Because, after all, education is also a business, and enrollment drops have affected revenue (I am told) and the future is unclear. The evidence suggests a bumpier ride before smoother cruising — a prognosis most of us could live without, given the past two years.
          So, allow me to offer an alternative perspective.
If you are able to actually travel, by all means, do so safely and prolifically. At least once in your life, go to a place where you don't speak the language, and no one there speaks yours. Figure it out, but don't expect the locals to pander to your limitation. You will (figure something out) and in the process, your practiced mind will germinate coping tools to receive more of where that came from.
Try foods you wouldn't otherwise as you (re-)discover the joy of "traveling" via food. If you cook at home, cook dishes outside your standard repertoire. If you are yearning to travel to a different land, but are unable, start by exploring the food and beverage of the region and cook at home. "Supper clubs" have been around for a very long time, and it's no surprise that they've enjoyed a resurgence in recent years. While it is nearly impossible to replicate authenticity from a recipe or even a video, the simple act of shopping in an "ethnic" grocery store or at least the ethnic aisle of a mainstream grocery store will give opportunities for simulated travel.
          Whether one lives to eat, eats to live, or somewhere in between, the influence of what we eat during the course of our lifetimes leaves a profound and lasting impression on our bodies and minds. Amidst the push for improving our food systems, nutrition in school lunches, access to healthy food, local food, etc., we are overlooking an additional opportunity — being able to leverage the vast and influential platform of personal experiences to teach and learn via the medium of food.
          "Pizza" — that universally beloved flatbread — extolls the stories of bread-making and bread-breaking, cross pollination, native influences and, naturally, immigrant food. A sub-story is that of weakening language barriers, thanks to the power of food in communication. It also demonstrates how necessity evolves simultaneous ingenuity, trade and invention, despite cultural and experiential differences. These are all teaching moments, and it doesn't depend on whether or not one prefers pepperoni on their pizza.
          "Curry," a quintessentially Southeast Asian association, flavor and style, tells the story of lands fragmented for millennia, but held together by a strong sense of culture, language(s), and resilience. It also tells the story of colonization, condescendence and subjugation. While the bounty of the land, vibrancy of the customs, depth of peoples' outlooks on life, and contradictions of co-existence are storied, the stereotypical impression of what curry is or isn't are opportunities for learning about, reflecting within, and celebrating amongst the many-sounds-one-voice paradigm of humanity. And that influence doesn't depend on whether you like Korma, Avial, Jhol or Rendang.
          "Gumbo," a ubiquitous representation of the melting-pot cuisine of Louisiana, tells the story of French formality melding with the thrifty utilization of ingredients by the have-nots against the backdrop of a landscape filled with pomp, circumstance and color. Plantation life, sweltering temperatures, a gusto for life, slavery, and food (in)equality are just some of that fora for conversation, research, exploration and even innovation. Whether you do or don't like okra and/or tomatoes in your gumbo, there is no denying the power, for at least a modicum, of enlightenment before, during and after the preparation of a pot of gumbo. They say it's all in the roux; maybe, but that's because roux-making is deliberate, thoughtful and pot-stirring.
          While we debate the virtues of whether or not our food is local, sustainable, antibiotic-free, pesticide-free, organic, humane — all supremely relevant and important aspects — we may be missing opportunities to illustrate and make deeper connections with the entire world around us … through the lens of food. In our school and college cafeterias, can you imagine the power of serving food that complements and supplements academic curricula? Can you imagine food-serving stations that are inspired not only by techniques, ingredients, seasons, budgets, flavor and culture, but also by subjects already being taught in the classrooms? A business major learns about accounting and balance sheets, and is able to observe implementations and illustrations of those concepts in the dining hall on campus. A budding physician makes concrete connections between documented health benefits of ingredients in a hot-station special as it relates to the prevention of chronic ailments and diseases. A future farmer makes connections with current farmers via the transparency of sourcing. A political-science student sees the ramifications of unrest or broken supply chains in another part of the world illustrated by the absence of certain products on the lunch menu. The case for universal education and individual growth through the lens of food is obvious, exciting and impressive.
          Meanwhile, find and nurture your inner globe traveler, whether it is to a part of town you haven't been to, a different city in your state, a different state, a different country, a never-before visited continent — maybe even while holding on to a dream of being strapped inside a spaceship shooting away from Planet Earth. It's all possible and importantly, can be supremely fulfilling.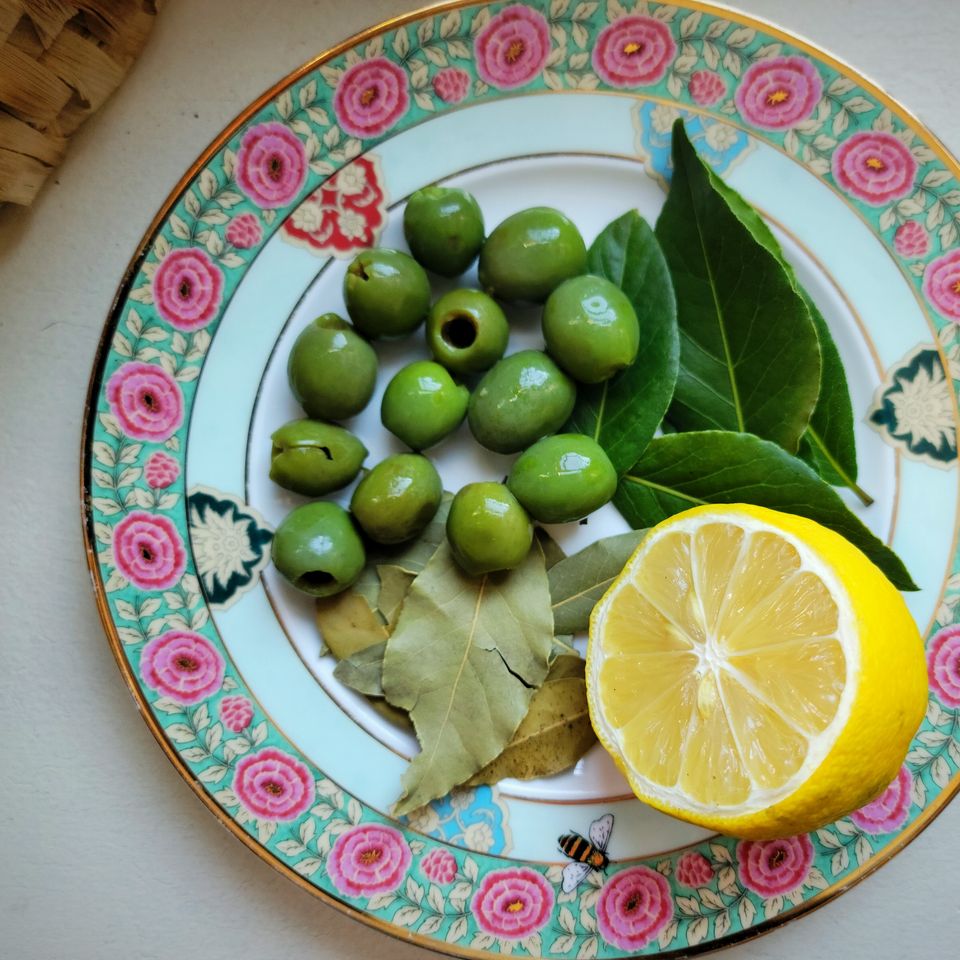 Local Ingredient of the Week
LEMONS
        When life gives you lemons, some make lemonade while others preserve them (Morocco), dry them (Iran), or make pickle (India). By some accounts, there are at least 30 types of lemons in the cultivated world, and I've never really understood why limes are so much cheaper than lemons.
Global Spice of the Week
BAY LEAVES
          Bay-laurel leaves in fresh or dried form are used in many cuisines for their distinctive earthy flavor and aroma. In general, one discards the leaves after cooking, but many spice blends will, in fact, blend or grind the leaves with other ingredients. It should be noted that the Indian bay leaf ("tejpat") is different from the bay-laurel variety. Fresh bay-laurel leaves provide an intoxicating aroma and depth of flavor to stews and rice dishes like risotto. Here's a pro tip: Make small tears around the edges of the leaf in a few places without tearing the entire leaf. This allows the essential oils to be extracted even more.
Recipe of the Week
          Prior to attending culinary school (2004), I was at Jan and Dom Rodi's house on Lemon Street in DeLeon Springs, having invited myself for a late lunch after a spirited round of golf. It was then that I first experienced the enchanting flavors of Morocco. Jan made a Tagine of Chicken and I remember depleting their supply of pita bread as I sopped up all the lemony goodness. I also remember going back the next day and cleaning out their leftovers. I didn't think the dish could taste any better when I first tried it, but somehow, it tasted even better the next day. Here is my interpretation of that memory.

Notes: 
1)     One may replace the chicken with a number of other options, like cauliflower and potato, wedges of acorn squash, leg of lamb or goat, or filets of fish.
2)     "Tajine" refers to both the dish as well as the traditional utensil used to cook the dish. I love my tajine, because it also makes the best bread I can make.
1 whole free-range or organic chicken
10 cloves garlic, peeled and sliced into slivers
1 tablespoon fresh ginger, minced
2 lemons, seeded and cut into wedges
1 large white or yellow onion, peeled, sliced
1/2 cup capers, drained and rinsed
1 cup seedless briny green olives, cut in half
1 small can garbanzo beans, drained and rinsed
2 cinnamon sticks
4 cardamom pods
pinch of saffron threads (optional if it's out of your budget)
4 bay leaves (fresh, if available)
1 tablespoon ground cumin
1 tablespoon ground coriander
1 tablespoon chopped preserved lemons (if available)
1 cup extra-virgin olive oil
2 cups chicken stock (made from the remains of the whole chicken)
1/2 cup chopped flat-leaf parsley
1/2 cup chopped fresh cilantro
1/4 cup chopped fresh mint
Kosher salt and freshly ground black pepper to taste
METHOD
1.     Break down the chicken into 8 parts, leaving the skin on. Place the carcass, innards, a bay leaf, onion peels, garlic peels, ginger skin, 1 cinnamon stick, 1 bay leaf, parsley stems, and cilantro stems in a stock pot with enough water to cover the chicken carcass. Simmer for 2-3 hours.
2.     While the chicken stock is simmering to completion, gather the remaining "mis en place" and marinate the chicken at room temperature for one hour in some of the olive oil, garlic, ginger, lemon juice, salt, and pepper.
3.     Preheat an oven to 325F. In a Dutch oven or shallow pot, heat the remaining olive oil on medium heat and sear the chicken parts in stages so that they are golden brown. Set aside.
4.     In the same oil, sauté the onions until translucent. Add the capers, olives, lemon wedges, preserved lemon, ginger, garlic and ground spices. Stir for a minute or so. Add the chicken back to the pot and deglaze with enough chicken stock to barely cover the chicken and add the saffron threads.
5.     Next, add the remaining whole spices and garbanzo. Depending on how briny the olives and capers might be, you might need some more salt and even pepper. The ultimate flavor profile should be pronounced with olives, lemon and olive oil. Cover tightly and bake in the oven for about 45 minutes.
6.     Remove from the oven and let the tagine rest for at least 15 minutes before sprinkling with the chopped parsley, cilantro and mint.
Serve with some crusty baguette or pita bread.

Culinary Note:  It is important to season a dish in stages rather than all at once. It helps develop the flavors of the ingredients. It is equally important to keep tasting the dish during the various stages.
Why is the Chef in a Corner?
          After spending well over a decade in my little restaurant kitchen fully immersed in getting sh!t done, I'm ready to bust out of my corner.
          Each week, I will pass judgment on a segment of food news that may or may not be interesting, shed light on a seasonal (for us) food ingredient or two, and dream up some minutiae about a spice I love and think you should, too.
          In true elitist fashion, I will share a recipe with you, because academia is in my blood and academics think everything they do or say is supremely relevant and important.
          I am here to champion the worth of food while fighting for flavor and the people who help provide food on our tables. What percentage of Americans eat at the dining table these days? It has been on the decline for the past decade because by many measures, "the kitchen ate the dining room."
Photo Credit: Hari Pulapaka
About Chef Hari
By Hari Pulapaka
Hari Pulapaka is a full-time, tenured Associate Professor of Mathematics in his 22nd year at Stetson University. When he is not teaching undergraduate Mathematics, cooking, speaking, or writing about food, Hari serves as strategic advisor on matters of sustainability for Postelsia and is a Chef/Partner for Enroot.

Learn More about Hari