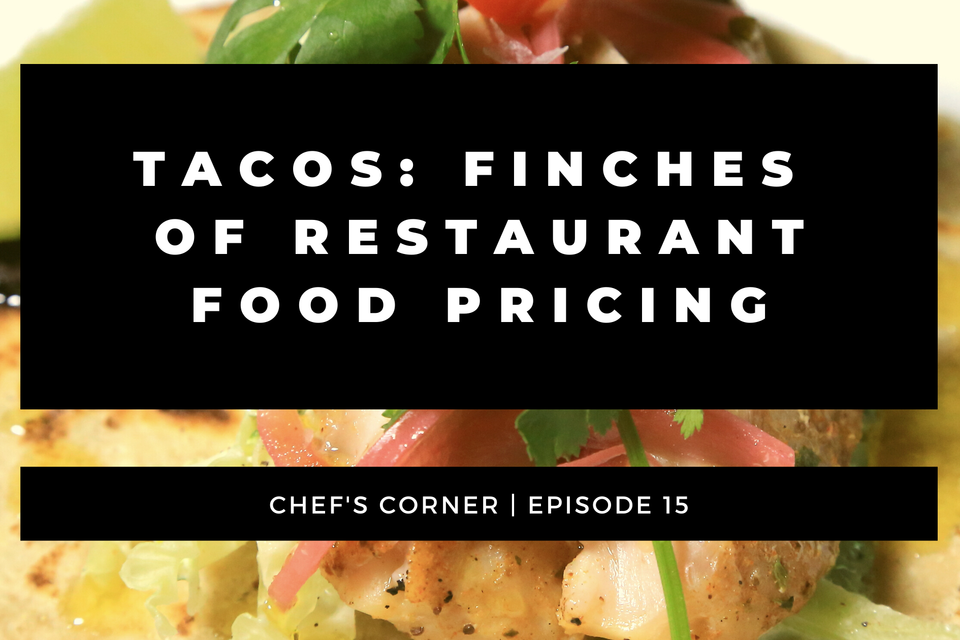 Tacos: Finches of Restaurant Food Pricing 
By Hari Pulapaka, PhD, WCMC, CEC
February 10, 2022
What are your comfort foods? Can they be described with general characteristics? Mine are most often rooted in simplicity, freshness, scratch cooking, humble ingredients, and bold flavor. The taco is as good a representation of those traits as any other culinary creation. When I have the luxury of time, I visit local food stalls and usually gorge myself to discomfort. For the past couple of years, I've avoided non-vegetarian versions, and my cholesterol meter thanks me for it.

At the taco stand, a time-honored individual makes the tortillas from scratch. Commodity meat cooked in spices and aromatics purchased at a big-box farmers or specialty market, a few pieces of onion, chopped cilantro, a wedge of lime, and (unlimited) red and green sauces all amount to perhaps a combined prime (cost of goods and labor) cost of say, 30% of the menu price. When I used to serve tacos at my former restaurant, I couldn't possibly afford to offer them at $1.50 apiece, a common price at a taco stand. Usually, my average price was about $5 apiece.

At the restaurant, although I could easily have made the tortillas myself (and did on special occasions), typically, I didn't have the time. I would purchase a reasonable-quality pre-made tortilla, use high-end proteins (for example, house smoked local, fresh, sustainable fish or slow and low braised, compressed, roasted, overnight marinated heritage pork belly), and make complex sauces and garnishes that I think distinguish the taco, fitting it with the rest of our menu and style. In our case, the prime cost may be closer to 50 percent. Combine this with the cost of silverware, linen, ambiance and service, and it is easy to see how our tacos may have a lower profit margin than those from the taco stand. While I may rather scarf down multiple tacos at the stand, wiping my slobber with cheap paper napkins and brushing aside critters who also want a piece of the soulful action — my tacos didn't suck, not in the slightest.

Don't judge a book by its cover, but also, don't compare apples to oranges. My taco isn't better than that of the taco stand, nor is the taco stand's version more affordable than mine. One could argue that the taco, by the very nature of its cultural history and significance, is best enjoyed simply and modestly; without the pomp and circumstance of fussy plating, unconventional ingredients, and multilayered cooking techniques, and most of all, at a price that may be higher than the daily wage of farmworkers who help bring the dish to fruition. While I can relate to the uniquely satisfying experience of eating tacos at a taco stand, I would counter that dismissing a refined interpretation of the modest taco would require one to dismiss the same of burgers, pizzas, pastas, paellas, chowders, and just about most food.

Ultimately, the price of food is a function of the total cost of production, presentation, and everything in between. The pricing journey ensues with the procurement of the chosen ingredients. If I were using commodity tilapia or basa, kissed with liquid smoke, and marketed it as "peach wood smoked cherry snapper," then shame on me, and I would be the first to boycott my own restaurant. Dear restaurants (you know who you are), you may do anything for profit, but don't do that. Heck, even a meatloaf has more recognizably honest ingredients.

Although restaurateurs have to make a living, consumers aren't obligated to patronize a restaurant simply out of sensitivity to this reality. But the fact of the matter is that the number of independent restaurants in the United States has been slipping and, since the ongoing pandemic began, even more are disappearing — with more and more customers choosing fast food, delivery, or grab-and-go options. The taco stand and my former restaurant are both independent restaurants. Taco Bell on the other hand, is not. At a menu price of $1.19 for a taco made with even cheaper ingredients obtained through staggeringly influential purchasing power, the chain is best positioned to survive long after any independent restaurant serving tacos. Many independent restaurants serving tacos don't specialize in tacos, but the taco stand does. You get my drift?
Local Ingredient of the Week
Butternut Squash
The Indigenous people of the Americas have been cultivating, consuming and revering many varieties of squash for thousands of years — just ask any of the three sisters. Narragansett is spoken by the Indigenous tribes of southern New England, and the word "askutasquash" refers to squash — hence "squash." Butternut squash has become ubiquitous in restaurant menus because squash are luxurious and cook-friendly. When roasted, they are creamy, sweet and nutty all at once. At the restaurant, I would use my knife, but a good vegetable peeler makes it easy to peel them. Save the seeds, dry them, and try to sow them. Unlike me, you may be surprised with a productive vine over time.
Global Spice of the Week:
Nutmeg
Nutmeg refers to the seed of several species of dark-leaved evergreen trees that may be traced back to modern-day Indonesia. The seed provides two distinctly different spices — nutmeg and mace. Mace refers to the dried reddish covering of the seed. Its flavor is more delicate than that of nutmeg. Nutmeg on the other hand is often freshly grated in controlled quantities, because a little bit is fantastic and warm, while a lot is unpleasantly overpowering.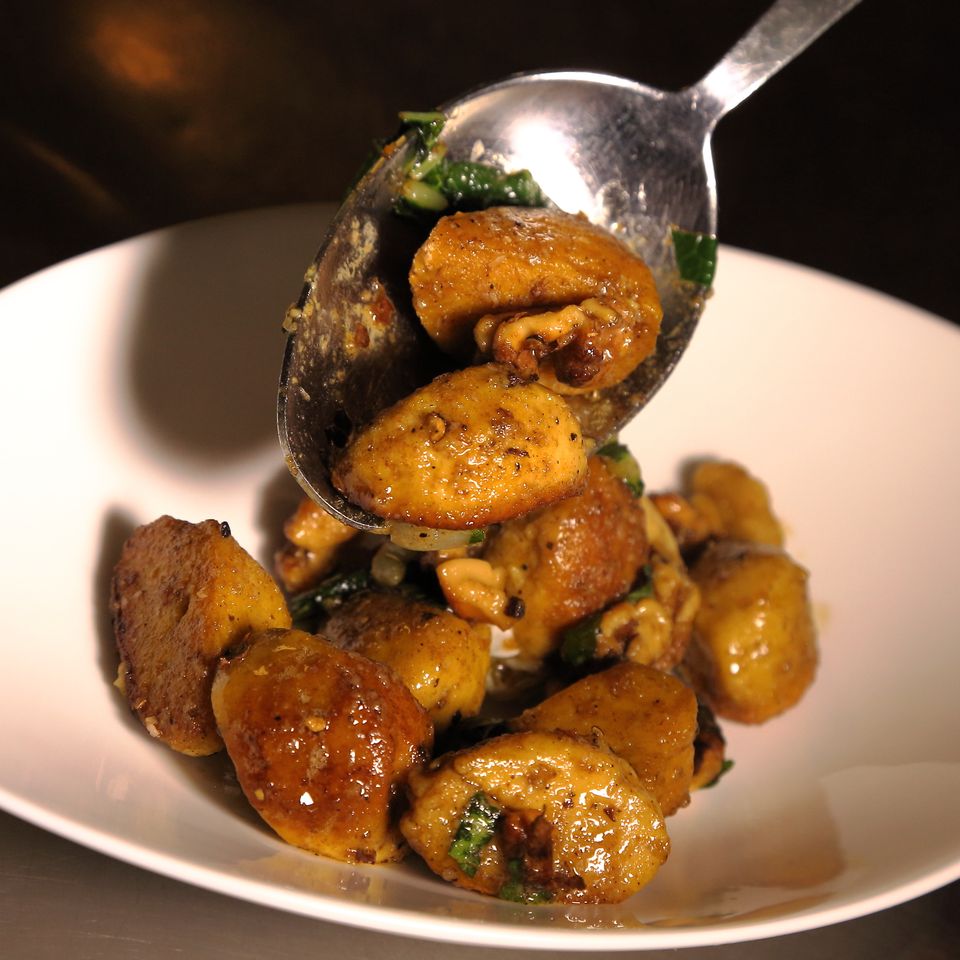 Recipe of the Week
Butternut Squash Gnocchi Parisienne
Gnocchi Parisienne are essentially dumplings made from a savory pâte à choux batter (think éclairs or profiteroles) that have been blanched in salted water and then, depending on how one likes it, sautéed in butter or extra-virgin olive oil. Thus, it is a canvas that accepts a wide variety of flavors. This version infuses the batter (paste, really) with puréed roasted butternut squash.


Servings: 4

INGREDIENTS

1.5 cups water
3 ounces unsalted butter
1 small butternut squash, peeled, cored, diced
1.5 tablespoon kosher salt
2 cups all-purpose flour, sifted
2 tablespoons Dijon mustard
1 tablespoon chives, chopped
1 tablespoon parsley, chopped
1 teaspoon freshly grated nutmeg
6 eggs
unsalted butter, as needed for sauté
1/4 cup sage leaves with stems
extra-virgin olive oil for roasting squash
2-3 sprigs fresh thyme
2 ounces high-quality blue cheese
2 ounces chopped walnuts
kosher salt - to taste
freshly ground black pepper - to taste


METHOD

1) Coat the diced butternut squash with some extra-virgin olive oil salt, and fresh thyme sprigs. Roast on a baking sheet for 30 to 40 minutes at 350F until soft.

2) While the squash is roasting, melt the butter in the water with some of the salt in a heavy-bottomed saucepan. Bring the liquid to a low simmer. Whisk in the flour until it comes together. This takes about 2-3 minutes. Take it off the stove, and let it cool.

3) In a stand-up mixer (or in a bowl with a wooden spoon) with the paddle attachment, on the lowest setting, whip the flour mixture so it cools down a bit. Add the mustard and 3-4 ounces of roasted squash. Grate the nutmeg, add the remaining salt, and add one egg at a time. Finish with the fresh herbs.

4) Either fill a piping bag with the mixture, and squeeze/cut with a knife into boiling salted water, or use an ice-cream scoop to scoop 1-oz. portions into simmering salted water. Two minutes after the gnocchi rise to the top, drain and cool them.

5) To finish the dish, melt some butter (or use extra-virgin olive oil) in a pan, and add the sage leaves to the melted butter. After the butter browns a bit, sauté the gnocchi until they are golden brown, and serve with some crumbles of a high-quality blue Stilton, remaining roasted squash, and toasted walnuts.


Why is the Chef in a Corner?

          After spending well over a decade in my little restaurant kitchen fully immersed in getting sh!t done, I'm ready to bust out of my corner.
          Each week, I will pass judgment on a segment of food news that may or may not be interesting, shed light on a seasonal (for us) food ingredient or two, and dream up some minutiae about a spice I love and think you should, too.
          In true elitist fashion, I will share a recipe with you, because academia is in my blood and academics think everything they do or say is supremely relevant and important.
          I am here to champion the worth of food while fighting for flavor and the people who help provide food on our tables. What percentage of Americans eat at the dining table these days? It has been on the decline for the past decade because by many measures, "the kitchen ate the dining room."
Photo Credit: Hari Pulapaka
About Chef Hari
By Hari Pulapaka
Hari Pulapaka is a full-time, tenured Associate Professor of Mathematics in his 22nd year at Stetson University. When he is not teaching undergraduate Mathematics, cooking, speaking, or writing about food, Hari serves as strategic advisor on matters of sustainability for Postelsia and is a Chef/Partner for Enroot.

Learn More about Hari