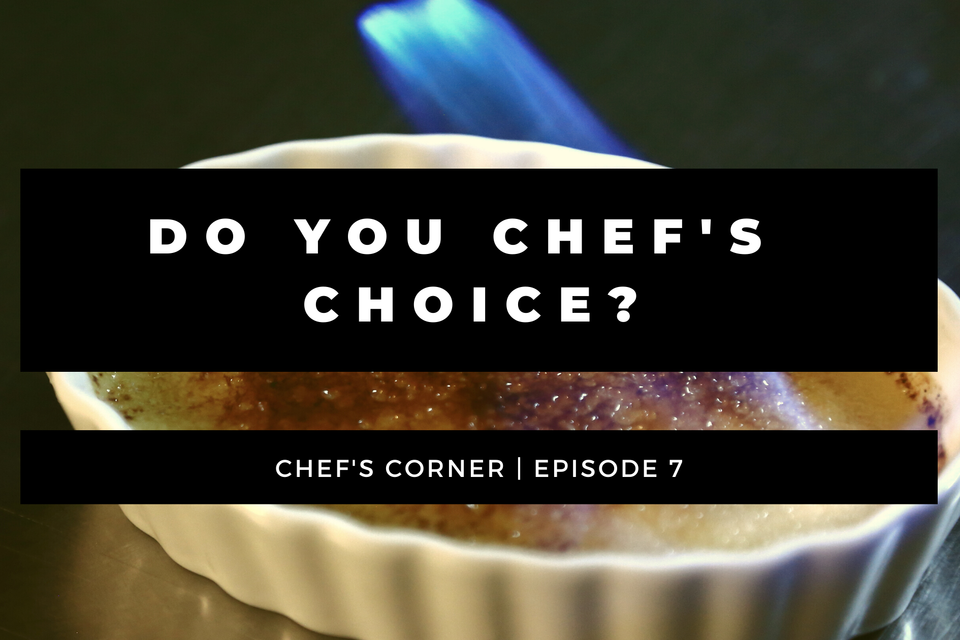 Do You Chef's Choice?
By Hari Pulapaka, PhD, WCMC, CEC
December 16, 2021
   
          "The year's best restaurant review" by travel blogger Geraldine DeRuiter mocked, ridiculed and metaphorically spit out "the worst possible" Michelin-starred experience at Bros' restaurant in Lecce, Italy. Despite 27 courses, a Michelin star, and supposedly avant-garde technical proficiency in the kitchen, the group of four left gastronomically and intellectually violated, but not before foaming at the mouth (see the review on "The Everywhereist: An Award-Winning Cry for Help"). It's not often that one reviews a review, but in my opinion, a recounting like that has to contain large swaths of truth. Ms. DeRuiter's brilliantly satirical blogpost may very well make you expunge your beverage amid laughter and sadness. It will also make you ponder the relevance of such dining experiences in the present age of de-emphasized formal dining vis-a-vis concept reboots, shifting dining culture, staffing shortages, supply chain constraints, and a perception that the world as we know it is generally going to hell in a handbasket — REM predicted this. Rereading the previous sentence reminded me of a Seinfeld episode in which Kramer fires Raquel Welch.
          I mean, sure, a minority of diners will continue to chase these sorts of interpretations of food, but for most of us (even pedantic chefs like me), it's theater. And much like the blog's subtitle "A Cook's Cry for Help," even though dysfunction exists in every restaurant kitchen, most of us (professional cooks) are striving to make fairly straightforward food. Some do it better than others and the reasons for their success have less to do with genius and more to do with — they give a sh!*. Like art (the chef's justification over three pages), there's good art and there's bad art. Someone once pointed out to me — it's all art.
          Certainly, many of us have had food in restaurants that we thought was weak, uninspired, even ridiculous. However, the occasional fussy degustation of amuse-bouches-gone-mad notwithstanding, I've never been subjected to anything that even remotely caused the kind of reaction in my sensibilities that, according to this writer, "broke something inside me." Unquestionably, food touches us in deep and memorable ways. I'm always perturbed by the binary choices — Eat to Live, or Live to Eat. Realistically, we must eat to live and, when we eat, we often come alive.
          All this brings me to the fundamental notion of diners giving up even more control to the kitchen. Are you the type of diner who would opt for a "chef's choice" item or tasting menu? It takes a certain amount of adventure, trust, curiosity, omission of a specific craving or "not having to decide mindset," don't you think? And isn't it ironic — no it isn't. When you are invited to dine at someone else's house, do you not give up control? Do you get to choose from a menu? Likely not. Before you retort with the argument that in a restaurant, since you are paying for the meal, you should have significant control, you must realize that at the end of the day, you really don't (have much control). You order from a menu, have nothing to do with its preparation, and hope to be presented with food you will enjoy. For cooks, there's a repetitive aspect to cooking from a menu. Yet, there are a multitude of competition-style cooking shows on TV that challenge cooks to create a "chef's choice" kind of dining experience. As a matter of fact, is there any other kind of mainstream food television? While the viewers can't get enough of this kind of spectacle, given the option in a restaurant, I would think a much smaller percentage of diners want the kitchen to cook tangentially to the menu. Instead, normal cooking is preferred by most. I just came off calculus finals …
          "Omakase" is the Japanese version of a Chef's Table, with an implicit connection between the chef and the diner. In this instance, for the chef, he/she does not want the diner to have any preconceptions about food, keenly observes the diner's reaction to each course, and adjusts the creations based on the perceived satisfaction of the guest. It takes a tremendous amount of self-confidence and skill to achieve a uniformly enjoyable experience for all guests. Because, easily, as Ms. DeRuiter recounted, every dish might taste like fish.
          Is DeLand ready for a tasting-menu-only type of dining experience? I would go, at least twice, but then, secretly, I would critique the abilities of the kitchen. I wouldn't close my eyes in contemplation after each bite, but I would direct the flavor through my halls of silent judgment. And in doing so, would I be fair to the cooks? Would my analysis be cogent? Or would it become clouded with comparative associations?
          But then again, "it's just food." Sure. Keep thinking that.
Local Ingredient of the Week
ORANGE
         Is there a more quintessential fruit that highlights Florida produce than the beloved orange? In recent years, "greening" — a disease of citrus spread by an infected insect — has become the focus of much disdain and research. The result of greening may include irregular shape, smaller yield, and inferior flavor. As one can imagine, there are a number of efforts to assist growers and the citrus industry in rebounding from recent losses, and some are showing promise. Meanwhile, every part of most varieties of citrus, including oranges, is edible. In particular, the zest of an orange is a versatile ingredient in cooking and baking.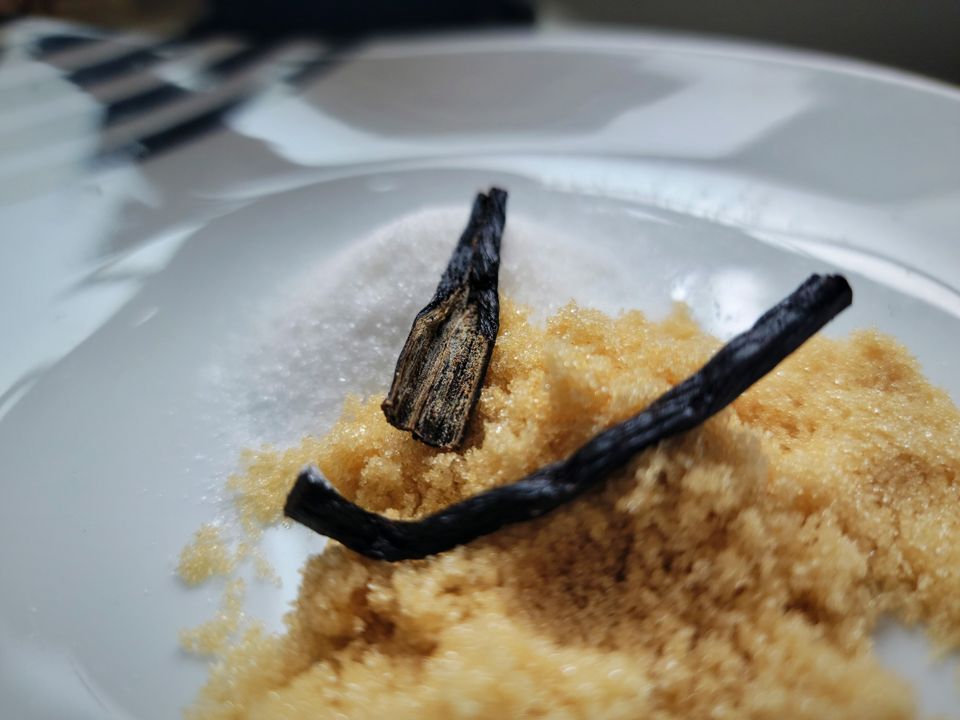 Spice of the Week
VANILLA BEAN
          Vanilla beans are derived from a string-bean-like pod of a climbing orchid. Vanilla extract and vanilla beans are night and day in terms of imparting the pure flavor and aroma of vanilla. Unlike the extract, vanilla beans have wide applications in cooking — with uses in salad dressings to butter-poached lobster. Because of the time and multiple processes before a vanilla bean can be deemed market-ready, they are an expensive ingredient. But if you know how to maximize its use, one bean will give you much in return amid repetitive uses.
          With a sharp knife, split a bean in half and, with the back of the knife, scrape off the tiny black pods (seeds). Do not discard the shell. Use it for simple syrup or infusing other pantry items like sugar — making vanilla sugar.
          The most highly prized and expensive vanilla beans come from the largest island in French Polynesia — Tahiti.
Recipe of the Week
Orange-Infused Vanilla Bean Crème Brulée 
           I've easily made over 25,000 crème brulées in my life — usually 12 at a time — using this exact recipe. The best results are achieved by using 40-percent full-fat heavy cream. Although what's presented here is a recipe for a classic dessert, by simply adding other flavorings and ingredients, one can make hundreds of interpretations — both sweet and savory. Ultimately, it's about the proportion of heavy cream, egg yolks, tempering, temperature, and time. I love recipes that offer a template for wide-ranging applications.
1 quart heavy cream
8 medium egg yolks (what do you do with the whites?)
1 vanilla bean (use only half if it's a large and plump bean)
zest of 1 medium orange
5 ounces white sugar
4 ounces light brown sugar


METHOD
1)     In a shallow baking dish, prepare the ramekins that will contain the custard. You may need to use two depending on how large your ramekins are. Be sure to have some space between the ramekins, because this custard will need to be baked in a water bath to ensure uniform and gentle cooking.

2)     Scrape the vanilla bean, and mix the shell and the scraped paste with the heavy cream and orange zest. Bring to a low simmer over medium heat in a heavy-bottomed saucepan.

3)     While the heavy cream is being infused with the flavor of orange and vanilla, in a wide stainless or glass mixing bowl, whip the sugars and the egg yolks vigorously for at least 2-3 minutes — until the yolks turn to a pale yellow and smooth mixture. This step ensures that the sugars have been adequately creamed with the yolks, thus resulting in a smoother custard.

4)     Stir the infused hot cream, and slowly temper (while whipping) the creamed egg yolks, one ladle at a time at first, and going faster after a while. Be sure to scrape all the vanilla into the tempered yolks.

5)     Pour the cream and egg mixture through a fine mesh strainer (use a chinois if you have one). Stir the strained mixture well, and equally portion the entirety into the 12 ramekins.

6)    Pour hot water into the baking dish, while being careful not to spill any water into the custard.

7)     Carefully transfer the ramekins in the water bath + baking dish to a preheated 275F oven.

8)     Bake for about 1 hour and 45 minutes. The custard should move a little bit but be set in the middle. Allow them to cool while still in the water bath even after they come out of the oven. Once cooled, refrigerate for at least one hour.

9)     Sprinkle a thin layer of Demerara sugar (white sugar works well also) onto each chilled custard, and torch uniformly without creating dark spots.

Note: Crème Brulée translates to "Burnt Cream," so what was likely a kitchen mistake has become one of the world's most beloved desserts.


Why is the Chef in a Corner?
          After spending well over a decade in my little restaurant kitchen fully immersed in getting sh!t done, I'm ready to bust out of my corner.
          Each week, I will pass judgment on a segment of food news that may or may not be interesting, shed light on a seasonal (for us) food ingredient or two, and dream up some minutiae about a spice I love and think you should, too.
          In true elitist fashion, I will share a recipe with you, because academia is in my blood and academics think everything they do or say is supremely relevant and important.
          I am here to champion the worth of food while fighting for flavor and the people who help provide food on our tables. What percentage of Americans eat at the dining table these days? It has been on the decline for the past decade because by many measures, "the kitchen ate the dining room."

 
By Hari Pulapaka
Hari Pulapaka is a full-time, tenured Associate Professor of Mathematics in his 22nd year at Stetson University. When he is not teaching undergraduate Mathematics, cooking, speaking, or writing about food, Hari serves as strategic advisor on matters of sustainability for Postelsia and is a Chef/Partner for Enroot.

Learn More about Hari