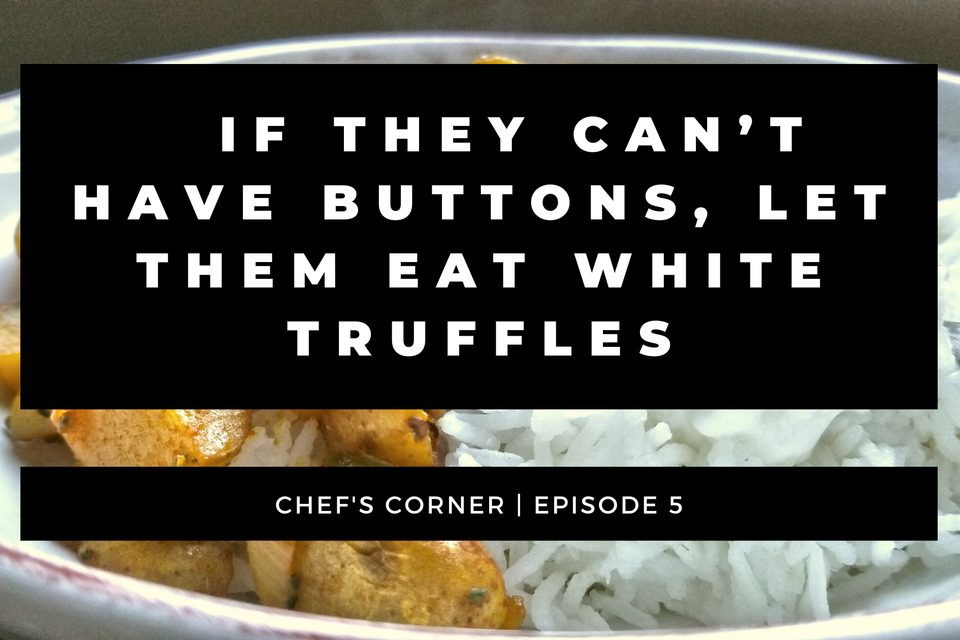 If they can't have buttons, let them eat white truffles | Chef's Corner | Episode 5
By Hari Pulapaka, PhD, WCMC, CEC
December 2, 2021

          Driven by a heightened enthusiasm, a chef in Hong Kong recently paid nearly $118,000 for a 2-pound white truffle at a charity auction held at the 91st Fiera Internazionale Tartufo Bianco d'Alba. That's about $3,687 per ounce, with proceeds benefiting a number of organizations throughout Italy. Earlier this year, the average wholesale price for this highly prized commodity hit an all-time high of approximately $280 an ounce. No — that's not a truffle of white chocolate, which isn't even chocolate. A truffle is a fragrant fungus, essentially. To compound the natural rarity, changes in the climate are threatening the storied Alba white truffle's very existence, given that humans have been unable to cultivate them (to date). Truffle oil is a crude simulation because truffles don't contain that much oil.
          Over the years, I've used truffles on many occasions at my former restaurant — Valentine's Day and New Year's Eve dinners being the marquee events for showcasing them. During my 2017 failed attempt at trying to pass the vaulted ACF Certified Master Chef practical exam, I distinctly remember one of the judges commenting that black truffles (especially, the not-as-perfumed summer versions) must always be warmed, even cooked, a bit, while white truffles may be simply shaved as a luxury garnish. I didn't agree with everything that the judge said, but in this case, I agree with his opinion on the effective use of truffles in cooking.
          I also believe that truffles (like caviar) are a chef's crutch. It takes absolutely no culinary cred or creativity to dollop caviar or shave truffles onto a dish. The prices of these and other luxury food commodities are driven by sparse availability, length of development, labor, cost of storage and distribution, and general hype elevated by haute cuisine snobbery.
          Are you ready for this? At $25,000 apiece, the world's-most-expensive-taco award supposedly goes to the version at The Grand Velas Los Cabos resort in Mexico. It contains (predictably) … Kobe beef, caviar, and truffle cheese wrapped inside a gold-kissed tortilla. Some may ask the obvious question: Why? As a matter of reference, at that price one could buy 1,000 tacos from Danny's Ice Cream Mexican Grill in DeLeon Springs, one of my favorite restaurants in Central Florida. One thousand scratch-made tacos provide 500 meals to those in our community who may need them the most. I can already hear the grumbling among the elite who would argue: "Why not?"
          I'm not against luxury. I take issue only when, in the name of luxury, the natural bounty of our planet is rendered inaccessible to most. You know, like the colonization of lands while displacing or, worse yet, eradicating indigenous life. Did I just say that? The workforce responsible for growing, harvesting, or producing these rarified items has likely never experienced them in their finished form. The beauty of diversity is that there's something for many. But in a just and equitable global food system, there must be something for everybody. Until we get there, we must strive for mindfulness against egregious excess, greed, and endless self-gratification. Since I am casting the stone, this is a reminder to me, first and foremost.
          Random food thought – roasted whole button mushrooms scented with fresh ginger and garlic, kissed with a hint of toasted sesame oil, and a dash of Tamari ranks highly on the umami scale. No white truffles necessary. Meanwhile, this week, I invite you to celebrate with me the humble potato in conjunction with a plant that gives so much.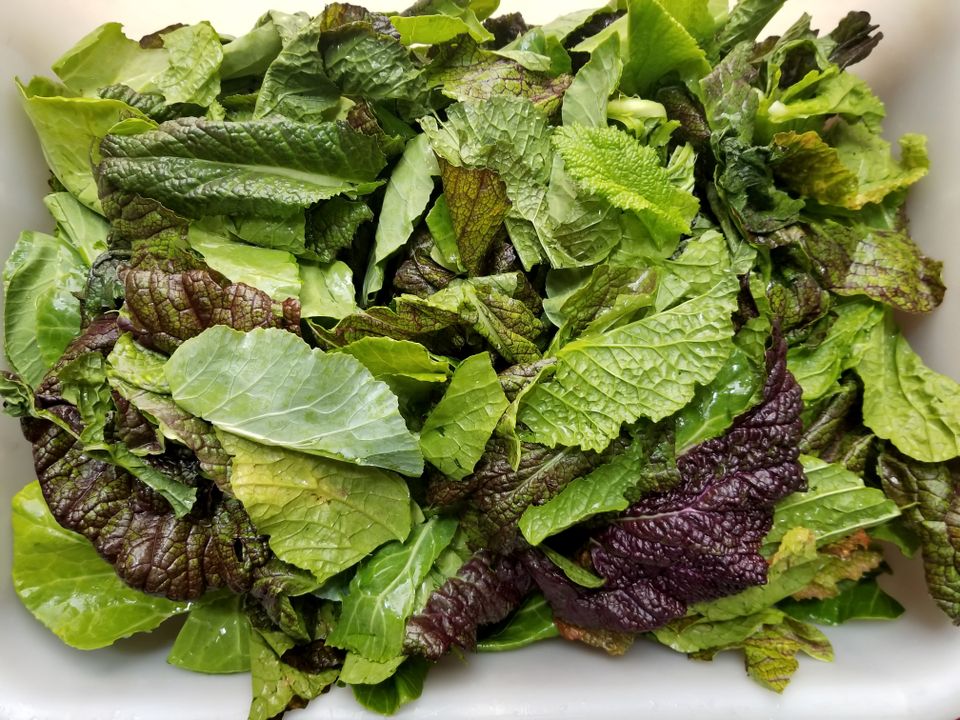 Local Ingredient of the Week
MUSTARD GREENS

          Representing many plant species, the mustard plant is a versatile, distinctive, and widely beloved crop. Some of the earliest documented use of mustard may be traced to the Indus Valley Civilization in what is present-day Pakistan. In the North American South, curly mustard greens are a staple — to the point of being worshipped. Wendell and Dee Jarrard love mustard greens and, for years, would get their stash from the Wednesday Volusia County Farmers' Market. I know, because on at least two occasions, I nabbed a couple of extra bundles for the Jarrards.
          Wendell was also the one who loaned me a large cooking pot with an immaculately fitting lid, during our on-the-street Solidarity Sunday dinner in 2018. An event meant to emphasize the power of food in bringing opposing views to a common table. I suspect many Thanksgiving meals accomplished just that. The Jarrard Pot was the smallest cooking vessel in my kitchen that week but served as the perfect metaphor for the larger-than-life significance of the event.
Global Spice of the Week
MUSTARD SEEDS
          Mustard seeds are the small round seeds of a wide variety of mustard plants. Primarily, three varieties of mustard seeds comprise the majority of culinary applications — black, brown and white/yellow. There is not a "masala dabba" in an Indian household that doesn't contain a "katori" with brown or black mustard seeds.
          Pickled mustard seeds are a dramatic garnish for a wide assortment of dishes, an obligatory condiment on a "charcuterie board" or roasted bone with marrow. "Pickle," in Indian cuisine, refers to a wide range of strongly cured and fermented vegetables or fruit. Mustard seeds are often included in the mixture. Every year, my mother would enlist me and my brothers to put up unripe mango, lemon and garlic pickle — mustard seeds and fenugreek seeds were important ingredients for pickles in our family's recipes. "Mostarda" refers to candied fruit with a mustardy syrup, common to Northern Italian cuisine.
          Mustard seeds are also common in any "tadka" — a tempering of a dish just before serving with aromatic hot oil.
Recipe of the Week
MUMBAI POTATOES WITH MUSTARD GREENS 
The mustard greens are a contemporary addition, but this was the very first dish I made for Jenneffer. After discovering that we both got our jollies from bold and pungent food, I whipped up a version with lots of habanero peppers. Once the toxic pepper fumes had subsided, we sat cross-legged in bed at my modest one-room dwelling, sharing my take on "Mumbai Potatoes" while pretending to watch late night television. Little could we have imagined the beautiful future this moment would blossom into.
Servings: 4
INGREDIENTS
1 lb. baby Yukon gold potatoes halved
1 large onion sliced thinly
1 thumb-sized piece ginger grated
3 cups mustard greens washed, dried, chopped
2 large garlic cloves minced
2 large ripe tomatoes chopped
1 serrano; sliced thinly (less or more depending on preference)
1 teaspoon black mustard seed
1/2 teaspoon cumin seed
2 teaspoon ground coriander
1 teaspoon turmeric
1/2 teaspoon ground cumin
1 teaspoon garam masala (optional)
small bunch fresh cilantro chopped
1 sprig curry leaves (if available)
extra-virgin olive oil or vegetable oil as needed
water as needed
salt & pepper, in stages and per taste
METHOD
Cook the potatoes in salted water until just shy of being completely cooked. Drain well. In a shallow pan, over medium heat, heat some oil and add the mustard seed, cumin seed, curry leaves, ginger and garlic. Cook for about 30 seconds, while stirring. Next add the onions and mustard greens and cook until the onions are a light golden brown. Next add all the ground spices and stir around for 30 seconds. Add more oil if the mixture is dry. Now add the tomatoes, and season with salt and pepper. Stew the spiced tomato mixture until a bright sauce develops in the pan. Add the par-cooked potatoes, stir well, and cover the pan. Stew the potatoes on low heat for about 20 minutes. Open the pan, taste the sauce, and adjust the seasoning as desired. Finish with the chopped cilantro.
For me, steamed white rice, a dollop of mango pickle and plain yogurt make these potatoes sing with the angels.
Why is the Chef in a Corner?
          After spending well over a decade in my little restaurant kitchen fully immersed in getting sh!t done, I'm ready to bust out of my corner.
          Each week, I will pass judgment on a segment of food news that may or may not be interesting, shed light on a seasonal (for us) food ingredient or two, and dream up some minutiae about a spice I love and think you should, too.
          In true elitist fashion, I will share a recipe with you, because academia is in my blood and academics think everything they do or say is supremely relevant and important.
          I am here to champion the worth of food while fighting for flavor and the people who help provide food on our tables. What percentage of Americans eat at the dining table these days? It has been on the decline for the past decade because by many measures, "the kitchen ate the dining room."


Photo Credit: Hari Pulapaka
About Chef Hari
By Hari Pulapaka
Hari Pulapaka is a full-time, tenured Associate Professor of Mathematics in his 22nd year at Stetson University. When he is not teaching undergraduate Mathematics, cooking, speaking, or writing about food, Hari serves as strategic advisor on matters of sustainability for Postelsia and is a Chef/Partner for Enroot.

Learn More about Hari