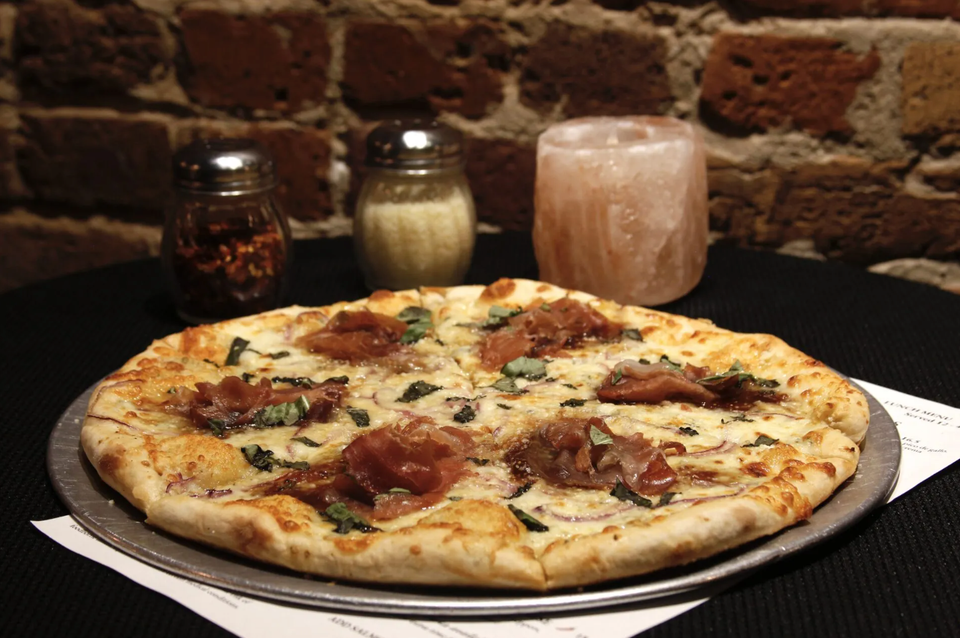 Urban Brick, Italy with a modern twist
BY
Chase Berger
info@beacononlinenews.com
September 28, 2022
PHOTO BY NICHOLAS SUAREZ
HAVE A SLICE — Pictured is the restaurant's sweet-and-salty pizza, the signature dish that is also Urban Brick's most popular pizza, aside from pepperoni.
Amid the bars and shops clustered in Downtown DeLand is Urban Brick, a locally owned restaurant that provides patrons with a slice of Italy. This is where I found myself with my parents after a productive weekend of hanging dormitory decorations.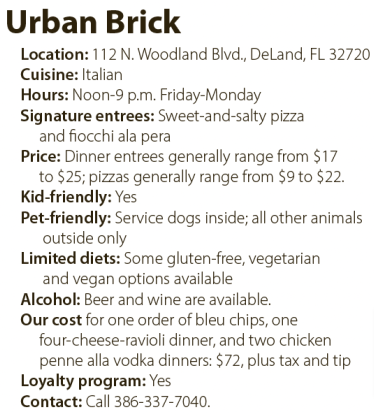 Rose Morelli, the owner and operator, opened the eatery in March 2015. While this is the first restaurant of this magnitude that she has opened by herself, Morelli is no stranger to the food business.

Having worked in her parents' restaurant, Sardis of Mequon, since the age of 13, she grew up in the restaurant business.

"My heritage is Italian," Morelli explained. "I wanted to create the kind of 'Italian Cheers' of Downtown DeLand."

Urban Brick offers customers classic Italian dishes with a modern twist. The menu boasts a variety of Italian staples for starters, sides, salads, soups, pasta dishes, pizzas, calzones and desserts.
The restaurant's signature entrees are the sweet-and-salty pizza and the fiocchi ala pera.

Sweet-and-salty pizza, which has a garlic olive-oil base, is made with Grande Mozzarella, Gorgonzola, red onion and candied fig, and is finished with prosciutto, pecorino Romano and fresh basil.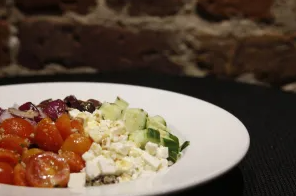 PHOTO BY NICHOLAS SUAREZ
YUM! — To the left is Urban Brick's Mediterranean Bowl, one of several salads that are available.

"It has remained my No. 1-selling pizza, aside from the universal pepperoni," Morelli said.

As for the fiocchi ala pera, it is an imported-pear and four-cheese beggar's purse, a kind of crepe that resembles a small purse.

The beggar's purse is tossed in a lemon cream sauce and finished with fresh basil, pecorino Romano and toasted pistachios.

"It is a dish I had when I first opened," Morelli said. "People will come specifically for that dish. [It is] something you can't really get anywhere [else] in our area. … People will talk about places that are quite a distance from ours, but nobody has anything like it."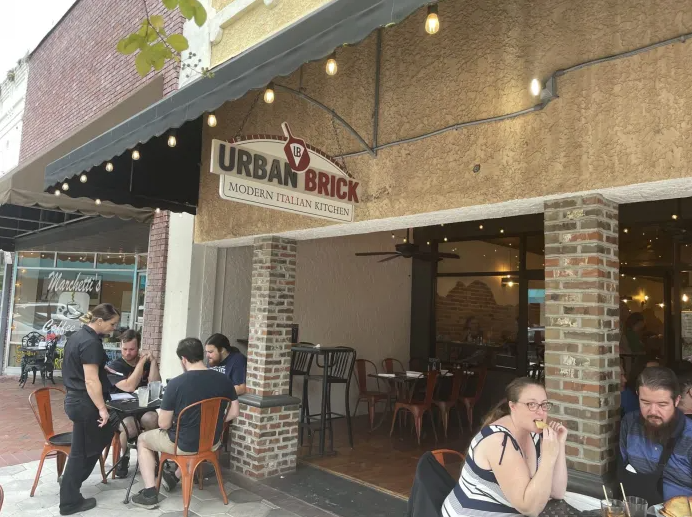 BEACON PHOTO/CHASE BERGER
ALL ABOUT ATMOSPHERE — Customers appreciate the evening weather during their dinners. Urban Brick offers outdoor seating, allowing for more patrons to dine during the busy hours. Most evenings, the patio is full.

While both options were tempting choices, I decided on one of their specials. The four-cheese ravioli with pesto marinara and garlic focaccia was phenomenal. I cannot recommend this dish highly enough. Sadly, it was a limited-time menu item, one I will continue to gorge on in my dreams.

My parents both ordered the penne alla vodka. This dish is made of penne and marinara infused with vodka, heavy cream, pecorino Romano, fresh garlic and Calabrese oil, and finished with fresh basil. With the option to add salmon or chicken, my mother and father added the latter to their dishes. Additionally, customers can request this dish in a spicy variation, but my parents declined.


For a starter, we ordered the bleu chips. This appetizer consists of house-made potato chips with Gorgonzola, blue cheese dressing, fresh basil and a drizzle of balsamic glaze. I found the chips to be so appetizing that I had to force myself to not finish them lest I became too full to eat my main course.

After sampling my parents' dinners, I can say the pasta certainly did not disappoint.

I found their penne alla vodka to be the quintessential combination of ingredients where no single fixing overpowered another.

As for the chicken, it was grilled to perfection, too, with just the right amount of char. The tender meat practically melted in my mouth.

During our scrumptious meals, we received excellent service from one of Urban Brick's 24 employees, all of whom Morelli speaks highly. The employees are often cross-trained, allowing them to be in the kitchen one shift and serving guests the next.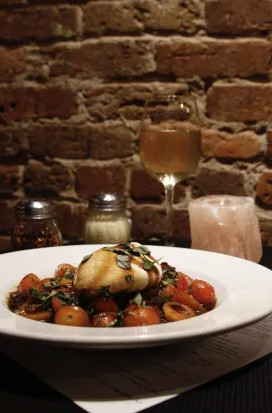 BEACON PHOTO/NICHOLAS SUAREZ
A LITTLE BIT OF ITALY — Above is Urban Brick's burrata Caprese, accompanied — of course — by a nice white wine.

Interestingly, a good number of the employees are Stetson University students.

Speaking of Stetson, the restaurant offers a 10-percent discount for the university's students, faculty and staff. Members of police departments and fire departments, and those working in the health care field also receive this discount.

Urban Brick's connection with the DeLand community has only grown since the restaurant first opened. Morelli said she felt a "tremendous amount of support" from DeLand in Urban Brick's infancy years. According to her, the business was built on the relationships created among the staff, and among the staff and customers.

Morelli wants her customers to enter as strangers and leave as family. She is often found in the dining room, greeting each guest by name, with a smile on her face.
"The food was just a way for me to bring people together," Morelli said, adding, "Food is not my passion. My passion is bringing people together."

— Berger is a Stetson University senior currently working as an intern at The West Volusia Beacon. Photographer Suarez is an employee at Urban Brick and a junior at Stetson.

BEACON PHOTO/CHASE BERGER
DINNER RUSH — DeLandites eat dinner at Urban Brick. The Downtown DeLand restaurant is typically packed during dinner hours. All the tables are occupied during a normal evening.