The Table welcomes new owners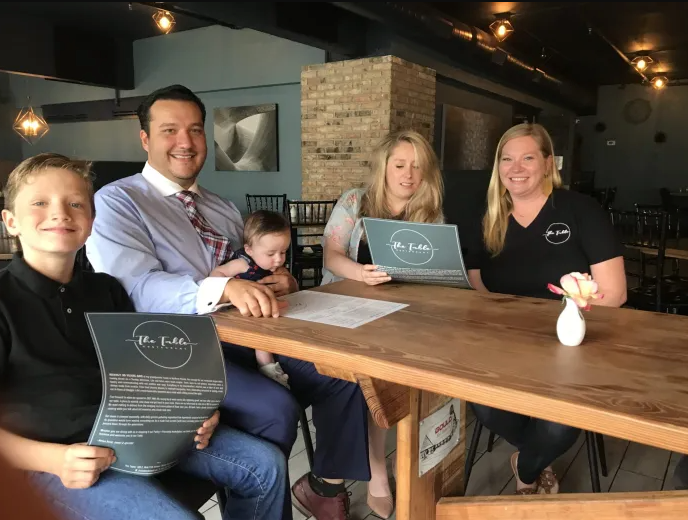 BEACON PHOTO/BARB SHEPHERD WELCOME! — The Quinn family, from left, 10-year-old Maverick, Jessee holding 4-month-old Nova, and Heidi, meet with Melisa Reed a few days after closing on their purchase of Reed's restaurant, The Table in Downtown DeLand.


Alaska transplants are new to Florida, but not to hospitality

When we talked with Heidi and Jessee Quinn, they were aware that Florida has a lot more insects than their previous hometown, but had not yet seen their first palmetto bug. They had only recently stopped setting their air conditioner to 62 degrees at night.

Heidi Quinn screamed when she saw her first gecko lizard.

And, they had never eaten a meal at The Table Restaurant in Downtown DeLand.

The Quinns, both in their mid- 30s, had rented a house in Victoria Trails, sight unseen, driven with their two children 4,668 miles from their home in Palmer, Alaska, and closed on their purchase of The Table and the retail business above it on Aug. 22.

"We just took a leap of faith and figured everything will work out," Jessee Quinn said.

They're ready to become members of the DeLand community.

"I like the small-town feel here," Heidi Quinn said.

DeLand, she said, is a lot like Palmer, which also has a vibrant downtown surrounded by historic homes.

The Quinns are not strangers to the restaurant business. Heidi Quinn had her first job in a coffee shop at age 17, and Jessee Quinn started working at a Quiznos sandwich shop at age 13. They progressed into management and eventually opened their own coffee shop in Palmer.

"We're the perfect example of people who have worked up from the bottom," Jessee Quinn said.

Only about five people in DeLand knew that Melisa Reed had The Table for sale, and that's just the way she planned it. Reed didn't want her customers or her employees to fret about new ownership and big changes.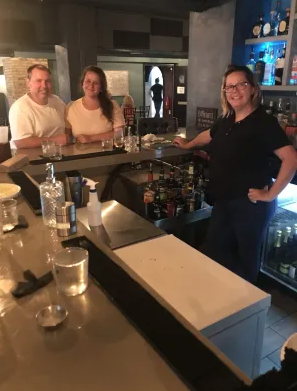 BEACON PHOTO/BARB SHEPHERD
WHAT'S NEW? — The Table's new owners do not plan big changes; employees like bartender Constance Lanpher, at right, will stay. Lanpher chats with customers Philip and Holly Opitz on a recent evening in the Downtown DeLand restaurant.

"I kept the best-kept secret — for once," Reed said with a laugh. Active in the MainStreet DeLand Association and one of its former presidents, Reed has known plenty of behind-the-scenes information about Downtown DeLand.

She orchestrated the sale of the restaurant she created five-and-a-half years ago so that neither customers nor employees would have much to fret about. As much as the Quinns chose The Table after months of searching for a Florida business to buy, Reed chose the Quinns.

"I had some very simple criteria to protect the people here and also to protect the integrity of what's been created here," Reed said.

Reed created The Table with the dining table at her grandparents' home in North Florida in mind.

"Everything in my grandmother's kitchen was a labor of love and always made from scratch. From fried-chicken dinners to midnight margaritas, from celebrating successes to having a kind ear in times of struggle: Life's most memorable moments were made while sitting around The Table," the restaurant's website explains.

The Quinns checked all the boxes to be the right couple to honor the concept.
All 48 employees of The Table are welcome to stay on board. In fact, the quality of the crew she has assembled over the past six months or so is one of the reasons Reed felt she could confidently sell the restaurant she lovingly created and has nurtured.

Melisa Reed had a chance to spend some extra time this summer with her son, Daniel Thomas Reed Jr., who will turn 8 years old in December. It made her realize she wanted to do more of that.

She also will not miss washing dishes in The Table kitchen until 4 o'clock in the morning after a dishwasher didn't show up for work the night before.

Reed will keep her second job, as director of national sales for the Winery Exchange of California.

But the time was right, Reed realized earlier this year, to sell the restaurant. She listed the business for sale with Stephanie Sousa of Florida Business Exchange. The listing was deliberately vague, so no one could guess it was The Table.

"It was interesting because, you know, small town. I had to swear Stephanie to secrecy," Reed said.

The listing caught the Quinns' attention. They had been working their way through a list of taverns, Waffle Houses and other chain restaurants they didn't want to own. They had ruled out breakfast restaurants and places that sold alcohol but no food.

They wanted a place where families would feel comfortable, with a menu that would attract a clientele they would enjoy getting to know.

The Table checked all the boxes.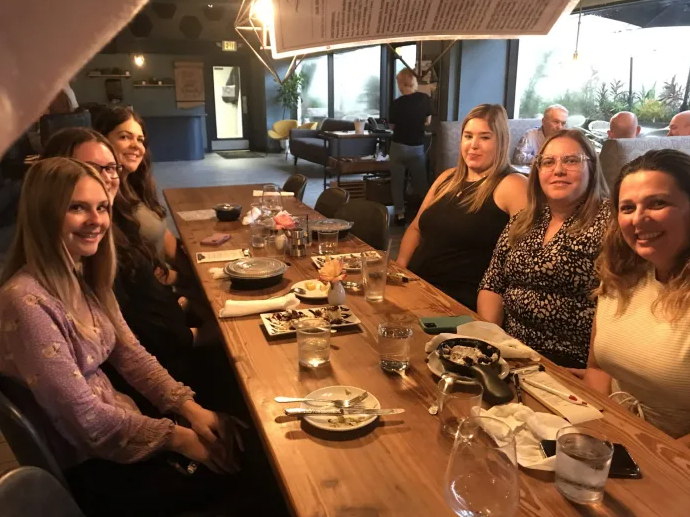 BEACON PHOTO/BARB SHEPHERD
A PLACE FOR CELEBRATION — State Farm insurance-office owner Dayana Torres, at right, treats her staff to dinner at The Table Restaurant. From left around the table are Shayna Brooks, Brylee Hickey, Georgette Carrier, Allison Long and Grisel Vazquez. Not available for the photo was team member Jaylynn Fermin. Torres' State Farm office is at 305 E. International Speedway Blvd. in DeLand, in the small shopping plaza near the Lowe's Home Improvement store.

Following some due diligence by both parties, a contract was signed June 16. Neither party would disclose the sale price, but they said a business evaluation was performed, and The Table met the Quinns' criteria for net earnings.

The sale closed one day before Daniel Jr.'s father, first-time candidate Dan Reed, was elected to a seat on the DeLand City Commission.

Melisa and Dan Reed, who owns the Cafe DaVinci nightspot nearby, are divorced, but remain friends. Melisa postponed announcing The Table's sale because she didn't want to steal thunder from the announcement of Dan's election victory.

The Quinns have some ideas for expanding The Table's event and pr ivate-dinner offerings eventually, and will likely put more emphasis on a coffee shop in the street-level retail space, but they don't envision big changes, and especially not at first.

The popular Bottomless Buffet will continue to be offered on Saturdays and Sundays, and the restaurant will remain closed for lunch on weekdays, a change that was made in March.

Potential effects of any changes on the restaurant staff members — especially in light of the staffing shortages many eateries are experiencing — will be top of mind.

"We're taking the first 30 days to see where everyone is at," Jessee Quinn said. "We have 48 people we're looking out after, so we have to make the right decisions and make them deliberately."