The Original Anthony's Pizza and Italian Restaurant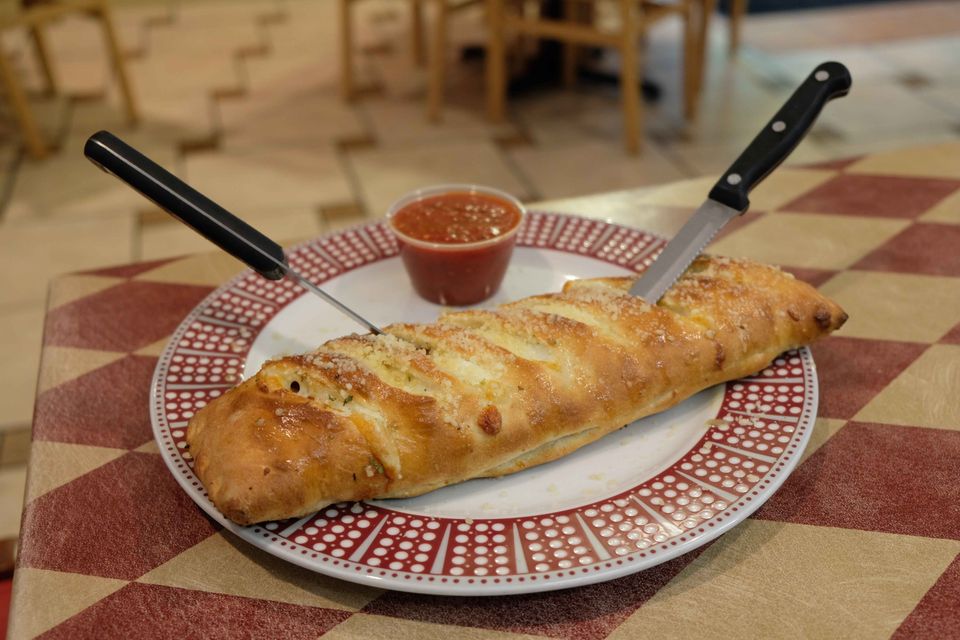 Not just another yogurt shop
BY DAVID SWANBERG
david@beacononlinenews.com
If you've driven through DeBary, you may have noticed an Anthony's pizzeria with the sign "The Original Anthony's Pizza and Restaurant."

As a DeBary resident, I took note and wondered: Just how original is The Original Anthony's Pizza in DeBary?

As it just so happens, a few months back, Tyler Pasch, co-owner of The Original Anthony's Pizza in DeBary, reached out to ask if I'd like to come by and check out the work he and his family have done to get their pizza restaurant up and running.

Due to the busy life one experiences as a foodie on the move, I just recently found the time to drive six minutes down the road for my first-ever visit to Anthony's.

I've lived in the area long enough to remember when Zorba's Restaurant & Pizzeria called that spot home, but Anthony's has been at 155 S. Charles Richard Beall Blvd. for more than three years.

I met with Pasch and his fiancee, Hannah Moyers, who works at Anthony's as a server while she's finishing up school to become a teacher.

Tyler and his father, Eric Pasch, recently became the new owners of the restaurant, and as they found out, with that came challenges.

Chief among them was creating their own structure for the business side of the restaurant.
"It's good because I got to use my business background to fix the books and all that," Tyler said.

Over the past three months, Tyler has been able to step out of the kitchen and assume more of a managerial role. He would like to open more restaurants, but until then he's perfecting the model of Anthony's.

The question you must be wondering about most of all is, "is this the original Anthony's Pizza?" The answer is no.

There are many pizza restaurants with the Anthony's name, most of them not part of a franchise. DeLand alone boasts two Anthony's, along with a Tony's.
The various Anthony's have put their own spin on the recipes, and Tyler has changed a few recipes at his restaurant, too.

"That's what makes us not a franchise, too, is that [the recipes are] similar, but they're different," Hannah said. She was our server for the night.

Fresh ingredients are used to make the dishes, and a flour blend is used for the dough.
Tyler suggested a line for my Foodie File: "You can say we have better ingredients and better pizza," he joked.

The DeBary Anthony's does have great-tasting ingredients, based on the dishes we tried.

We ordered a nice antipasto, Anthony's bruschetta, to start our meal. Pieces of bread provided a bed for a heavy helping of tomatoes atop each piece, along with little cubes of cheese, basil, and a balsamic glaze.

As we would learn throughout the remainder of our dinner at Anthony's, large portions are not uncommon.

If you're not a tomato person, you may not appreciate this surprisingly sweet bruschetta as much as we did.

"The bruschetta and the garlic knots are definitely our most popular starters, but you gotta love that sweetness from the bruschetta," Hannah said.

For our individual entrees, we ordered the small meat-lover's stromboli and a small "extravaganza" pizza that was topped with pepperoni, sausage, sliced meatballs, green peppers, onions, mushrooms and extra cheese.

The toppings were cooked into the pizza enough that they didn't fall off easily. This was a plus, because there was a lot going on on top of the pizza.

It was an extravaganza on the plate, and in my stomach.
Although the stromboli was billed as a "small," it came out of the kitchen large. This dish can easily be split between two people who have only had a couple of bites of bruschetta before dinner.
"Around here, small is a large," Hannah said.

I thought I could finish the meal, but ended up taking nearly half of it home in a box.

Dawn Harris, a first-time visitor and fellow stromboli orderer, told me she'd be back again for the stromboli.

"The bread was the right width, and the distribution of meat and cheese was very good," she said.
Dawn then added, "Dawn is really picky because she's Sicilian and she cooks a lot."

Incredibly, we found room for dessert. Hannah was kind enough to let us try the zeppoles, which are served with three dipping sauces.

A zeppole is a deep-fried dough ball that is topped with sugar. I'd say it's similar to a funnel cake, but instead of a whole cake, you get a ball. The dessert was warm and a lovely conclusion to an overall delightful meal.

Anthony's offers a rewards program in the form of special pizza-shaped magnets that customers can collect. You earn them by ordering a pizza to go, or by having a pizza delivered, and if you form an entire pizza pie, you'll qualify for a free large pizza!
Tyler told us that people get really excited about collecting the magnets. I, too, was secretly eyeing them and picturing my own complete pizza pie on my fridge.

The DeBary Anthony's isn't the only Anthony's in the area, but competition doesn't upset Tyler and Hannah. They want all local restaurants to succeed.

"I want everyone to do well. Let's be busy, you know," Tyler said. "They've got to feed their families, too."

He and Hannah agreed that their philosophy stems from their commitment to serve high-quality meals and go the extra mile for people when they can.

At Anthony's in DeBary, it shows. 
Restaurant Information
Location: 155 S. Charles Richard Beall Blvd., DeBary
Cuisine: pizza and italian
Hours: 11 a.m.-9 p.m. Monday-Thursday; 11 a.m.-10 p.m. Friday-Saturday; noon-9 p.m. Sunday
Signature entree: The Bianca pizza
Price: Meal options generally range from $10 to $20
Kid-friendly: Yes
Pet-friendly: Service dogs only allowed inside; some outdoor seating
Handicap-accessible: Yes
Limited diets: Vegetarian and gluten-free options available
Alcohol: Beer and wine available
Our cost for an order of bruschetta, a 10" extravaganza pizza, and a small meat-lover's stromboli: $31.97, plus tax and tip