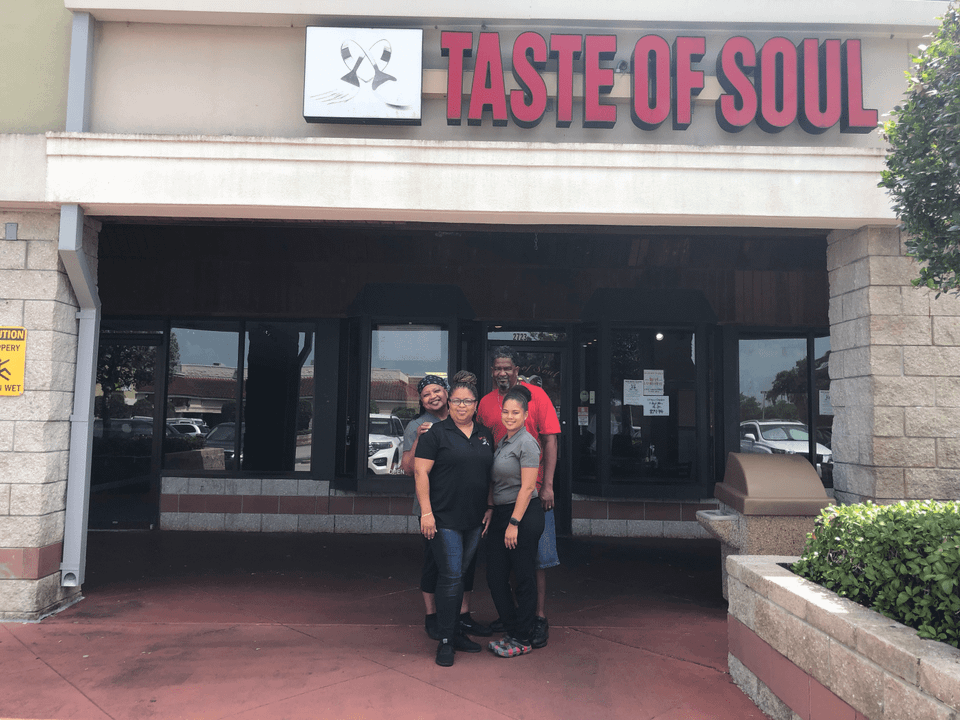 Owners on a mission to deliver 'cooking from the heart'
BY GIANSY PAUL
September 15, 2021
info@beacononlinenews.com
The Black-owned business Taste of Soul is a family establishment created by Corey and Yvette Williams.

In this restaurant at 2723 S. Woodland Blvd. in DeLand, you can find amazing options of Black cuisine. The Taste of Soul business venture was a long time in the making for Corey and Yvette.

Both of them have held multiple titles and roles, from real estate agent to manager. Now, together, they are restaurant owners.

The family business has been able to sustain itself through the global pandemic, and is now in its fifth year. The theme and basis of the restaurant – soul food – is made very distinct by the owners.

"Sometimes people think soul food and Southern food are the same," Yvette Williams said. "For us, we think soul food is about building relationships, cooking from the heart, recipes that have been passed down from generations, and just a general concern for people and their palates."

Pouring that philosophy into their meals has enabled all kinds of people to enjoy delicious recipes passed down through generations at Taste of Soul. You can taste the love, the emphasis on family, and the care that go into the making of the meals.
Following in her mother's footsteps, Yvette adopted the process of never planning the menu too far ahead.

"One thing about the similarities in my experience and how we do things here at the restaurant: My momma never planned a menu, until the night before," she said.
The restaurant does, however, have items that always remain on the menu. Fried chicken and mac-and-cheese, for example, will always be available to hungry members of the community.

For my meal, I stuck to the "staple items": fried chicken, mac-and-cheese and cornbread. I was pretty sure I was eating some of the best soul food offered in DeLand.

The chicken was the perfect balance between soft and crunchy. I wanted more after every bite.

"People want fried chicken," Yvette said. "It doesn't compare to what you have in chain restaurants."
Balancing out the chicken was the mac-and-cheese.

While Yvette and I were talking, we saw a fresh new tray of this delectable item being placed out, ready to serve to customers.

"Homemade baked mac-and-cheese. Love it!" Yvette exclaimed.
We shared our excitement for this dish, and discussed the different types of cheeses used in the Taste of Soul recipe.
The last item on my plate was the cornbread. This dissolves in your mouth in the best way, delivering a sweet flavor that can be felt from your head to your heart.
Corey Williams is a DeLand native. He is grateful for the opportunity to build on his definition of soul food and its emphasis on family by building his own restaurant.
He was certain of his decision to go into business for himself, but he questions himself in one area.

"Like, why I waited so late," he said, and quickly followed with, "Should have done it sooner."

Creating a Black-owned business selling Black cuisine, Corey and Yvette didn't feel obligated to locate in any particular part of town. They chose their location carefully, in the southeast corner of the West Volusia Regional Shopping Center, which is home to a broad variety of retail businesses and restaurants.

"When Corey and I talked about location, we felt like location was key," Yvette said. "It was not about going to a Black town or white town. It was about going to a diverse town. … So, when people say the Black part of town, we think Black people understand as well as white people understand that we can go anywhere we want and be successful."

The success of Taste of Soul has allowed for reflection and inspiration, and the Williamses find themselves wanting to share their story with those who guided them.

"If we could freeze time and then turn back the hands of time and have people that we so much care about, and that cared about us, come and see what we're doing … they would be praising and singing hallelujah all day long," Yvette said.
At Taste of Soul, it's not just sharing the staple food items of fried chicken or mac-and-cheese, or other items like meatloaf and smothered chicken livers. It is so much more than many could possibly think of or understand.

Through the "step out on faith" method, Corey and Yvette have managed to do exactly what they set out to with their definition of soul food. They have and are building relationships, cooking from the heart, continuing generational recipes, and priding themselves with concern for people and their palates.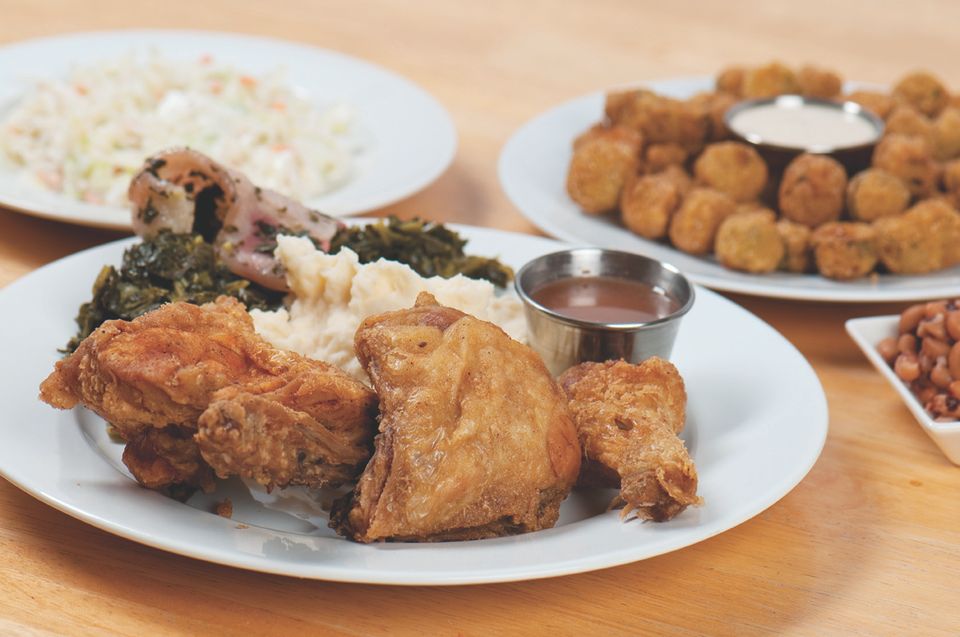 Southern soul food and hospitality
BY RYAN ROUGEUX
info@beacononlinenews.com
I received a tip from a friend that Taste of Soul was a restaurant I had to visit in the wonderful city of DeLand.

We gathered a group and decided to have a family-style experience. Taste of Soul, located in the West Volusia Regional Shopping Center off South Woodland Boulevard, is a Southern soul-food restaurant where all the "fixins" are created with love, and customers are treated like family.

Owners and operators Corey and Yvette Williams, Florida natives, opened Taste of Soul on Nov. 17, 2016, and have been gaining much-deserved popularity ever since.

"I've always had a passion for food and the industry," Corey Williams said.

You can find him there every day Taste of Soul is open, working his heart out with a smile on his face.
Yvette Williams works as a nurse Monday through Friday and works at the restaurant on weekends.

When our group walked through the doors, we were immediately greeted by Yvette's daughter, Ariel Clemons, who showed us all how Southern hospitality really works.
"Ariel is the socializer and friendly face you'll be sure to recognize when you visit Taste of Soul," Yvette said.

Our foodie group strolled into the 54-seat soul-food establishment, and each of us received a cup so we could fill it with our choice of the restaurant's raved-about sweet tea, party punch or Pepsi products.

Taste of Soul has cafeteria-style dining. You get to view your options and choose what you'd like on your plate. The menu changes daily — except for the to-die-for fried chicken — and the daily menu is posted on the Taste of Soul Facebook page each morning before the restaurant opens.

Our group tasted, and shared all Taste of Soul had to offer, and it was heavenly. We had barbecue riblets, turkey flaps, fried chicken, meatloaf, cornbread, mashed potatoes and gravy, and the oh-so-luscious mac-n-cheese, to name a few items.

All the food was well-seasoned, and represented soul food to the highest degree, depicted nicely by the restaurant's symbol of the fork and spoon bent into the shape of a heart.

The head cook, Yvette's sister Zorena Morris, is responsible for most of the house-made recipes and amazing food Taste of Soul delivers to the community.
Taste of Soul offers a divine selection of desserts; carrot cake, peach cobbler, banana pudding, sweet potato pie, and more. Another specialty is the fried fish and shrimp on Friday and Saturday, and the sought-after Southern shrimp boil, including sausage, corn, potato and boiled eggs. On Sundays, they love to throw oxtails, neckbones, smothered pork chops, and other Southern staples into the mix as well.

"We really pride ourselves on building a first-name basis with our customers, as if they are part of our family, on top of delivering the best soul food you can get for a great price," Yvette said proudly.
I can't agree with her more — the service, food, and entire experience were thoroughly enjoyed by the whole foodie-file crew. I'll be sure to keep coming back, and you will too!
Restaurant Information
Cuisine:
Soul food
Signature Drink:
Sweet tea
Price Range:
$1-$15
Hours:
11 a.m.-8 p.m. Tuesday-Saturday, 11 a.m.-6 p.m. Sunday, closed Monday
Kid-friendly:
Yes
Pet-friendly:
Service dogs only
Dress code:
None
Special:
Fried Chicken Special, two pieces white or dark with two sides and drink.  White meat, $8.15; dark, $7.15.
Limited diets:
Veggie plate
Alcohol:
No
Seating:
Indoor
Our bill for eight people, including six entrees, two Fried Chicken Specials, six fountain drinks, four extra sides and one dessert: $109.48.
Phone:
(386) 279-0869
Home of the best-fried chicken