Saigon Sizzle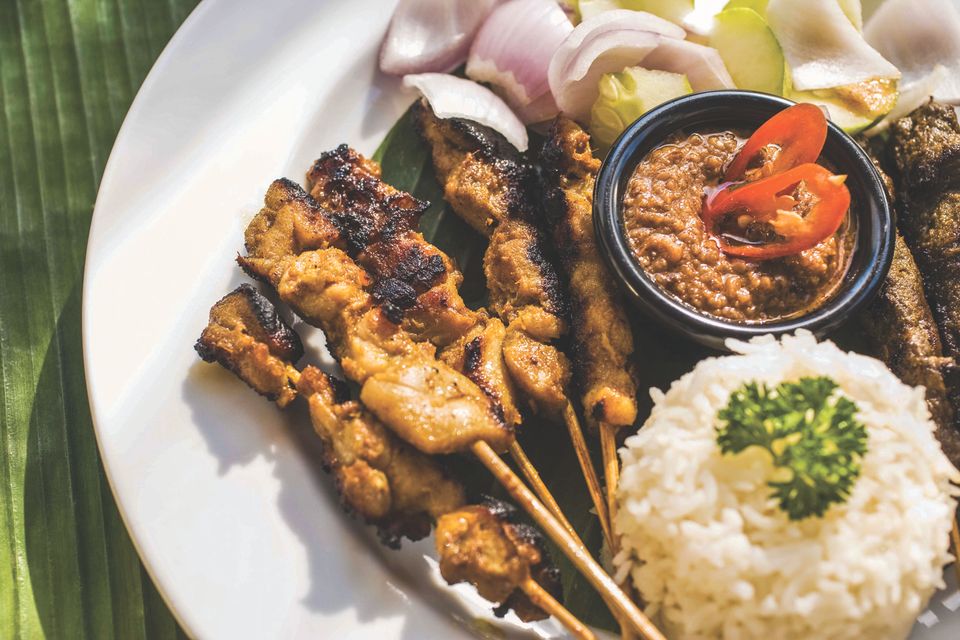 Saigon Sizzle
Location: 870 Saxon Blvd., Orange City
Cuisine: Vietnamese
Hours: 11 a.m.-8 p.m. Monday-Saturday; closed on Sunday
Signature entree: Shaking Beef
Price: Meal options generally range from $5 to $13.
Kid-friendly: Yes
Pet-friendly: Service dogs inside; all other animals outside only
Handicap-accessible: Yes
David's rating: 5 bao buns out of five
Limited diets: Vegetarian-friendly options available
Our cost for the Banh Mi, Mi Go, 2 Baozi (Banh Bao) Buns, a hot green tea and a Vietnamese Iced Coffee: 33.95, plus tax and tip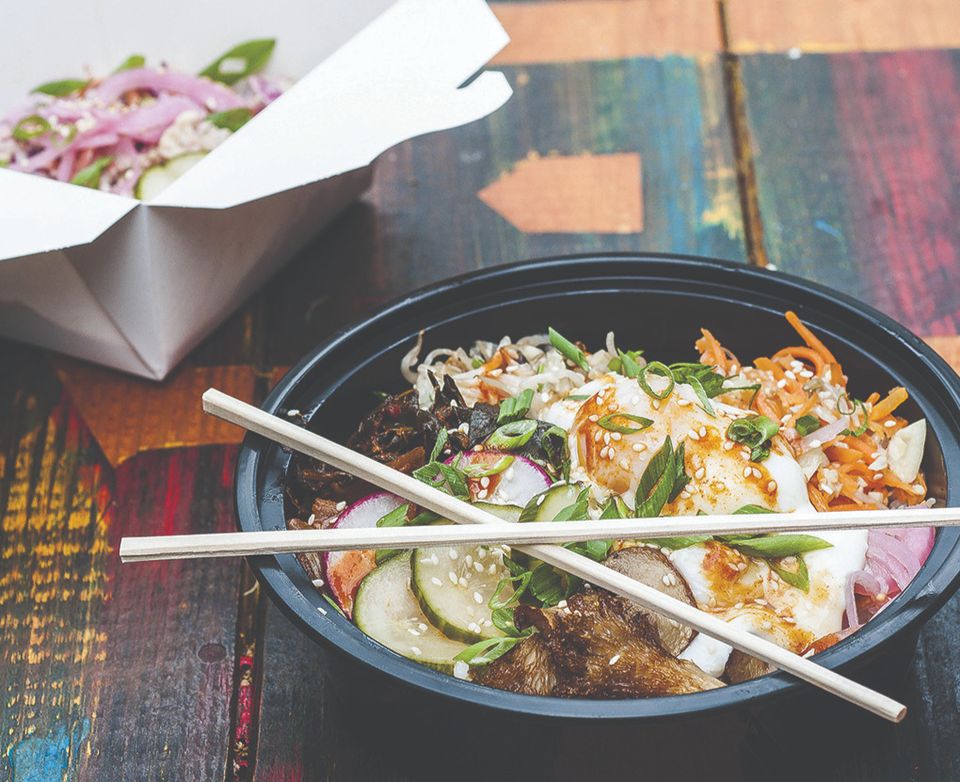 Food truck-turned dine-in restaurant
offers authentic Vietnamese cuisine
BY DAVID SWANBERG
david@beacononlinenews.com
I always find joy when I come across a restaurant that offers something new and special during the course of my foodie reporting. Saigon Sizzle, a new Vietnamese restaurant in the Orange City Marketplace, is one such place.
Just a couple of  doors down from Take Out Charley's — another restaurant I've profiled —  Saigon Sizzle took over the location of PJ's Diner in November.
Since then, owners Trang and Tony McGinnis have both been working to bring West Volusia a type of cuisine they thought the area was missing.
 Similarly to Charley's, I found out about Saigon Sizzle through the social-media buzz the restaurant has been generating.
While their physical location is new, Saigon Sizzle has existed as a food truck for the better part of a decade. The truck has made appearances at Food Truck Bazaar events that occasionally pop up throughout the county.
As a food truck, Saigon Sizzle's business soared.
"Every time I would make the Shaking Beef [marinated beef with onions and peppers served on jasmine rice] and enter it into a contest, we would always win something," Trang said.
The couple's goal from the start was to open a physical restaurant. After continued success with the food truck, they felt the time was right to finally open up a permanent shop.
"My whole family was telling me that I needed to do a dine-in restaurant with table service, so I was very nervous," Trang said. "Luckily, it's paid off for us."
Saigon Sizzle is a quick-service restaurant, or QSR — similar to Chipotle or Moe's — which allows customers to both order and be served quickly.
Despite the successes that they found as a food truck, on the opening day of their new restaurant, Trang felt nervous about the food.
"I was in the back cooking a big pot of pho [a popular Vietnamese noodle dish], and when I tasted it, I thought it didn't taste right," she said. "Tony came in and tried it, and he said, 'No, it tastes fine. You're just freaking out!'"
 Thanks to the social-media following they managed to garner through the years as a food truck, the crowd on opening day came as a shock to Tony.
"I've opened seven restaurants in my career, and what happened that day was rare," he said. "Normally, you don't have any customers, and your staff isn't trained."
Saigon Sizzle has been open for nearly three months now, and thanks to the crowds they are regularly drawing in, it's clear they aren't going anywhere anytime soon.
Trang, who came up with most of the recipes herself, spends hours prepping dishes that include bao (a type of steamed bun), pho and most of the sauces that are used.
Because Trang keeps some of the recipes a secret from Tony, she usually does the prepping a day in advance, while Tony cooks the day of.
"The cooking process is not long, but the prepping takes hours," Tony said.
Menu items are consistently being tweaked based on customer feedback that Trang and Tony receive.
"We both have a passion for food, and we want to be the best Vietnamese restaurant, as far as quality and service goes," Tony said.
That mixture of caring for their customers and keeping the food consistent isn't easy, however, and Trang knows who most of the heavy work falls on.
"We want to mention our amazing team," she said. "We would not be able to run the business without them, and we are very blessed to have them."
For my visit to Saigon Sizzle, I invited my friend Kenny Lane, who was also excited to see the restaurant's physical location.
"I remember enjoying Saigon Sizzle's food when DeLand used to play host to the Food Truck Bazaar a few years ago," Kenny said.
Kenny ordered a chicken bánh mì sandwich, something that he used to eat at the truck, and thought that it was even better than he remembered.
"The marinated grilled chicken paired with the refreshing veggies and herbs was very flavorful and satisfying," he said.
Also served with Kenny's sandwich were a cucumber salad and shrimp chips. Both are traditional in Vietnamese cuisine, and were a welcome addition to the meal.
On the other side of the table, I was interested in trying something a little soupier.
The mi go soup was something that was suggested to me by both Tony and his daughter, Brittany McGinnis, who also works at the restaurant.
As someone who loves a good ramen and appreciates a good pho, I was interested in tasting the difference in Saigon Sizzle's mi go.
The mi go is a classic egg-noodle soup, topped with barbecued pork and delicious shrimp dumplings. It's garnished with fresh lettuce, scallions and fried shallot.
While the mi go is no pho, Trang shared a bit of interesting info about their process for making pho.
"We cook our pho the traditional way, from the bone broth for 12 hours," she said. "We don't take any shortcuts on the broth."
Kenny and I both tried the bánh bao — a first for the both of us.
"For our bao, we mix the dough, and it takes hours," Trang said. "We mix the meat and steam it; then we put it inside [the dough] and steam it again."
It's a full-blown operation to make bao, and I for one didn't really understand the intricacies involved.
"I really enjoyed the filling, which included pork, mushrooms, and a quail egg," Kenny said.
As Kenny and I were leaving, Trang gave us a gift — the Heavenly Salmon.
While I was too full to have my share, I took it to-go and gifted it to my mother, who happens to be a salmon fanatic.
"The salmon was tender, juicy — cooked very nicely," Mom said. "The flavor, which I think was teriyaki, was very tasty, and with the sticky jasmine rice on top, it made a perfect pairing with the salmon."
Since this was my first time trying most of these dishes, I'll admit it's hard for me to compare it to other places, but to me, it seemed all very fresh and tasty.
Saigon Sizzle is open 11 a.m.-8 p.m. Monday-Saturday. The restaurant is closed on Sunday.