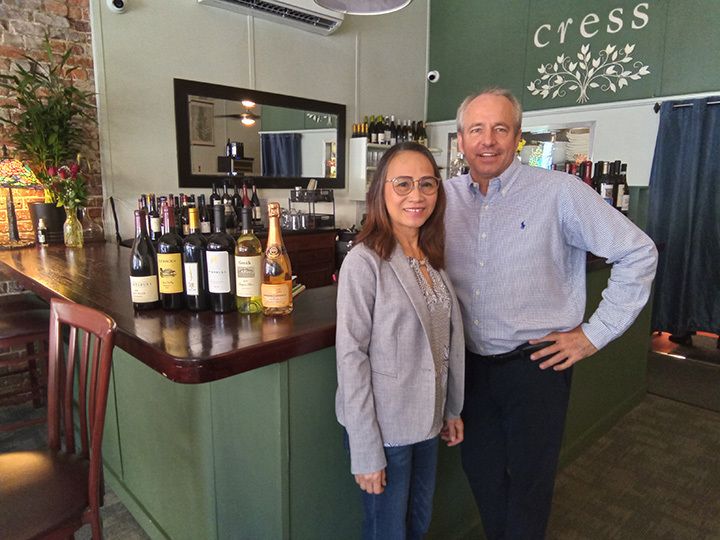 Meet the new owners of DeLand's Cress
PHOTO COURTESY TOM AND SURAN BRANDT
FULL OWNERS, NOW — 
Suran and Tom Brandt, shown inside Cress Restaurant, finalized their purchase of the eatery in August.
BY JOE CREWS
joe@beacononlinenews.com
Sept. 20, 2021
Hari Pulapaka is moving on to the next course in his banquet of a life. The winner of multiple culinary awards and his wife, Jenneffer Pulapaka, are no longer owners of Cress in Downtown DeLand, a restaurant at 103 W. Indiana Ave. they had opened in 2008.
The Pulapakas, who in 2019 sold majority ownership of the restaurant, were bought out in August by that couple, Tom and Suran Brandt.
"I had given him the option to buy me out after two years, so it was in the deal," Hari Pulapaka told 
The Beacon.
 "But I had already been trying to withdraw."
The Pulapakas stayed on after the initial sale for about eight months to help train some of the staff the Brandts hired to reopen the restaurant.
The previous two years, the Pulapakas had basically closed the eatery except for special-event dinners, such as New Year's Eve and Valentine's Day. After buying the initial stake, the Brandts reopened as a five-night-a-week, full-service restaurant. (Cress is closed Sundays and Mondays.)
But while Tom and Suran Brandt can focus on running the restaurant, Hari and Jenneffer Pulapaka both have full-time day jobs — he is an associate professor of mathematics at Stetson University, and she is a podiatrist with her own practice, DeLand Foot & Leg Center. And both continue to do much consulting work in culinary fields.
In addition, Hari and Jenneffer have a contract to write another cookbook, and Hari has another business, Global Cooking School.
Pulapaka said the school, which he founded in 2017, could have a brick-and-mortar home one day.
"I'm dabbling with the idea of a physical location in DeLand, maybe next year," he said. "But I want to be sure it's right and the timing is right. I'm sure the demand is there."
Meanwhile, in addition to his professorial duties, Pulapaka will continue to be a strategic adviser for Postelsia, a food-sustainability company; one of 10 chefs who help a company called Enroot develop flavors for cold-brewed tea; and will help develop plant-based soups for Wholesome Crave, a division of a nonprofit entity that helps low-income families eat better.
Jenneffer Pulapaka is keeping an equally busy schedule, Hari Pulapaka said, with wine consultation, helping in various medical fields, and writing the upcoming cookbook's chapters related to medical issues.
Pulapaka is happy to see that things are pretty much the same at Cress. And Tom Brandt said that's by design from him and Suran.
"There were some small changes since we've been handling things ourselves," Tom told 
The Beacon
. "Hari and Jenneffer had built an amazing reputation and following, and I think we kept [those fans] and made regulars out of new guests."
If the COVID situation improves, Tom is hoping to reopen for lunch dining (he shut that down because of the pandemic, and served up only takeout orders before eventually reopening for sit-down dinners). He's also planning to hold more special events and wine dinners.
As he told followers in a recent weekly newsletter, "We are committed to providing an elevated dining experience and the same creative, globally inspired cuisine and world class wines [customers] have come to love from Cress."
Call Cress at 386-734-3740 or go to 
www.cressrestaurant.com
 for more information.