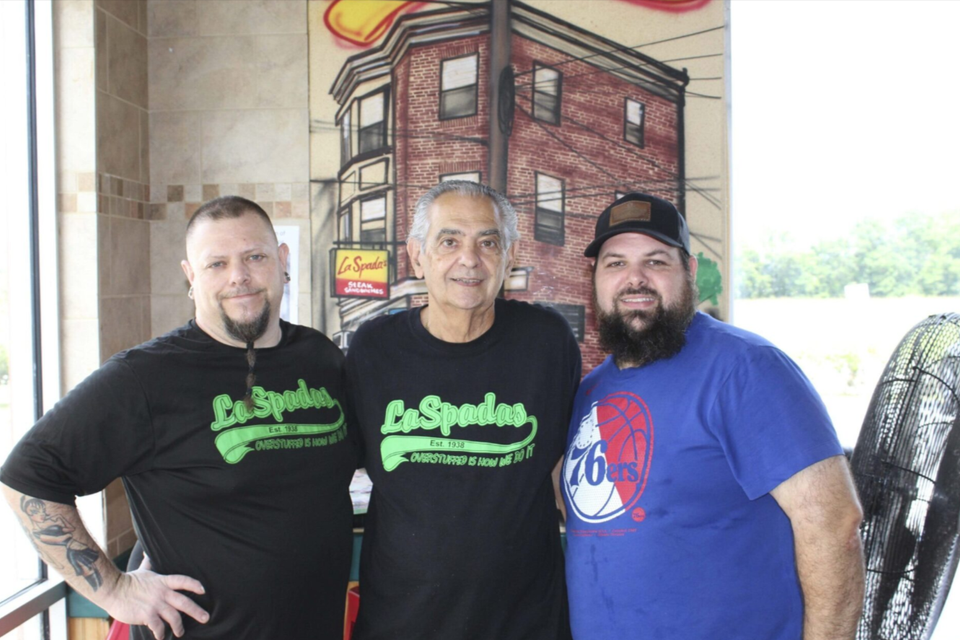 BEACON PHOTO/CARMEN CRUZ IT'S ABOUT FAMILY — John LaSpada, center, whose grandfather started the first LaSpada's restaurant in New Jersey in 1938, is flanked by his sons Kevin, at left, and Vincent.
LaSpada's Original Cheesesteaks and Hoagies

By 
Carmen Cruz
June 15, 2022
Family keeps it going — and keeps it delicious — through rough times
Sitting in one of LaSpada's three locations brings a certain joy that only a family-owned restaurant could. The smell of savory steak on the grill overwhelms your senses, and the friendly staff make the establishment warm and inviting.

LaSpada's is best known for its legendary cheesesteaks, which are made using fresh rib-eye steak and whatever toppings suit your fancy.

I had mine with white American cheese, mushrooms, onions and jalapeño peppers. The satisfying crunch of the hoagie roll kept the juicy steak from making the sandwich too soggy, and the generous portion of the smallest-sized cheesesteak fed me twice.

All in all, I can confidently say that it was the best cheesesteak I've ever had. The rich, savory flavor was downright addictive. Not to mention, the warm and helpful staff made me feel right at home, so I could see why LaSpada's has been a local favorite since 1974.

Given how pleasant the experience is, you'd never know what the LaSpada family has been through over the past few years.

John LaSpada, third-generation owner and operator of LaSpada's, managed to keep the restaurants open throughout the COVID-19 pandemic, though it hasn't been easy. Even though John says all the people working for him got their vaccination shots, a lot of them struggled with the effects of the virus.

One of his two sons who help run the family business, Vincent LaSpada, was out of commission in 2020 for six weeks. One of the employees died from COVID-19, while others were out for weeks at a time recovering. Then, in May 2021, John also contracted the virus.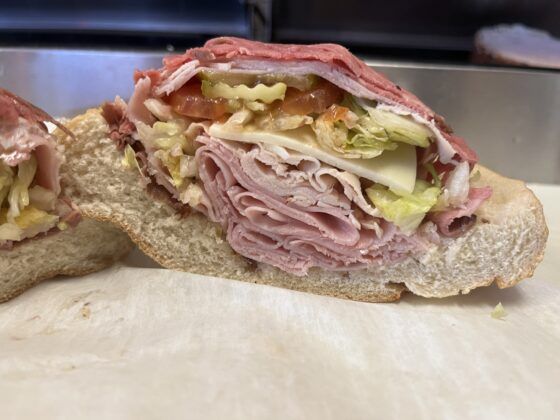 PHOTO COURTESY VINCENT LASPADA
DELISH — LaSpada's piles on the meats to make some of the best hoagies around.

"I was in the hospital for five months. … I had to do rehab to learn how to walk and do everything all over again," John said. "I lost about 60 pounds."

During that time, his wife, Mary, who handles the books and ordering for the business, also had fallen ill as a result of the virus, and spent about 10 days in the hospital.

Despite all the major blows that COVID-19 dealt LaSpada's, none of the locations ever had to close. They stayed afloat by cutting back their hours a bit, making due with skeleton crews during outbreaks, and closing after lunch every day.

Though it took some time, John and Mary each made a full recovery, and are back to working.

"You know, things come around, and I got back into it. I just don't work behind the counter as much anymore," John said.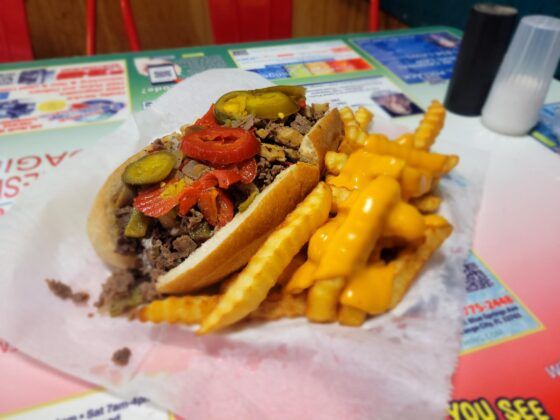 BEACON PHOTO/CARMEN CRUZ
BEST EVER — Writer Carmen Cruz, no stranger to cheesesteak sandwiches, pronounced the Mushroom Cheesesteak at LaSpada's the best she has ever had. Here's her meal, including the sandwich and cheese fries.
Their loyal customers supported them through it all; their hankering for cheesesteaks never wavered, and LaSpada's outlasted the madness dished out by the pandemic. Unfortunately, though, life's cruelties aren't confined to global catastrophes.



Just a year ago, John buried his brother, the last of the older generation of LaSpadas aside from John.

Mere weeks after this, his 16-year-old grandson, Gavin, was diagnosed with cancer, and within six months he passed away. Gavin had been helping John, and Gavin's father, Kevin, with the family business, making him the fifth generation of LaSpadas to work in the restaurant.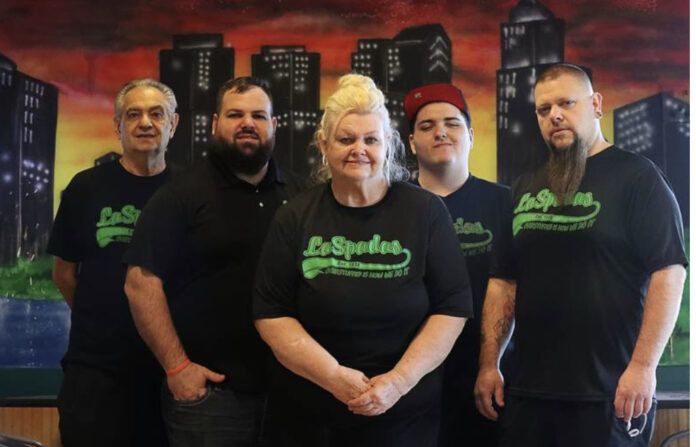 PHOTO COURTESY VINCENT LASPADA
MISSING ONE — Looking at this photo of his family in front of a mural in one of their restaurants brought a tear to John LaSpada's eye, because his grandson Gavin LaSpada, second from right, died of cancer in 2021 at the age of 16. From left, the family members are John LaSpada, Vincent LaSpada, Mary LaSpada, Gavin, and Kevin LaSpada. John reminisced about how close he had been with Gavin. "We had a special bond," he said.
Despite the onslaught of tragedies, John and his family found the courage to band together, and press onward, leaning on the strength and perseverance that characterize the family.

The LaSpadas are still putting in the work, day in and day out, to serve up their specialties to the public, just like they always have. And this, along with the quality of the food, I'd wager, are why they've stood the test of time.

The first LaSpada's location was established by John's grandfather, Antonio LaSpada, in 1938.

Antonio started out in Atlantic City, New Jersey, and eventually moved the business to the Chester, New Jersey, area. He instilled a focus on family from the jump; his sons worked in the restaurant, and their sons worked there, and so on.

"I grew up in this business. I've been in the kitchen since I was 9 years old, working for my father and my uncles and all that," John said.

Then, in the 1970s, John and Mary brought the business down south. Drawn to the Sunshine State by the warm weather, they opened their first location in Fort Lauderdale, and eventually expanded after finding great success.

Today the family has locations in Orange City, Sanford and Orlando, and they're considering opening a fourth in another part of Orange County.

John and Mary's sons Kevin and Vincent can be seen on any given day in one of these locations, serving up the greatest sandwiches in Central Florida, just like their great-grandfather used to up North.

As for this writer, I eagerly anticipate my next visit to LaSpada's, where I can get my cheesesteak fix and visit my new friend John.

— Cruz, who grew up in the Tampa area, is a rising senior at Stetson University, majoring in English and minoring in journalism. She is working as an intern with The Beacon.