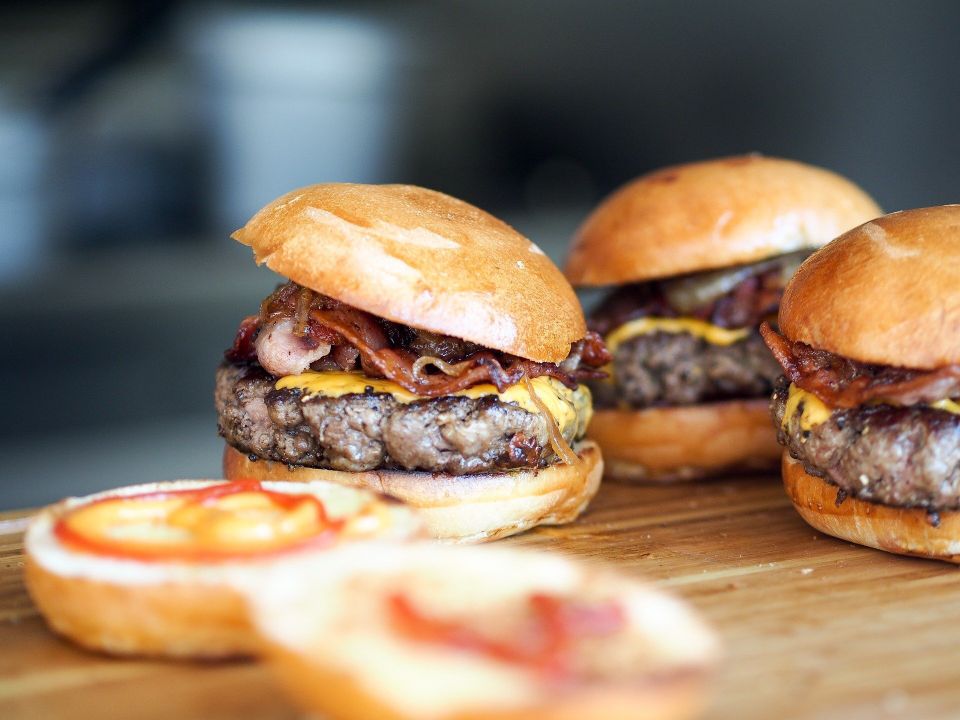 Hunter's is a family affair
BY DAVID SWANBERG
david@beacononlinenews.com
Hunter's Restaurant has been at 202 N. Woodland Blvd. in DeLand since 1981, but that has not always been the restaurant's home.
Hunter's has changed locations three times, originally opening about 65 years ago a few doors north, where Santorini Greek Cuisine is currently located.
Over seven decades, the restaurant has never left the family.
Upon my recent visit to Hunter's, current owners and brothers, Mike Marlow and Kenny Marlow, were kind enough to tell me the long history of Hunter's Restaurant.
Mike and Kenny's grandparents, Paul Hunter Sr. and Carolene Hunter, began the family restaurant in Statesville, North Carolina, when they opened the Chat-N-Nibble in 1949.
After moving to DeLand in 1955, they bought a restaurant that was, at the time, called Georgia Boys. A year later, they renamed it Paul Hunter's Restaurant.
The kitchen staff were Carolene Hunter, and Mike and Kenny's aunts, June Jones and Ruby Hawkins. Many of the recipes used at Hunter's today came from the work of these women. Mike has changed a few things, but many original recipes remain.
Sometime after getting the restaurant off the ground, Paul Hunter Sr. sold it to his son, Paul Hunter Jr.
Paul Jr. moved the restaurant down the road to the corner of Woodland Boulevard and Rich Avenue, next to what is now Byte Bistro. Hunter's was in the space now occupied by Pioneer Park.
The time for the restaurant in that space was short-lived, however, as a fire in 1981 destroyed the building.
The exact cause of the fire remains a mystery, but, years later, Mike said, a firefighter who was one of the first responders told himthem the terrible fire had made it hard to determine the exact cause, but he believed it had been a bread warmer that malfunctioned.
Following the fire, the plan was for Hunter's to remain closed, but that plan didn't last long, thanks to some convincing from the townsfolk.
"The townies at the time caused a lot of pus-back," Mike said.
The pushback was enough to convince the family to reopen the restaurant across Woodland Boulevard, less than a block away, where it stands today.
Reaching retirement age in 1999, Paul Hunter Jr. sold Hunter's to his sister, who isw, Nancy Hunter, Mike and Kenny's mother.
Nancy stayed at the helm of Hunter's until about six years ago, when she retired at age 74.
Nancy passed away last year. The third generation, Mike and Kenny, have been doing their best running the to keep the family business and the longtime DeLand traditions strong.
The brothers grew up working in Hunter's Restaurant, and many of the customers have watched them grow up.
"I had left and came back 33 years later, and I saw the same customers sitting in Hunter's as when I left. It was like I was in a time warp," KennyMike said.
Mike joined the Army out of high school — but that was short-lived due to a knee injury in Korea. He and Kenny both returned home to DeLand within the past 20 years to continue the family legacy.
Hunter's isn't the same restaurant it was 70 years ago, let alone 10 years ago. When the brothers took over, they expanded the menu to try to appeal to a larger audience.
"I added different burgers, sandwiches, wings, and seafood, and fish and chips," Mike said.
Indeed,, the menu is more comprehensive than I expected and much more diverse than in the usual breakfast-and-lunch diner. But some menu items remain unchanged.
"Customers tell me the coconut cream pie is the best they've ever had," Mike said.
The recipe is one of his Grandmother Carolene's.
Having been at it for years, Mike is proud to tell me he makes a mean coconut cream pie.
The omelet and seafood dishes are also popular, along with as are burgers like the Moby Dick, which takes up an entire plate, and the Big Kahuna.
Even the simple dishes like the bologna sandwiches are often requested.
"People like the bologna sandwich because it reminds them of their childhood," Mike said.
My co-worker Tory Brown was kind enough to accompany me to Hunter's and shared some of her own memories.
"We were brand-new to DeLand, fleeing the Florida Keys and Hurricane Irma. We stumbled into Hunter's for breakfast and came back the next day. We didn't know it was the oldest restaurant in DeLand, the history of the place or the family behind it," Tory said. "All we knew was the waitress remembered our name, and how we liked our eggs cooked. It's why we went back."
It seems as though most longtime residents everyone ofin DeLand, like Tory, haves some connection to or memory of Hunter's.'s. Beacon Publisher Barb Shepherd remembers going there with husband Jeff for lunch — in the second location — as a treat on paydays when she worked for the
DeLand Sun News
.
The day we visited, Tory was in the mood for something eggy and decided to order one of her favorite sandwiches: fried egg, ham and cheese on wheat toast. She also got a side of fries.
"The eggs were perfect and made for a wonderfully tasty and messy sandwich that reminded me of that first time I ate at Hunter's," Tory said.
On the other side of the table, I began thinking something along the lines of "Breakfast is always a good choice, but then again,5 so is lunch."
That line of thinking led me to order the bBreakfast Burger. The Hunter's version includes bacon, eggs, American cheese and a hefty helping of burger mixed in. It was delicious.
Including Tory and myself, there have been many other famous guests to set foot in Hunter's., Fincluding former sheriff turned County Council Member Ben Johnson, Ted Cassidy of
Addams Family
fame, and even President Jimmy Carter have stopped by.
While famous guests are always great, the regulars make Hunter's what it is. One customer, Lee Gartside, comes in so often that he even has his own corner booth on reserve. Lee's been dining at Hunter's since 1963.
"If you ask most of our customers, I think they come here because we treat them like family, and I know it sounds kind of crazy in this day and age, but we care about our customers," Mike said. "We weep with them when they lose loved ones, we're there for them like family, and I hear this all the time from them."
That family approach must resonate with Lee, as he sometimes visits six or even seven times a week.
When Kenny and Mike are ready to depart from Hunter's, they hope a relative will step up to take over and keep the restaurant in the family.
If you're looking for good food and a wholesome atmosphere, check out Hunter's. If you go in the next few weeks, wish them a happy 71st birthday — it's coming up Feb. 5.