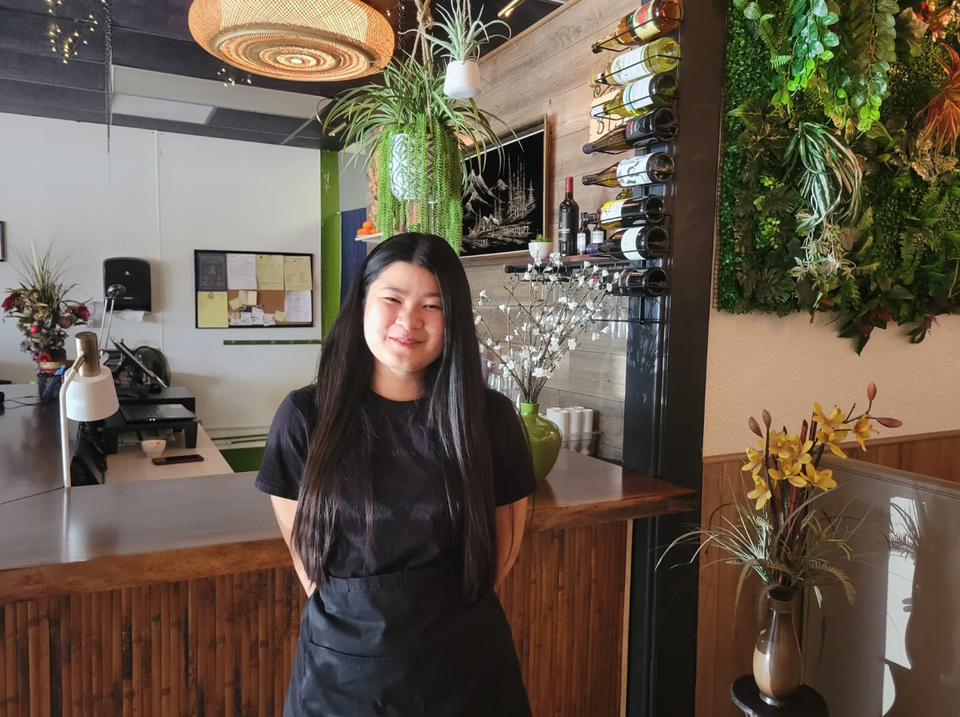 BEACON PHOTO/BARB SHEPHERD
Rose Morelli, with her son Michael Morelli at her side, greets, continuing from left, America's Best Restaurants Roadshow host Greg Hutson and videographer and producer Austin Turner.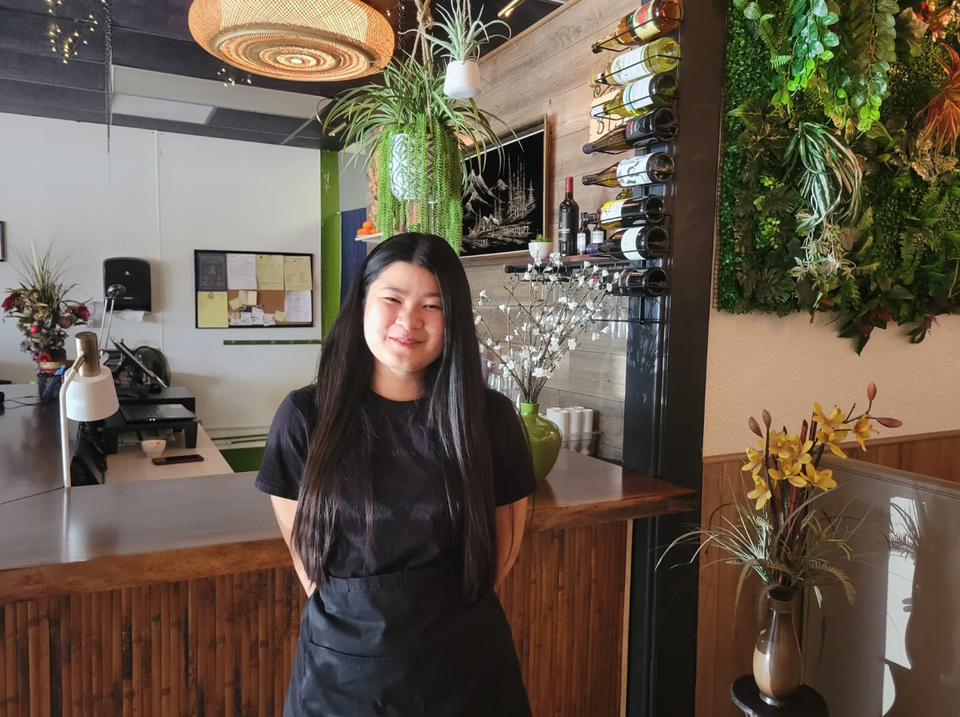 BEACON PHOTO/BARB SHEPHERD
Rose Morelli, with her son Michael Morelli at her side, greets, continuing from left, America's Best Restaurants Roadshow host Greg Hutson and videographer and producer Austin Turner.
Get ready for some true Thai tastes
BY 
Carmen Cruz
info@beacononlinenews.com
September 14, 2022
Every so often, you come across the kind of meal that can completely transform your mood. In the span of an hour and change, a meal such as this can somehow turn a bad day into a great one.

It can stop an unpleasant day in its tracks and force you into a state of pure bliss.

I can count on one hand the restaurants that have delivered such an experience throughout my pursuit, and have fingers left over. A new DeBary institution, That Thai, has earned its place on that list.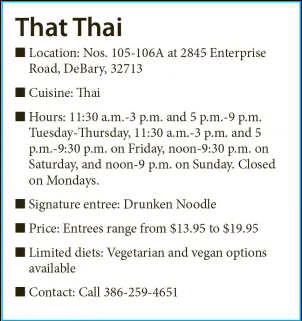 That Thai opened July 7, and already has earned a cult following. The eatery offers an extensive variety of authentic Thai dishes the likes of which you'd be hard-pressed to find anywhere else in the area.

Debbie Dinan, a chef and caterer, has eaten her fair share of Asian cuisine and, after giving this establishment a shot, became a fast fan.

"We lived in Japan and Singapore, we were up in all those areas, and to find a place where it tastes real and not totally American is awesome," Dinan said.

The authenticity is apparent from the first bite. I fancy myself an amateur fan of Thai cuisine, but I've never tasted anything quite like what That Thai serves.

I must have ordered salad rolls a dozen times before, but I've never had one quite as crisp and fresh as the ones served here. The peanut dipping sauce, made from scratch in-house, made me seriously contemplate licking my plate clean.

The crab rangoons provided a similar experience. What was once a mundane dish had been elevated beyond recognition.

The crispy exterior contrasted a richly creamy interior, and it was served with a homemade sweet-and-sour sauce that stunned me into silence.

All of a sudden, I realized that the Thai food I'd grown fond of was merely a cheap interpretation of the real thing.

Sammy Sornsomdang, the owner of That Thai, studied hospitality in college and wanted to use that education to open her own business in the States. Since her parents had been chefs for more than a decade, they thought it wise to join forces.

Her parents run the kitchen. Mom is in charge of appetizers and curries, and Dad is the fry chef responsible for dishes like the pad thai.
She and her family are originally from Thailand, so part of the restaurant's mission is to share the family's culture with their new community.

"I know the food very well. I can explain everything because I grew up with it," Sammy Sornsomdang said. "And I can make sure that the food is really authentic in flavors and recipes, because we cook what we eat. And when we cook, we tell the story of the food."

One of their biggest challenges is finding authentic ingredients locally. Often, it requires a great deal of digging, not to mention extra time and energy, to source ingredients or import them when necessary.

Sornsomdang said the added cost and effort are worth it to deliver a quality product to her customers.

A small example is in their popular dessert mango sticky rice, which I would do unspeakable things to consume once more. The quality and variety of the fresh mango make all the difference, which is why they source them from an Asian market in Orlando.

"If you give just like the standard mango to the customer, they're going to be disappointed. The mango is not that sweet, and it's not on that level. And they eat it with sticky rice in the Thai restaurant, and I just feel like crying. It's not like what I ate in Thailand. I want the customer to eat the same thing and to get the same flavor that I had," Sornsomdang said.

But perhaps the most stellar "ingredient" That Thai offers isn't food at all, but impeccable customer service.

"Their owner, Sammy, is the friendliest thing you've ever met in your life. [She's] one of those owners that just cares," Dinan said.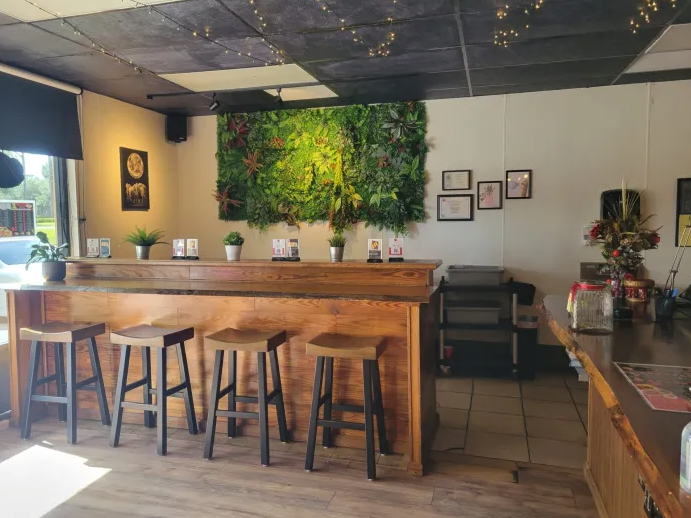 BEACON PHOTOS/CARMEN CRUZ
BEAUTIFUL — The interior of That Thai in DeBary is artfully adorned with plants, string lights and a Buddha shrine.

The food is so good that I would still visit regularly even if they cursed my name every time, so the fact that the owner is so genuinely lovely feels almost too good to be true. Perhaps this is why fans like Dinan visit every week.

I left That Thai with a new idea of what Thai food is supposed to be, and have been dreaming of fried rice and Drunken Noodles ever since.

— Cruz is a senior at Stetson University and has progressed from an internship to employment with The Beacon