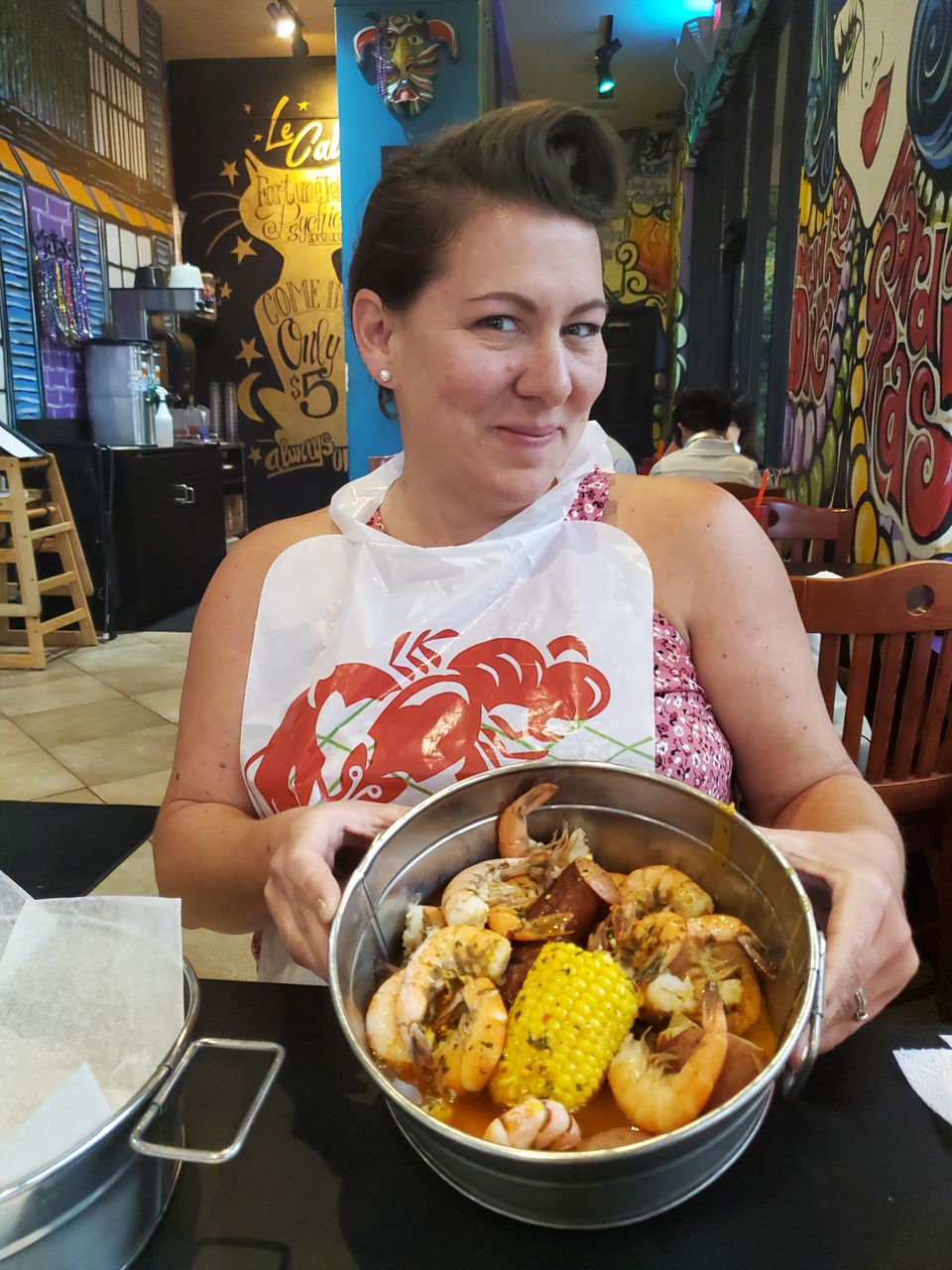 BEACON PHOTO/CARMEN CRUZ WELCOME —
That Thai owner Sammy Sornsomdang welcomes customers to her first restaurant: That Thai in DeBary.
Fire on the Bayou
BY 
Erica Opisso Carter
info@beacononlinenews.com
June 2, 2021
It's a fine day when you're elbow deep in melted Cajun lemon butter, seafood bib around your neck as you coax every bit of spicy shrimp from the shell.

Inside Fire on the Bayou in Orange City, jambalaya, gumbo and étouffée parade out of the kitchen. On any given night, you'll find diners happily cracking crab legs or tucking into po'boys for serious Big Easy flavor.

"If you've never been to New Orleans, you still know about the cuisine," owner Jason Ackerman said. "The cuisine itself is such an embraced culture."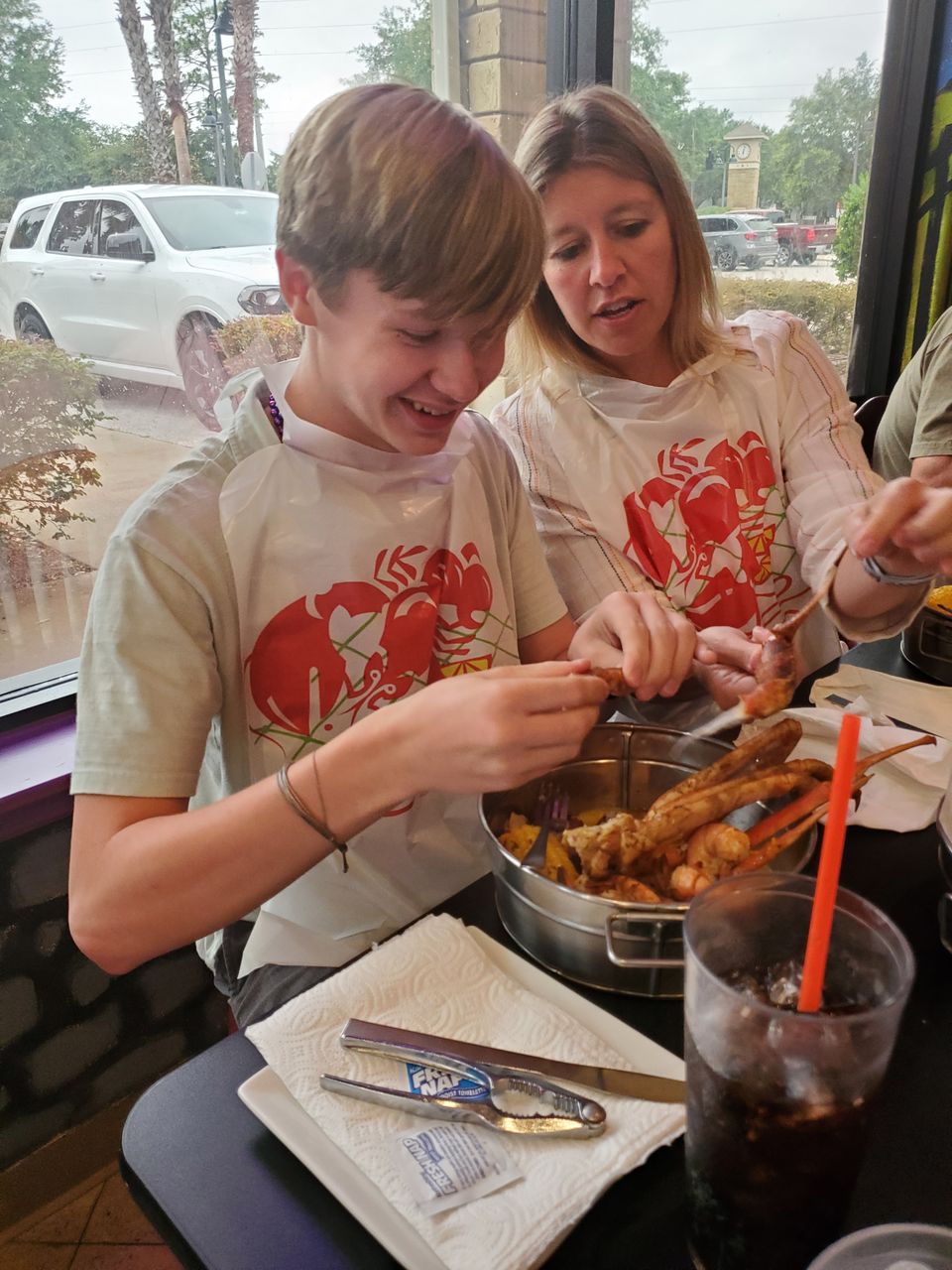 ONE WITH THE CRAB — Wyatt Lucas gets a lesson in cracking crab from his mother, Becki Lucas, at Fire on the Bayou in Orange City. 
When opening their restaurant four years ago, Ackerman and his wife, Dawn, knew seafood mixed with French Quarter flair would breathe life into a venue where numerous restaurants had failed: 921 Town Center Drive.

Tucked into a small strip mall, the restaurant is hidden from motorists. But thanks to its compelling menu, celebratory atmosphere and the Ackermans' robust social-media presence, Fire on the Bayou was so successful, the restaurant operated without a sign for nearly seven months.

"All the customers said it was kind of a speak-easy vibe," Ackerman remembers. "They had the in, knew the secret."

Authentic flavor permeates the menu. Only New Orleans-made Leidenheimer bread will do for the restaurant's float-sized po'boys; the andouille sausage is made specially for the restaurant.

My husband and I enjoyed the andouille three ways. Once in Kickass Sausage Bites, where thinly sliced sausage gleamed with pepper jelly glaze on baguette, drizzled with pungent Gorgonzola and balsamic.

Then, in the Cajun Vader burger, where a savory mix of Angus beef and andouille is topped with smoked Gouda cheese, crispy bacon and Sriracha drizzle.

And, lastly, in the Shrimp Bucket, where a pound of shrimp is "Yummed Up" with corn on the cob, red potatoes and Creole spiced sausage.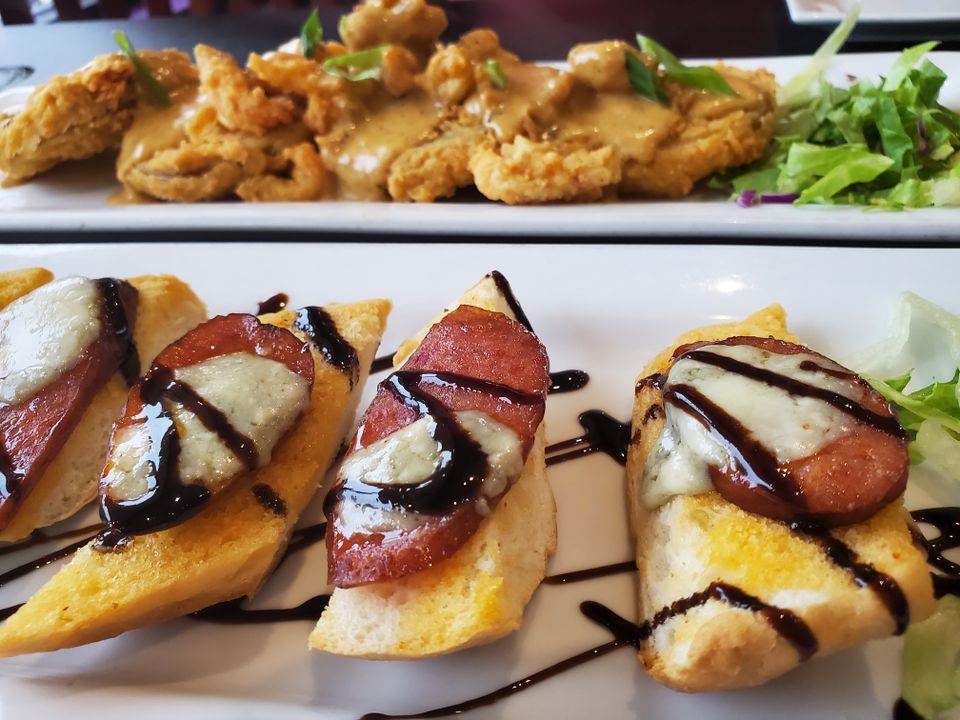 FOR STARTERS — Kickass Sausage Bites, in front, feature New Orleans Leidenheimer bread with pepper-jelly-marinated andouille sausage, Gorgonzola cheese and balsamic drizzle. In back, fried green tomatoes peek out from under golden Cajun cream sauce topped with tender crawfish.
Bestsellers? Their boils, including the Bucket of Love, which features a pound of crawfish, a half pound of shrimp and two snow-crab clusters. Feel free to "Yum It Up." And, it's your choice if you want your sauce Louisiana, Garlic Butter or Bayou Love — a melty mix of fresh sliced garlic, lemon, Cajun butter and herbs.

Chef Alyssum Goodwin has navigated an impressive menu of nearly 50 items over the past three years, and delights guests with appetizers like Crab Étouffée Dip and Catfish Bites with jalapeño tartar sauce. And, it wouldn't be a Louisiana restaurant without gator, which they serve with rémoulade.

I bet you've seen fried green tomatoes on many menus. But, have you had them lightly fried and smothered in a golden savory Cajun cream sauce studded with crawfish? Tart tomato met salty, light breading that stayed crispy under the juicy sweet crawfish. It was one of my favorite bites of the evening.

Sides are thick-cut fries, Cajun slaw or red beans and rice. We sampled the latter, thick with dark roux and slow-cooked. No canned beans here, in a restaurant that prides itself on scratch-made.

"Everything is breaded fresh to order," Ackerman said. "Prepackaged doesn't exist here. No microwave, either."

So how did 4-year-old Fire on the Bayou not only exist, but thrive during a pandemic, when many restaurants closed permanently?

"We just pivot with change," Ackerman said. "We got really aggressive with marketing, packages, kept that social-media mind. People were out to support local, and cars were wrapped around the building."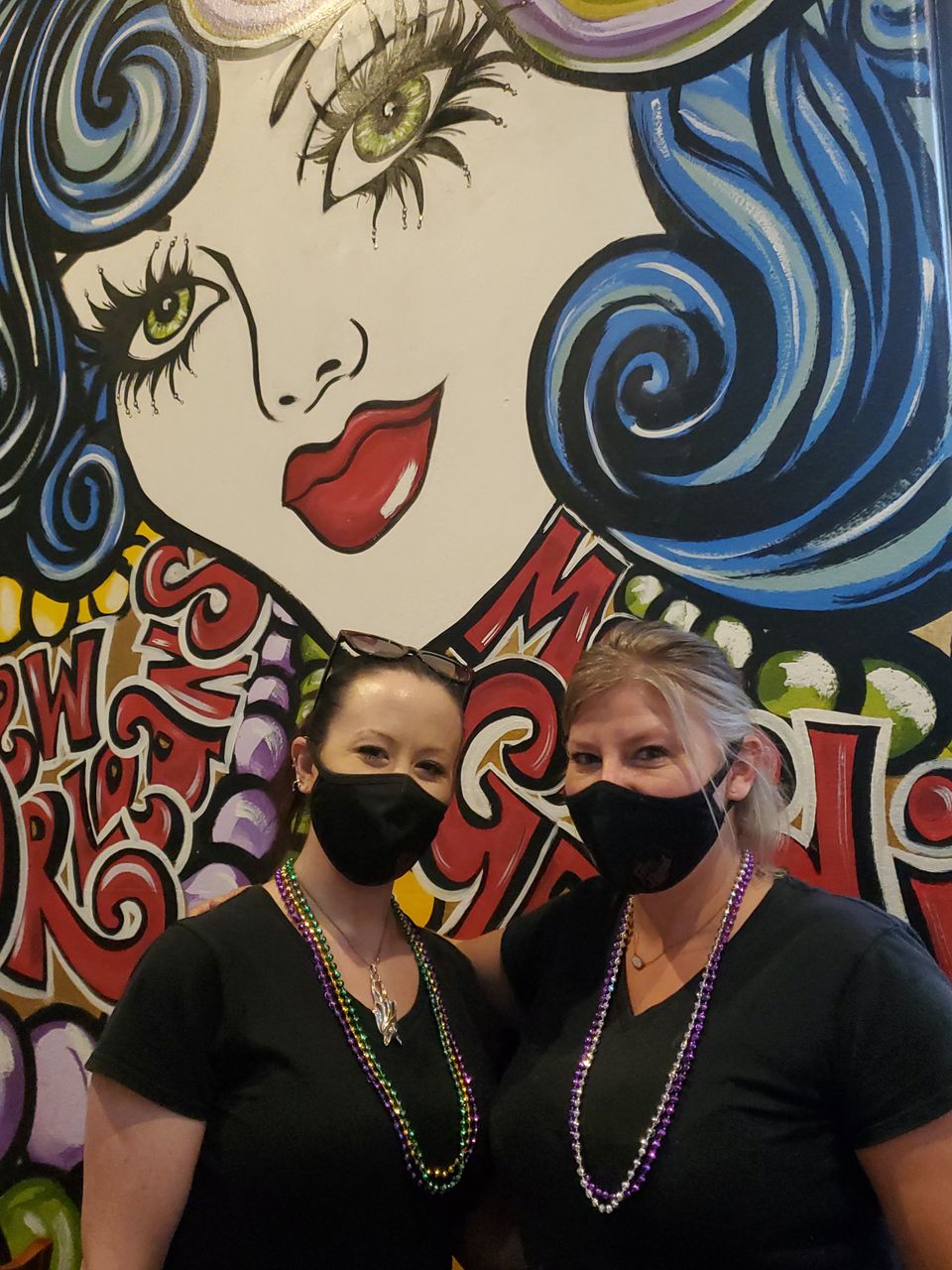 COME JOIN THE PARTY — Fire on the Bayou servers Amber Corkery and Samantha Chambers are among staff members who keep the party going by serving up New Orleans classics, along with Mardi Gras beads for each guest. In back is one of the restaurant's colorful murals.
The success of Fire on the Bayou prompted the Ackermans to open a second location in Oviedo in September, and they're eyeing a third restaurant with the same name.

Any good evening should end with dessert. Aside from Key lime pie and a three-layer chocolate cake, the crowd favorite is certainly the bread pudding with house-made bourbon sauce.

Surveying guests on a busy Thursday evening, many happily donning Mardi Gras beads, I saw a birthday party, families with children dining off the kids' menu, and women enjoying girls' night out.

As you exit, the Fire on the Bayou staff knows you are leaving "happy and never hungry," as their mural boasts.