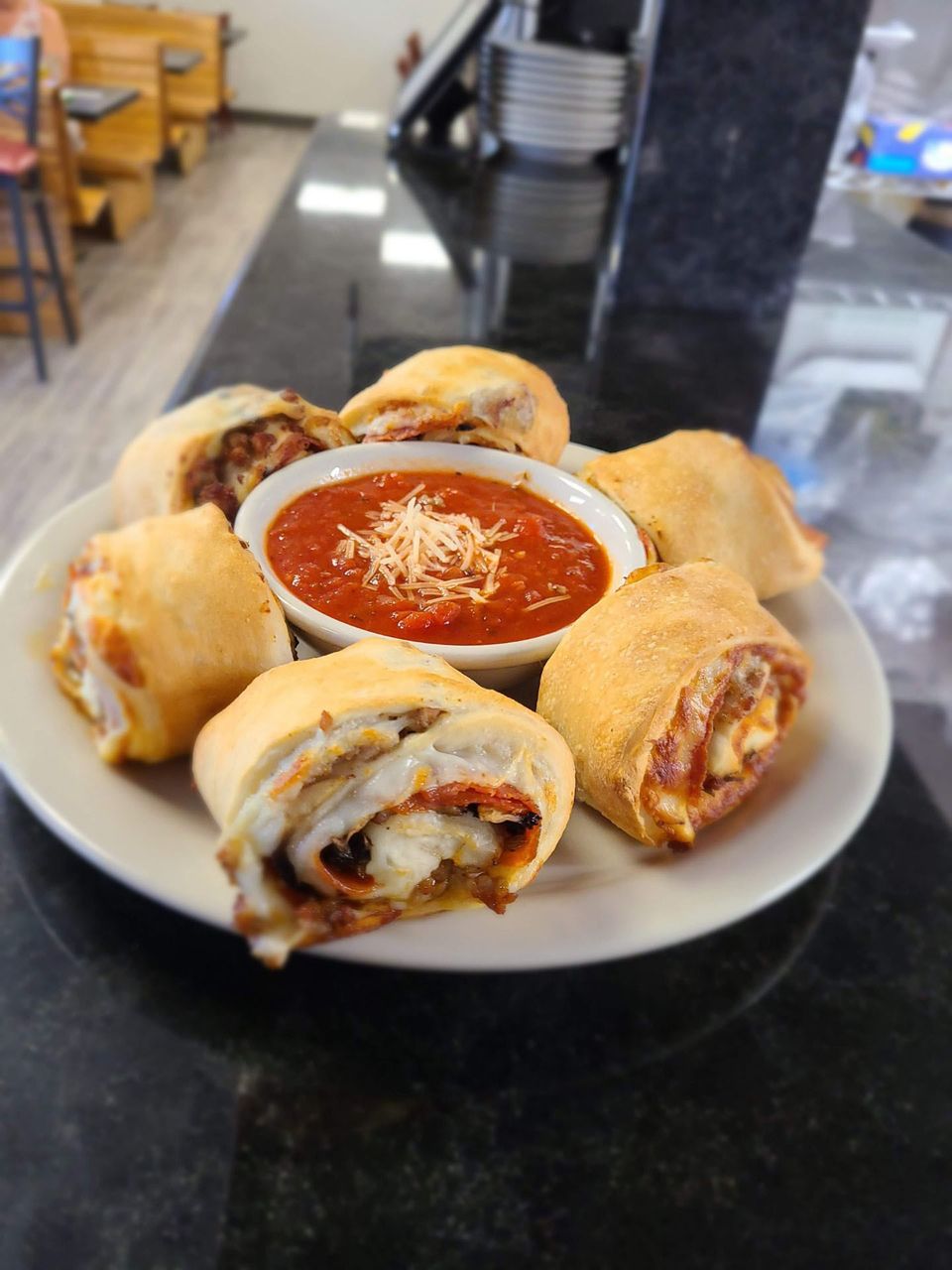 Dobro's Stromboli brings back memories
BY NOAH HERTZ
noah@beacononlinenews.com
A local restaurant is filling a Stromboli-sized hole in the hearts of many DeLandites.
Downtown DeLand boasts five Italian restaurants. Plenty more are scattered in and around the city. Nevertheless, when Bellini's Deli & Restaurant vanished from 111 E. Rich Ave., locals mourned its loss.

Particularly, the loss of the Bellini's Stromboli.

Longtime Bellini's owner Scott Groth had sold the restaurant in 2017; new owners kept the doors open on Rich Avenue until January 2021.

But what people really missed, apparently, was the Bellini's Special Stromboli the way Groth had made it: a warm, doughy pinwheel of Italian meat and cheese served with a cup of the restaurant's signature marinara sauce.

But word circulated recently on social media that another DeLand restaurant was quietly bringing back the local favorite.

Enter: DoBro's Chicago Style Pizza.

"Today I found out that Dobro's makes the Old Bellinis Stromboli!!!!" read a DeLand woman's post on Facebook. That post (and its four exclamation points) received nearly 400 likes and more than 100 comments.
Indeed, DoBro's Chicago Style Pizza, at 803 W. New York Ave., is taking up the torch and making Stromboli just the way Groth made it years ago.

DoBro's opened in 2011 when Thomas Knott and Philip Knott — the "dough brothers," get it? — decided to open an Italian restaurant.
Dobro's is Chicago-style
It was a bit of an uphill battle, Thomas Knott told The Beacon, but nearly all of DeLand's other Italian restaurants, Bellini's included, offered New York-style pizza, while the Knotts do things Chicago-style.

The two had wanted to open a restaurant for some time, plus, they didn't just have restaurant experience — they had Bellini's Deli [ITALICS FOR RESTAURANT NAME] restaurant experience.
Stromboli wasn't even on the menu when DoBro's opened, but the Knotts would make it for friends who knew they had made a Stromboli or two in their Bellini's days.

DoBro's added Stromboli to the menu around 2015. The standard Stromboli, filled with mozzarella cheese, costs $7.99 before taxes. A Bellini's Stromboli, with its additional fillings, comes to $12.77 after taxes.

Over the years, Thomas Knott said, the restaurant has sold a steady amount of Stromboli any given week.

That changed recently.
In the week following the exclamation-point-laden post about Stromboli, the Knotts made more than 100 in the old-Bellini's-style.

"We sell tons of those normally, but the particular Bellini's Stromboli really started taking off when that post went up," Thomas Knott said.

Hillary Loftin Miller made the Facebook post that revealed the DoBro's' secret menu item. When she and her husband first moved to DeLand in 2010, the first time they went out with friends was to Bellini's to enjoy a Special Stromboli.

"I know there were so many others missing out," Miller said. "It's the little things like this that make everything OK!"

DoBro's sold so many orders that Thomas Knott is thinking about adding the specific Groth-style dish to the menu, and he had Groth's blessing. Now Knott is trying to decide just what to call it.
"Should it stay the Bellinis Special Stromboli? Scott's favorite?" he mused. "The way I think about it, it's Scott's recipe, and even if he sold the restaurant, that's his gig, in my eyes."

Groth, now retired, said the community's desire for his old recipes is a huge compliment.
"It's flattering to see the recipe's still being used," he said. "I miss the community. More than anything, I miss the customers."
Groth still lives in DeLand, and nowadays is taking care of his grandkids and his mom and enjoying some fishing and boating.

He said he misses the restaurant business, but is happy to see the Knotts carrying on his legacy in some small part.
"They're a good family, they're a hardworking family," he said. "I knew Thomas' father for years. If I could hand-pick somebody, it would be Thomas and his brother Philip."

Editor's note: The Beacon reached out to Ricardo Alvarado, the current owner of Bellini's Restaurant & Deli, who said there is no update at this time about his plan to relocate and reopen the restaurant.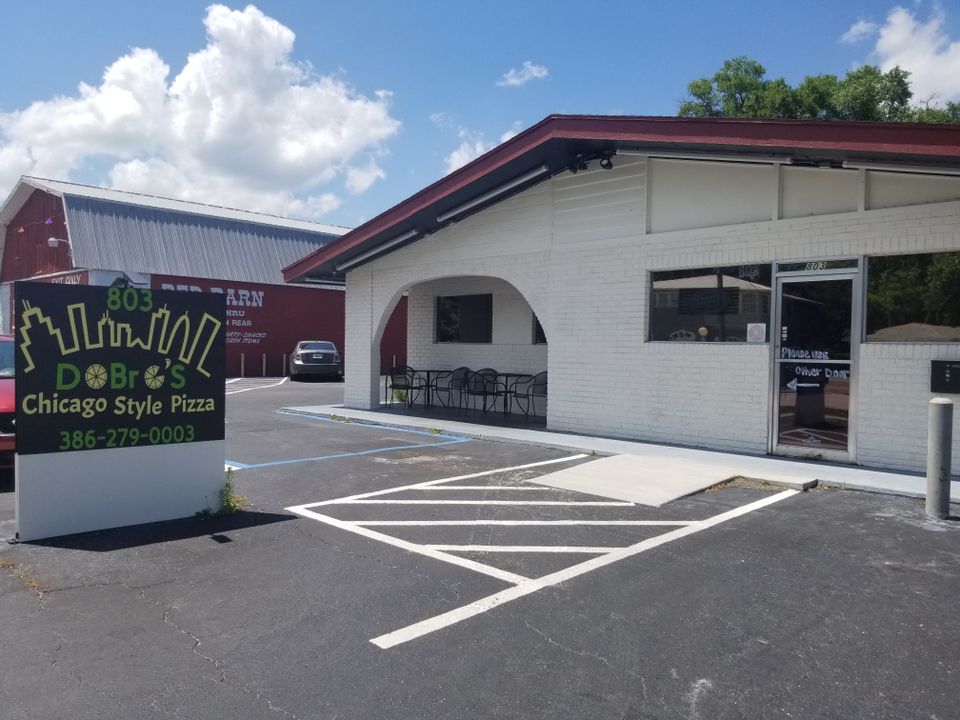 Dobro's Stromboli brings back memories
BY DAVID SWANBERG
david@beacononlinenews.com
Many DeLand residents have gotten word that Dobro's, an Italian restaurant with touches of Chicago cuisine, has moved to a larger location.

Still in DeLand, they are now settled at 803 W. New York Ave., just a bit down the road from their former location.

After accepting that they'd outgrown their establishment, the brothers agreed that a move down the street, about a quarter-mile west, was the right choice.
Customers seemed to agree.
"We didn't really get to have a soft opening; it was packed," Meghan Knott said.

Meghan works at Dobro's with her husband, restaurant co-owner Philip Knott, and her mother-in-law, Linda Knott.
The popularity of Dobro's made it hard to keep the soft opening a secret.

My recent visit was both my first to the new location, and to Dobro's. I was in the mood to try some Chicago-style food, and thought I'd do my part and help get the word out about the move.
Although it's bigger than the previous location, Dobro's new home is still a bit on the small side. When I arrived with my guest, we found all of the 50 or so seats filled; we had to wait about seven minutes to get a table.

The interior space of the restaurant was completely gutted and rebuilt, co-owner Philip Knott said.

Now, there is an abundance of Chicago-themed décor on the walls. Cubs jerseys and posters depicting city scenes take up much of the wall space. The entirety of the waitstaff wears fedoras as well, so you'll be able to easily distinguish them in the packed dining room.

There are also a few tables outside, which can make for a nice place to sit in fine weather like we've had recently.

My guest and I sat in a comfortable, updated booth, where I started off with a bowl of their special soup of the day, the steakhouse chili.

I thought the chili was a bit watery, but I still finished the bowl and enjoyed its warmth. I was surprised it was not a thicker consistency, but all the ingredients tasted fresh.
Dobro's menu consists of Chicago deep-dish pizza, calzones, strombolis, panini, wraps and sandwiches, wings, salads and desserts.

The restaurant also features a selection of gluten-free entrees.
"We try to keep things interesting," said co-owner Thomas Knott — Philip's brother. "We have some not-so-traditional things on the menu, like Buffalo-chicken salad and seafood."
After looking through the surprisingly large menu, I decided to order breadsticks, a classic Chicago deep-dish pizza, and the lasagna.

The Chicago deep-dish pizza is one of the main specialties at Dobro's, along with the roast-beef sandwich, something a friend recommended highly.

We ordered the small deep-dish, but it was very filling. The pizza featured a heavy portion of sauce, with ingredients all mixed in: pepperoni, sausage, red peppers, onions and mushrooms. I ate what I could manage, holding it as a regular piece of pizza, but I did use my fork and knife here and there.

The breadsticks were thick, and came stuck together. They reminded me of a pretzel, but they didn't quite have the brownish crust. Dipping sauce for the breadsticks costs extra, but they do come dripping in butter, so sauce is optional.

The lasagna came out extra-hot. While it doesn't compare to my mother's, it had a homestyle taste that made me feel like I should ask Mom to cook some for me soon.

It also wasn't overly cheesy, which I prefer, since I'm a big fan of a meaty lasagna.

If you're looking for adult beverages, Dobro's has a large selection of beer and wine.
West Volusia is represented on the restaurant's row of taps, with offerings from DeLand's Persimmon Hollow Brewing Co. and DeBary's Central 28 Beer Co. among the 12 currently on tap.

For those who have a sweet tooth, Sweet Spot of DeLand is providing some of the desserts at Dobro's. When we visited, a gelato called "Death by Chocolate" was offered.

"We try to support local people as much as we can," Thomas said. "We want to reach out to the community and see what we can utilize."

The restaurant's owners believe in supporting other small businesses.

"Family is our philosophy. It all started with my dad, and he passed away last March, but my mom still works here, and so do my brother and his wife. Our customers feel like family too, so we're all one big family it feels like," Thomas said.

If you've been a loyal Dobro's fan or a member of the so-called Dobro's nation, you'll appreciate the new spacious interior.

If this is the first you've heard of the restaurant, consider joining the family and have a taste of Chicago right here in DeLand.
Restaurant Information
Location:
803 W. New York Ave., DeLand
Cuisine:
Chicago-style Italian
Hours:
11 a.m.-9 p.m. Monday-Thursday; 11 a.m.-10 p.m. Friday-Saturday; closed Sunday.
Signature entree:
Chicago deep-dish pizza
Price:
Meal options generally range from $10 to $15.
Kid-friendly:
Yes
Pet-friendly:
Service dogs only allowed inside; outdoor seating available
Handicap-accessible:
Yes
Limited diets:
Vegetarian and gluten-free options available
Alcohol:
Beer and wine available
Our cost for an appetizer of breadsticks, a classic Chicago deep-dish pizza, lasagna and a bowl of chili:
$26.56, plus tax and tip
Phone;
(386) 279-0003