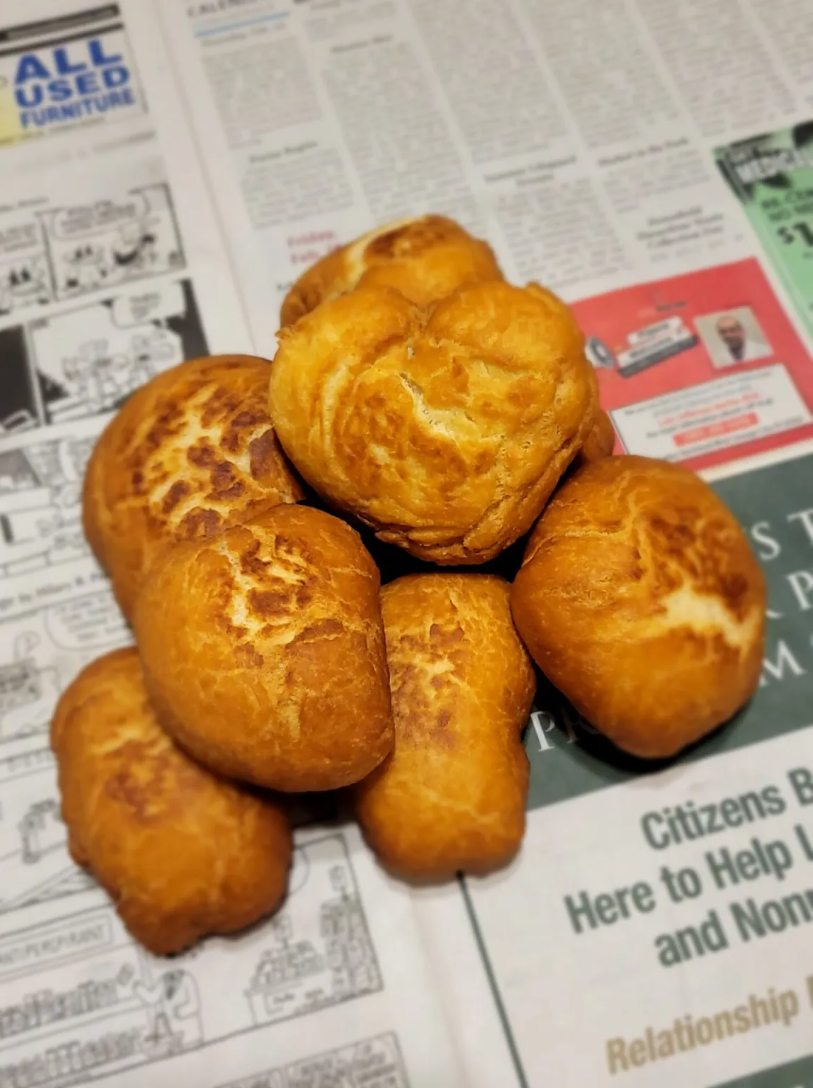 Discovering the mighty johnnycake
BY
Carmen Cruz
info@beacononlinenews.com
August 17, 2022
BEACON PHOTOS/CARMEN CRUZ SUCCESS!
 —  
In the photo above are the johnnycakes Carmen Cruz made after tasting them for the first time in the Bahamas.
I first became aware of the existence of johnnycakes during a trip to the Bahamas earlier this year. On my search for food more representative of Bahamian culture than the Dunkin' Donuts most tourists flocked to, I stumbled upon a local spot that showed promise.

Tucked behind blocks of streets devoid of foot traffic sat a joint called Bahamian Cookin', with a small line of Bahamians in suits by a window where a woman took orders. There were no tables in sight, and the menu consisted of item after unrecognizable item. I knew I was in the right place.

I ordered some kind of beef stew over grits, the name of which escapes me, and a johnnycake, which I will never forget. Never in my life had I even heard of such a dish, and my ignorance suddenly felt like a great tragedy.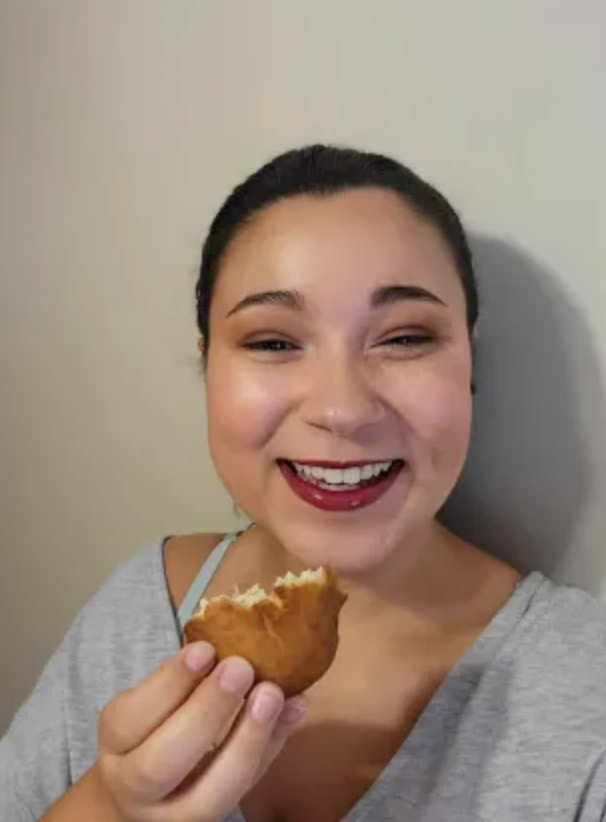 BEACON PHOTO/CARMEN CRUZ
SUCCESS!—  Beacon reporter Carmen Cruz enjoys a bite of her homemade johnnycake.

This johnnycake, to my surprise, wasn't very closely related to cake at all. It felt remarkably substantial and comforting. It tasted like a sweetbread, yet had a texture I couldn't recognize.

It was crispy on the outside, and pillowy soft on the inside. Inexplicably dense and airy at the same time, this food felt like a cross between cornbread and pancakes and was altogether quite addicting. This fried dough, derived from the humble all-purpose flour in this version, acted as a biscuit or side of cornbread might, and yet its taste and texture made it a substantial stand-alone.

My curiosity was piqued, and I had to know more. I asked Lisa, my tour guide, about this peculiar cake, and she nonchalantly stated that such cakes are very common on the island. Her mother and grandmother had made johnnycake routinely throughout her childhood, and she now makes it for her children as well.

I wondered if johnnycakes were popular elsewhere, too, and, if so, why I'd never known they existed. When I returned from my voyage, I decided to look into it, and what I found surprised me.

Johnnycakes — also called hoecakes, cornpone, ash cake or journey cake, depending on the region — serve up some interesting history in addition to being delicious.

Experts disagree on the origins of the term. Some believe it derives from the Indigenous term "janiken," meaning corncake, and over the years morphed into johnnycake. Others think its original name was Shawnee cake, and colonists merely mispronounced it as "johnnycake."

A third theory claims the term evolved from the earlier "journey cake," alluding to its famed portability. At any rate, this popular recipe has remained largely unchanged over the years.

The first recorded mention of the specific recipe I tried was in 1739 in South Carolina, meaning it has an approximate 280-year history in North America alone. However, it is widely believed that the Narragansett tribe (indigenous to modern-day Rhode Island) had been making johnnycakes long before this.

Indigenous communities of North America and the Caribbean are credited with the invention of this dish, which is why variations of it exist most prominently in the American South and Northeast, as well as Jamaica, the Bahamas, the Dominican Republic, Puerto Rico and, curiously, Australia.

This staple is the original from which cornbread, hush puppies and arepas were born. Perhaps that's the reason for its vaguely familiar piquancy.

Johnnycakes are an unleavened bread that can be served as a meal all on its own (usually topped with butter, maple syrup or honey), or as a side to soups, stews or curries.

Early versions utilized three to four ingredients: flour or cornmeal, salt, water, plus an oil for frying. Many North American versions prepare it in a skillet so that it visually resembles pancakes; others bake it in more of a breadlike fashion. Most cooks throughout the Caribbean deep-fry patties that are similar in form to the Southern classic: potato pancakes.
 
BEACON PHOTO/CARMEN CRUZ SUCCESS!
—  
At Harvest Restaurant in Louisville, Kentucky, buttermilk-fried chicken is served with smoked-peppercorn gravy atop a chive-enhanced hoecake or, depending on where you're from, johnnycake.
Praised for their portability and filling, cost-effective nature, johnnycakes were hugely important to enslaved communities in the American South and throughout the Caribbean.

They were popular during the American Civil War and throughout the Great Depression for the same reasons. You could make johnnycakes for next to nothing, could travel with them for long periods of time without fear of them spoiling, and the food provided a great deal of nutritional value and satiety.

Unsurprisingly, today, many see johnnycakes as a representation of the perseverance, survival, and ingenuity of marginalized communities throughout history.

I found it odd that despite its superhero status, many still don't know about the famed johnnycake. When I began craving some, I soon realized that they are extremely hard to find for sale.

In spite of their long-standing history in the American South, only a handful of restaurants here still make them. In Florida, this unsung hero of the culinary world lives on almost exclusively in at-home kitchens and old recipe books.

Sandy Bobo, owner of Nest in Downtown DeLand, noted that johnnycakes are common in more culturally Southern states.

"I grew up in Georgia. So, yeah, I grew up eating them," Bobo said.

Her introduction to them surprised Katie Holmes, who helps Bobo run Nest.

"Well, this is silly, but I'm aware of it from a TV show … True Blood," Holmes said.

This vampire horror drama fantasy series, set in Louisiana, heavily featured johnnycakes, which they called hoecakes, in one of its seasons wherein the main character bonded with her estranged mother over them.

The significance of this dish within the world of pop culture only fanned the flames of my curiosity. I decided to try my hand at re-creating them.

I landed on a Caribbean version by Chef Moria of Food52 that closely mirrored what I had eaten in the Bahamas. There, the cakes are made with flour instead of cornmeal, and are fried into patties that puff up when cooked.

This modern version, consisting of only six ingredients, was easily managed, even in my shoebox college apartment; a true testament to the recipe's renowned simplicity. Greater still, it was addictively delicious as well as filling.

The johnnycake's history of sustaining communities through the worst of times is reason enough for it to be given recognition, but the sublime flavor and texture are what really help it stand the test of time.

So, three cheers for the long-forgotten yet mighty johnnycake. And the next time you need to whip up something to pair with your favorite soup or stew, give this classic a try — you won't regret it.

— Cruz is a senior at Stetson University. She is interning with The Beacon.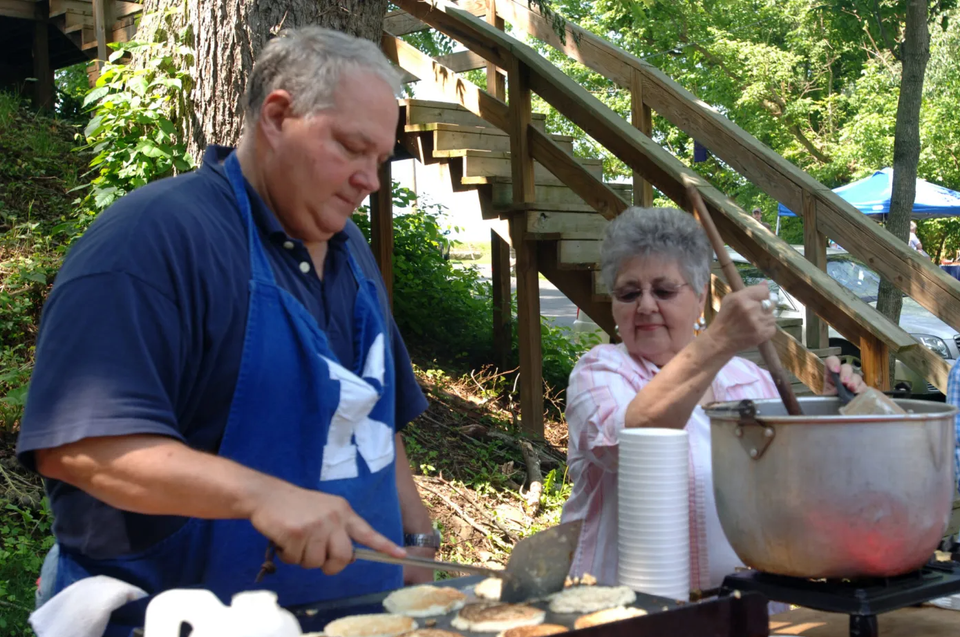 U.S. ARMY CORPS OF ENGINEERS PHOTO BY LEON ROBERTS WHO KNEW?—  In Kentucky, cornbread and its variations are so popular that they have their own festival. Sam Brown fries hoecakes as Anna Ruth Correll stirs a pot of beans at the 18th annual Mill Springs Mill Cornbread Festival in 2011.
Ready to make your own johnnycake? Chef Santi can help
BY CHEF SANTI GABINO JR.
Due to my father's business, I spent a large portion of my childhood in the Bahamas and am very familiar with johnnycakes. But, I had not made them in years.
Chef Santi Gabino Jr.
Johnnycakes vary greatly by island and region. The ones eaten in the Bahamian out islands and other parts of the Caribbean are a bit more dense and made of flour, while the ones eaten in Nassau often resemble a type of cornbread (similar to hoecakes).

Johnnycakes are mainly divided into two kinds: one made solely with wheat flour, and one made with cornmeal.

I created a flour-based recipe for the one I grew up eating in the Bahamas.

In doing research for my recipe, I found a great recipe for the cornmeal version of johnnycake in Marjorie Kinnan Rawlings' famed 1942 Cross Creek Cookery book. This cookbook is a true treasure of Florida culinary history.

Rawlings' johnnycake recipe demonstrates how the original Native American "journey cake" made its way through Florida and the Caribbean to become the johnnycake of today.
Flour-based johnnycake

3 cups of flour

½ cup vegetable oil

3 teaspoons baking powder

1 egg

½ cup sugar

1½ cups coconut milk

1 teaspoon salt

Preheat oven to 350 degrees, and heavily grease a round 9-inch pan. Mix all ingredients in a large bowl, adding the oil last and taking care to ensure that the batter is smooth and free of lumps.

Pour the batter into the pan, and bake for 30-35 minutes or until a toothpick inserted into the middle comes out clean. Let cool in the pan 10-15 minutes before serving.

Traditionally, the johnnycake is cut into wedges and served warm with butter, honey and jam.

Store leftovers at room temperature in an airtight container. Warm slices in a 350-degree oven for 10-12 minutes to reheat and serve.

— Editor's note: Thanks to Chef Santi for supplying a recipe to accompany Carmen's story about johnnycakes. Good news! Gabino, of DeLand, will be writing a regular feature for The Beacon EXTRA!, focusing on seasonal foods and recipes. Welcome!