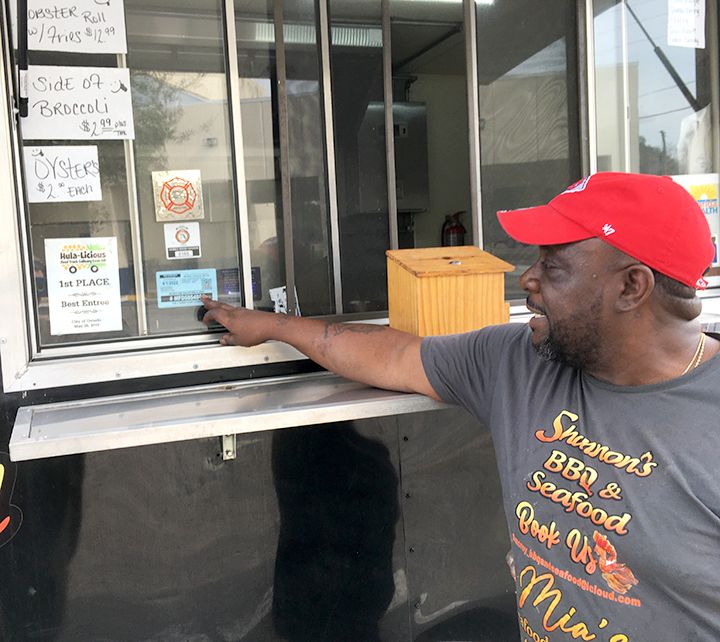 Deltona struggles with how to regulate food trucks
BY AL EVERSON
info@beacononlinenews.com
JAN. 21, 2022
BEACON PHOTO/AL EVERSONLICENSED TO OPERATE 
— 
Food-truck owner Shannon McRoy points to his Florida mobile-food licenses and other certifications, prominently displayed on the food truck he operates on the campus of Greater Faith AME Church at 800 Deltona Blvd., Deltona. Under state law, food-truck owners must obtain a license from the Florida Department of Business and Professional Regulation, and cities and counties may not require a local occupational license. Local governments may, however, require a food truck to pass a fire-safety inspection, as confirmed by a sticker on McRoy's vehicle.
Food truck owner says he only wants to do business
For Shannon McRoy, serving food to hungry customers is a passion, a calling that is causing trouble he believes he does not deserve.
The owner of Shannon's BBQ and Seafood has established himself in the parking lot of the Greater Faith AME Church at the intersection of Deltona Boulevard and Enterprise Road, and this strategic location has enabled him to build a loyal and growing clientele. Yet, although he says he makes extra efforts to comply with the city's regulations, Deltona's code-enforcement officers are making it difficult to do business.
"I don't want controversy," he told The Beacon. "Last Wednesday or Thursday morning, they asked me to remove the bench."
That request, McRoy said, was after code officers' complained about a feather sign for his business, the parking of his trailer, water on the parking lot, and uneven places in the pavement.
McRoy sums it up in one word: harassment.
"They're trying to run us out of business," McRoy said, adding he has seen code officers parked a short distance away in the church parking lot, surveilling him and his food truck during business hours.
The running battle with Deltona's Code Compliance has taken a toll on his business, McRoy noted.
"I was raking in $1,400 to $1,800 every day, and then the city started handing out tickets and harassing me, and my income dropped to $150 to $300 a day," he said.
McRoy said he is hopeful he can continue to serve people in Deltona, the city he himself now calls home.
McRoy added he also has a food truck operating in Orlando, and is getting ready to operate a third one in Sanford.
Acting City Manager John Peters denies Deltona is trying to harm McRoy and his business, stressing safety is his main concern.
"The day I went by there, he had a separate outdoor grill from the trailer. We're going to work with him," Peters said. "We're not trying to put him out of business."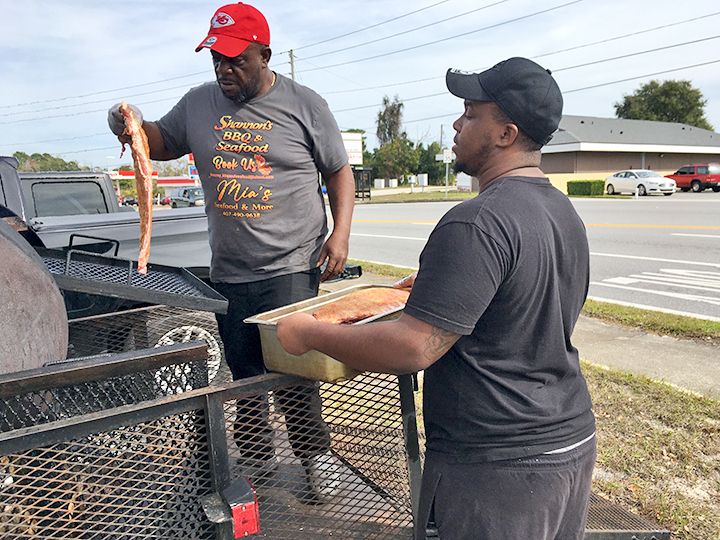 BEACON PHOTO/AL EVERSON
YUM ON WHEELS 
— 
Shannon McRoy, owner of the mobile food business Shannon's BBQ and Seafood, and his son, Stetson University student Shannon McRoy Jr., prepare food for the lunch crowd.
While other local governments have enacted ordinances to regulate food trucks, the biggest city in Volusia County is still trying to come up with rules for public safety and how diners on wheels may operate.
"This has been dragging on way too long," Deltona City Commissioner Dana McCool said, as the governing body wrangled over a food-truck ordinance Jan. 18.
At one point in the debate, there was a motion to refer the ordinance back to the Planning & Zoning Board for further discussion. That motion failed on a 3-3 vote. Commissioner Anita Bradford was absent from the seven-member City Commission's meeting.
Ultimately, the commission voted to table the ordinance until its March 21 meeting, but not before hearing from those most affected, the food-truck owners.
"We're not bothering anybody," Shannon McRoy told the City Commission. "I have a $2 million insurance policy on my trailer. ... I really want to know, what is the problem?"
McRoy said he is "still getting harassed" by Deltona's code officers, who most recently told him he could not place a bench near his food truck for the convenience of customers.
"We didn't go through none of this in Orlando," he added.
McRoy's mobile barbecue business operates at Greater Faith AME Church, with permission from the church, he said.
Under the 2020 Occupational Freedom and Opportunity Act, cities and counties may not outlaw food trucks, nor may they require the owners to secure a local occupational license.
Rather, if the owner of a food truck — known legally as a "mobile food-dispensing vehicle" — has a valid license from the Florida Department of Business and Professional Regulation, that is the principal document needed. The state law does, however, allow cities and counties to require a fire-safety inspection of food trucks and to use zoning to determine where they may set up and their hours of operation.
For legal purposes, hot-dog carts are also classified as mobile food-dispensing vehicles.
Key points in Deltona's proposed ordinance on food trucks include: 
Permitting food trucks to operate only on property zoned for commercial use or used as a house of worship, but allowing one food truck per acre of developed property
Food trucks may not do business on vacant lots
Requiring the operator of a food truck to have notarized proof of permission from the owner of the property where the food truck does business
Food trucks must be parked on paved surfaces, not on dirt or grass 
A food truck may not block a public right of way or fire lanes
Allowing food trucks to operate between 8 a.m. and 10 p.m.
A food truck's owner must have his vehicle inspected by the Deltona Fire Department for safety, and he/she must provide a site plan of the premises of operation
Signs for a food truck are limited to "identifying copy depicted on a single vehicle or trailer," and not permitted "signs, banners, flags, sandwich boards," in any right of way or on private property
Deltona's Code Compliance — the new name for code enforcement — will enforce the regulations on food trucks, and a Code Compliance officer may issue a citation with a fine of "no less than $500 per infraction."
If a citation is issued, Acting City Manager John Peters said, "It's the underlying property owner who gets the notice of violation."
The ordinance may need more rules, Mayor Heidi Herzberg suggested.
"You've got a propane tank 6 feet from a gas pump. How is that safe?" she said, referring to one location.
City Attorney Marsha Segal-George told the City Commission she is willing to make changes to the proposed law, "whatever you all direct that you want."
"You guys are a great group of business owners, but we've got to get this done," McCool told the food-truck operators attending the City Commission meeting. "I want everyone to be as happy as they can be. ... Staff has worked really hard on this. ... Life, liberty, and happiness — that's what we're trying to do."
City officials are making an extra effort to make food-truck owners feel welcome. In an experiment in hospitality, food trucks will be welcome to set up at Deltona City Hall on Wednesday and Friday afternoons.
The spacing limitations will not apply there, because the city-sanctioned gathering will be classified as a special event.