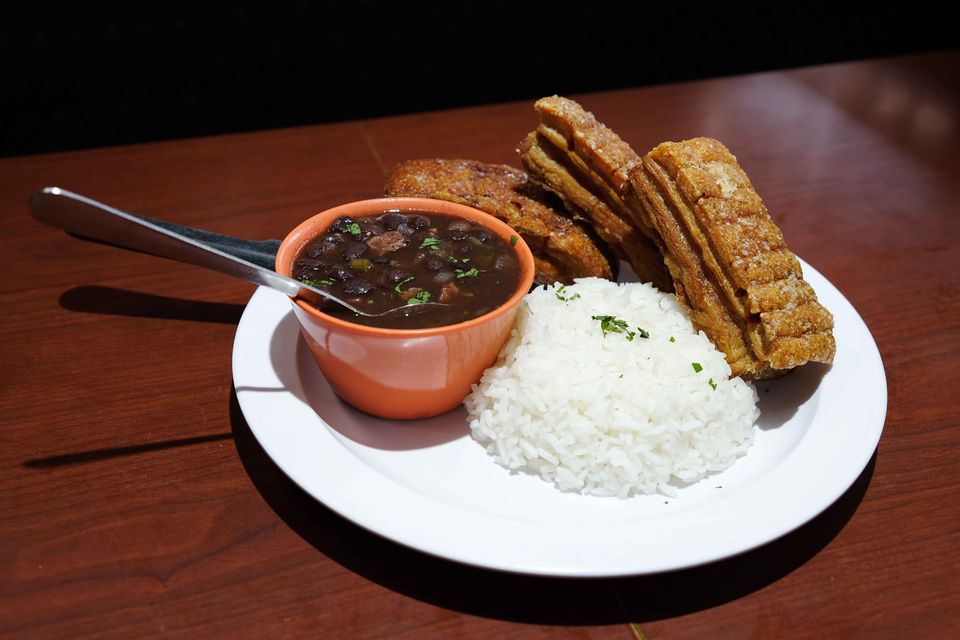 DeBary's hometown diner has local flair
BY DAVID SWANBERG
david@beacononlinenews.com
(8.21-27.19)
Three years ago, a DeBary couple purchased a longtime River City culinary institution. Ever since, Angie Ugarte and her husband, Rick Stacy, have been putting their own unique touches on the DeBary Diner.

The nearly-30-year-old diner is located next to the Winn-Dixie supermarket in the DeBary Commons shopping plaza. Veterans of the area may remember it as being called the Kountry Kitchen.

When the previous owners of the diner were seemingly looking to retire, Angie and Rick saw an opportunity to purchase a diner where Angie could exercise her culinary endeavors and Rick, who hosts a morning show on 105.9 Sunny FM, could clear out some radio memorabilia from his garage.

Frequenters of the diner of old visiting today will find that it's undergone extensive renovations over the past three years. The floors have been redone to remove the old carpet, new décor has been added, and, as of last week, there are new tables and chairs.

I personally had not been in the diner since the change in ownership, but I was pleased with not only the décor, but also the menu.

Angie aspires to go beyond what a typical diner serves, and she's worked to achieve that goal by offering various types of dishes that are often from around the world.

"I make Italian, Cuban, American, and even Chinese," said Angie, "I cook whatever I feel like making that day."

As someone with celiac disease, she cooks gluten-free dishes and other dishes catering to those with dietary restrictions, ensuring there's no cross-contamination in her kitchen.

Angie is the mastermind behind the diner, and all the recipes used are her own — with the exception of one, which I'll get to shortly.
What she decides to cook then becomes that day's special. She gets the word out by posting on social media and leaving a sign outside for passers-by to see. Some customers call in to find out about specials, or if the DeBary Diner has any of a certain dish left, as on many days, her specials go fast.

The DeBary Diner also has a dedicated dinner menu for longtime customers who are used to some of the eatery's classic dishes.

"85 percent of the dinners we serve are specials," said Caroline, our server.

Some menu items are extremely popular, which creates shortages on certain days. "The stuffed peppers are gone in a couple of hours," said Caroline.

It sadly didn't seem like we would get to try the popular dish on this particular day, but I went with an equally popular special of that day: an order of chicharrones, or pork rinds. They came served with white rice, black beans and sweet plantains.

My guest ordered another special, the cheesy chicken bacon ranch. It came with two sides, and my guest decided to go with fresh sauteed zucchini and french fries. The chicken came warm, lying in a bed of cheesy goodness along with hints of bacon and ranch.
All entrees come with the choice of a soup or salad. We both chose to go with a cup of their soup-of-the-day, the chicken tortilla. It was absolutely delicious, with a bit of a kick.

The crust of the chicharrones was very crunchy and crispy. Caroline recommended picking them up and taking a bite of the dish before cutting into it with utensils. The chicharrones were so crunchy that, if you have sensitive teeth, this might not be the dish for you.
We also were able to sneak away with a couple of bites of the DeBary Diner Omelette.

"It's one of the more popular omelettes," said Caroline, as she offered me a sample of the dish. The tasty omelette had a little bit of everything in it, with a side of breakfast potatoes and a biscuit, topped with homemade sausage gravy.

To top off everything, for dessert, we decided to sample three different cakes that are among the most popular:  orange creamsicle, blue velvet and piña colada. The orange creamsicle is named, of course, for its taste, which was indeed orange and creamy.

"I'm surprised people like the orange that much, but they do!" Angie said, referring to the vibrant taste. It was moist and tasted almost like the real thing.
The blue velvet was more my speed. I preferred its icing over the others due to it being the typical cream-cheese icing found on velvet cakes. The piña colada was an interesting take on the tropical beverage, complete with coconut flakes within the icing.
Meanwhile, I decided to chat a bit with the diner's other co-owner, whom many radio listeners will recognize.

"She owns the place, and I just clean," Rick said, as he cleaned off a nearby table.

While he can be found at the diner on most evenings, his mornings are spent on The Rick Stacy Morning Show on 105.9 Sunny FM, where he can sometimes be heard name-dropping the diner on-air.
"It gets people in the door," he said.

While the diner is a great place to spend your day, I wouldn't recommend that Rick quit his day job, as Angie has the diner well under control.

On the wall opposite the counter is an impressive collection of radio memorabilia that represent parts of Rick's radio career. There are many framed posters, records, and autographs from musicians displayed for people to view.

There's even an "On Air" sign that Rick took from his first radio job in Cocoa Beach.

"They don't have those anymore," Rick said. If you're a radio fan, you'll enjoy reminiscing while you dine.

While Angie can claim ownership of the other recipes in the diner, Rick has one to his name: The Famous Rick Stacy Cuban Sandwich. Even though it still uses Angie's pork, the sandwich comes with coleslaw and a large pickle.
People as far away as Tallahassee have gotten word of this sandwich's popularity, Angie informed us.

Along with Rick's radio "hall of fame" are numerous signs, some of which customers have given to Rick and Angie. Most are humorous and give the place a little more life, as do the walls dedicated to local veterans and teams the eatery sponsors.

The veterans wall has a painted American flag and framed pictures of DeBary residents who have served in the armed forces. Rick said customers have brought in so many photos of service members that the restaurant has several in the back waiting to be framed.

"We love our customers. We know their orders, their names, and what time they'll be in," Angie said.

It's clear she enjoys the people aspect of the restaurant business just as much as she loves making the food that they enjoy.

The staff shares her attitude as well. During my visit, I experienced a welcoming atmosphere with homey touches thanks to the décor and the staff's demeanor.

Be sure to check out DeBary Diner's Facebook page to see more dishes they offer. The menu is vast and ever-changing, so that will probably be your best bet to find out what dishes are available ahead of time.

Alternatively, just stop by. You might be pleasantly surprised with what's being offered that day. Maybe you'll even catch one of the stuffed peppers before they're gone!

I only had a little taste of some of the delicious food the DeBary Diner has to offer.

There's a huge breakfast menu, complete with waffles made with Fruity Pebbles cereal, among other dishes.

The stuffed peppers are also beckoning me back to come taste them.

There is likely something for everyone at this diner, and Angie, Rick and the staff are waiting to give you a warm welcome when you enter. 
Restaurant Information
Location:
20 N. Charles Richard Beall Blvd., DeBary, FL 32713
Cuisine:
Varied
Hours:
6:30 a.m.-8 p.m. Monday-Saturday, and 6:30 a.m.-1 p.m. Sunday
Signature entree:
The Rick Stacy Cuban Sandwich
Price:
Menu items generally range from $5 to $9, with dinner specials priced around $13.
Kid-friendly:
Yes
Pet-friendly:
Service dogs inside; all other animals outside only
Limited diets:
Most limited diet options are available.
Alcohol:
Beer and wine are available.
Our cost for a chicharrones dinner and a chicken bacon cheddar ranch dinner:
$20.98, plus tax and tip
Loyalty program:
Yes
Phone: 
(386) 668-0104