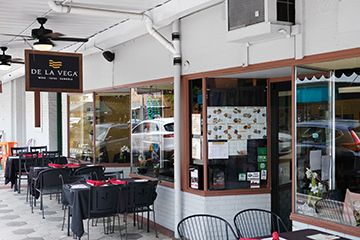 (7.8.2019)
BY DAVID SWANBERG
david@beacononlinenews.com
Of the many ethnic cuisines offered in the United States, Mexican cuisine tends to be among the most popular.

DeLand's De La Vega Wines, Tapas and Sangria puts a spin on traditional Mexican dishes by incorporating tastes from other Latin American countries, creating a cultural melting pot that caters to many tastes and awakens some new ones.

Located at 128 N. Woodland Blvd. for the past 15 years, De La Vega has been serving their guests the same flavors the De La Vega family members were brought up with. Brother and sister co-owners, Mano "Manny" De La Vega and Nora De La Vega grew up with modified versions of Mexican cuisine after their mother began cooking with more fruits and vegetables following a medical diagnosis that required her to change her diet.

Mano and Nora further expanded their culinary tastes after marrying into both a Venezuelan and a Costa Rican family. Following their marriages and their move to DeLand, Nora and Mano set out to integrate not only Mexican flavors into their restaurant, but also Venezuelan, Costa Rican, Peruvian, Cuban and other Latin American flavors into their tapas dishes.

"We serve modern tapas with a Latin flavor," Mano said. "We don't call ourselves authentic because we don't do authentic dishes. We experiment here and are always creating new dishes."
Nora said when she vacations in Costa Rica with her husband, she brings ideas home for the menu at De La Vega.

"Sometimes when I order food in Costa Rica or when I'm traveling elsewhere, I take pictures of it and try to see how I can bring back the flavors to DeLand," Nora said with a laugh.

Early in the history of the restaurant, Nora noticed many vegetarians dining at De La Vega. At the time, there weren't a lot of vegetarian dishes on the menu, so those customers would order less-than-savory alternative versions of the menu items.
"I felt sorry for them because there were better options for them. Growing up, we were eating very healthy with lots of vegetables. Our mom would cook some of those meals for herself, but we ended up tasting them, too, and soon we began to always eat the healthier recipes she was making," Nora said.

Nora set out to re-create those childhood recipes that were both healthful and delicious, while also adding menu items that could be prepared vegan, vegetarian or gluten-free. These options are clearly marked on the menu, with two pages dubbed "Vegan's Heaven."

De La Vega's most popular dish is the Hibiscus Tacos, which are vegetarian and gluten-free. Another fan favorite is the Chicken Mole Rice Balls, which is also gluten-free.

I ordered both, along with empanadas. The dishes are all tapas — small-plate-size items — and can be ordered as half portions as well.

De La Vega is currently offering a new special launched a few weeks ago at the restaurant's 15-year celebration. The "777" special allows you to choose from their seven most popular tapas off a special menu for just $7 before 7 p.m. on weekdays.

The restaurant also has introduced two brunch specials. One includes unlimited sangria for $15 and unlimited tapas for $17.95 on Sundays. The other is available all weekend long from 11 a.m. to 2 p.m., and features items off the "Brunch Fusion Combos" menu for only $11.95.
De La Vega tapas are available in larger servings in line with the restaurant's philosophy.

Mano tells me their central motto is "Dare to Share." When you're at De La Vega, instead of eating one entree by yourself, you — along with friends and family — are encouraged to try a little of everything together.

"That's the whole experience we want people to have," Mano said.
Nora echoed the sentiment.
"We don't sell food, we sell experiences," she said. "We have people that have been coming to our restaurant since we opened, and we treat them as if they are in our house and we are cooking for them like they are our guests."
Family is everything for the De La Vegas. As soon as you walk in the door, their staff and atmosphere make you feel right at home.
"We treat everyone like a family, and customers have become our family," Nora said.

As a customer, I truly felt cared for and looked after, as if I was visiting a relative's house. That type of warmth is not something that's easily come by, and it was thoroughly enjoyable.

De La Vega offers catering and also provides delivery options through Uber Eats and the DeLand Delivery service.
Even if you are one of the many regulars of De La Vega, you can find something new on the seasonal menu, which changes every few months.

If you've walked by De La Vega plenty of times but have never walked in, Chef Nora, Mano and their staff would be honored to welcome you into their little piece of home and gladly see to it that you have a dining experience to remember.
Restaurant Information
Location:
 128 N. Woodland Blvd., DeLand
Cuisine:
Wines, tapas and sangria; modern tapas with a Latin flavor
Hours:
 11 a.m.-10 p.m. Tuesday-Thursday; 11 a.m.-11 p.m. Friday and Saturday, and 11 a.m.-9 p.m. Sunday. Closed Monday.
Signature entree:
 Hibiscus Tacos
Signature drink: 
House sangria
Price:
 Menu items generally range from $7 to $18.
Kid-friendly: 
Yes
Pet-friendly:
 Pets are allowed on the patio in front of the restaurant.
Limited diets:
 Gluten-free options, vegetarian-friendly and a vegan heaven
Our cost for Hibiscus Tacos, empanadas, Chicken Mole Rice Balls and two drinks:
 $25.50 plus tax and tip
Loyalty program:
 Yes
Phone: 
(386) 734-4444