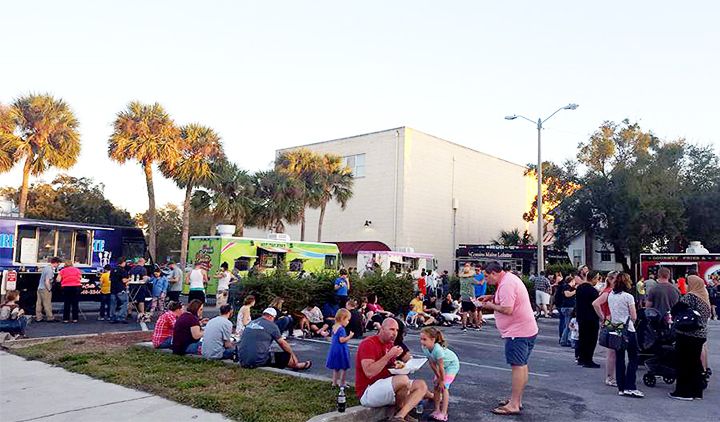 See what's cooking in Deltona
City Hall vs. Food Trucks
BEACON PHOTO/AL EVERSON
PEOPLE LIKE FOOD TRUCKS — A collection of food trucks draws a crowd to this event staged in 2017. A Deltona resident's current plan for fundraising food-truck events at a Deltona shopping plaza is causing a stir at Deltona City Hall.
BY AL EVERSON
al@beacononlinenews.com
SEPTEMBER 9, 2021
It is fare — pun intended— to say that food trucks are becoming a hot topic in Deltona. Food-truck operators were expected to attend tonight's (Sept. 9) meeting of the Deltona City Commission to plea for places to offer their wares.
City officials had their hands full over the Labor Day weekend, as a gathering of some of the mobile kitchens took place without permission. Acting City Manager John Peters said the unsanctioned event caused some problems.
On Sunday afternoon, Sept. 5, Peters said, 18 food trucks converged at a shopping center at 1382 Howland Blvd., without advance notice to or a special-event permit from city government.
Peters said the event was organized by Jody Lee Storozuk, a former member of Deltona's Planning & Zoning Board and a 2020 candidate for the City Commission.
"He's in with the food-truck people," Peters said. "The food-truck people are trying to create a stir. Last Sunday, there were a couple of hundred people parking out there, and there were open containers [of alcoholic beverages]."
Storozuk said the event was a fundraiser for special-needs children, and more than $1,000 was collected.
"The money is for children in our area," he said.
The story comes as Deltona's leaders consider regulating food trucks, at least to the extent allowed by state law.
Under Florida law, cities and counties may not prohibit food trucks from doing business, if the owners meet state standards on food safety and have a license from the state's Department of Business and Professional Regulation.
Storozuk said he is the property manager for the shopping center and thus is acting properly in organizing events such as the food-truck gathering.
He is planning to host another such event at the same place Saturday, in observance of the 20th anniversary of the Sept. 11, 2001, terrorist attacks on the World Trade Center in New York and the Pentagon in Washington.
But Peters said he does not want a repeat of the Labor Day gathering. Some of the Sunday event-goers parked illegally on the boulevard, Peters said.
"I think people parking on a four-lane road is a safety issue," he added.
In addition, each of the 18 food trucks present took up at least two spaces in the shopping center parking lot.
Storozuk denied any difficulties with parking.
"There weren't any parking problems. We were in a big plaza," he said.
Moreover, Storozuk said, there was even a Deltona fire truck on hand.
"I talked to the fire chief, and he sent it out," he added, "and the kids were climbing over it."
Deltona code-enforcement officers showed up, and cited Storozuk for not having a special-event permit. The citation, Peters said, will be referred to the Volusia County Court. Storozuk may be liable for a fine of as much as $500.
"He's basically thumbing his nose at the city," Peters said.
Peters huddled with his staffers Sept. 7 to discuss how to honor Storozuk's intention to bring 18 food trucks to the same address. Peters insisted Storozuk and the vendors be properly cleared to sell and serve their delectable cuisine.
"We need a copy of an alcohol license. Who is selling the alcohol? Maybe the food-truck vendors have a license," Peters told his department heads.
"If they can get everything in by noon Friday [Sept. 10], we'll try to accommodate them," he said.
The Beacon was permitted to observe the meeting, where Peters pledged to work to make the upcoming food-truck bazaar a legal and proper gathering.
"They're supposed to have an off-duty sheriff's deputy there," Peters said, referring to the need for traffic and parking control.
At the Sept.11 gathering, Storozuk said, funds will be collected to benefit the Wounded Warrior Project and the Veterans of Foreign Wars.
Storozuk said he has staged food-truck gatherings for charity before, without having any trouble from the city. One such event in July included a visit from Volusia County Sheriff Mike Chitwood.
"The sheriff was in the dunk tank, and the mayor [Heidi Herzberg] was throwing the balls," Storozuk said.
For the upcoming event, Peters said he intends to notify Sheriff's Capt. Lou Marino about possible traffic and parking concerns. The Sheriff's Office provides law enforcement in the city of Deltona.
This is not Storozuk's first run-in with Deltona code officers. In late 2013, Storozuk was cited for violating the city's sign ordinance, by placing a Toys for Tots sign in front of a friend's business along Elkcam Boulevard. Storozuk contested the charge, and a county judge subsequently dismissed the case.