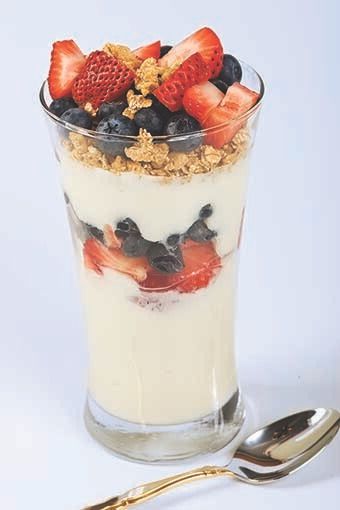 Not just another yogurt shop
BY DAVID SWANBERG
david@beacononlinenews.com
Brittany and Stephen Morelli brought their idea of BerryVille Frozen Yogurt to DeLand nine years ago, when the frozen yogurt craze was taking off.

Downtown DeLand was the perfect choice, because it was one of the only areas the couple found that wasn't already welcoming a frozen yogurt, or "froyo," shop.

"DeLand was a step behind. We were both from here, so we decided to move back and open BerryVille," Brittany said.

Stephen first got the idea for BerryVille when they were living in South Florida.

"There was a yogurt shop that opened up, and there were always huge lines of people waiting to get some. I tried some finally and thought to myself, this isn't even that good," Stephen said.

He set out to taste-test other frozen yogurts in the area to explore the thought of opening his own yogurt shop.

Brittany was about to pursue a career in elementary education when her husband introduced the idea of running a froyo shop. She thought it was a fun idea, and they both agreed to give it a try.
Five years into the business, the froyo craze was starting to fizzle out, and it became clear that the couple would have to re-evaluate their business and make some changes.

Since then, they've been adding to the formula of their shop to include other desserts that continue to bring customers in to a bustling Downtown DeLand. The yogurt shop is now considered to be more of a dessert shop with the newer options that are now available. Dippin' Dots, ice cream, smoothies and bubble tea have all joined the lineup.

Brittany said dragon-fruit bowls, as well as create-your-own salads, will be making an appearance within the next couple of months.
Fans of sweets need not worry. BerryVille will continue to offer a wide variety of sweet items, but with the other menu options coming soon, it will be headed in a slightly more healthful direction.
The froyo flavors available at BerryVille alternate, with the most popular their homemade vanilla and chocolate. The recipes remain a secret closely guarded by Brittany.

There are gluten-free and lactose-free froyo for vegans.

After much personal deliberation — and seeing as I was visiting on a Wednesday — I decided to go for BerryVille's no-weigh Wednesday special. For $5, you can fill up a generous-size cup with frozen yogurt or ice cream.
Ordinarily, BerryVille's treats are priced by weight.

The catch on Wednesday? There is none; all you do is fill up and chow down.

BerryVille has similar specials on other days, such as on Thursday, which is 39-cent college days. That gets any college student with an ID a cup of froyo for — you guessed it — 39 cents!

With the loyalty program, you can rack up points and get yourself a free cup of froyo or ice cream!
I filled my cup with the homemade vanilla froyo and added a generous amount of toppings.

BerryVille has 80 toppings to choose from, which include M&M's, gummy bears, Fruity Pebbles, marshmallows, vanilla wafers and chocolate chips.
While I was working on my cup of froyo, my guest was busy ordering a bubble tea.

Boba or "bubble" teas are very popular, and I've heard from many who enjoy the drink. It sounded like a must-try, so I was excited to try BerryVille's.

We ordered the Mango Boba Tea.
Boba teas are not overly sweet. They can be ordered with regular boba (tapioca balls) or fruit boba, which are filled with sweet juice.
The tapioca balls are gummylike, and some people may not like that consistency. The fruit boba have a sweeter taste.

You would have to try each one to decide which one suits your tastes, but the fruit boba is probably the safer bet if you aren't sure about tapioca. BerryVille is currently undergoing a renovation. They are painting the walls of the interior and making space for all the new items they'll be offering.

The Morellis have worked to give BerryVille a truly unique set of flavorful desserts, and the shop has become a Downtown favorite for people of all ages.
Restaurant Information
Location: 131 N. Woodland Blvd., DeLand
Cuisine: Frozen yogurt, ice cream and other desserts
Hours: 11:30 a.m.-10 p.m. Sunday-Thursday, 11:30 a.m.-11 p.m. Friday and Saturday
Signature entrees: Homemade chocolate and vanilla frozen yogurt
Price: Generally at or below $5
Kid-friendly: Yes
Pet-friendly: Service dogs inside; all other animals outside only
Handicap-accessible: Yes
Alcohol: No alcohol, with the exception of the "Exhausted Parent," a bourbon-spiked espresso ice cream with bittersweet chocolate chunks